Honda Motor Co.'s go-it-alone strategy looks increasingly risky as an alliance-happy auto industry scales up to cope with the soaring investment needed for self-driving vehicles, electrified power trains, connected-car technologies and artificial intelligence.
In the latest industry tie-up, Toyota Motor Corp. and Mazda Motor Corp. on Friday announced plans to jointly invest in a $1.6 billion assembly plant in the U.S. with the capacity to produce 300,000 Toyota Corollas and a new Mazda crossover model starting 2021. Toyota will acquire about 5 percent in Mazda, which will hold a 0.25 percent in the bigger automaker. The duo will also combine engineering efforts on electric vehicle development and car-networking know-how.
Honda President and CEO Takahiro Hachigo, like his predecessors, isn't a fan of big alliances that involve equity stakes. In fact, Honda is the only major Japanese carmaker without a strategic industry partner, meaning it lacks the economy-of-scale benefits of lower research, production and parts costs enjoyed by Toyota, Volkswagen AG, and the Renault-Nissan-Mitsubishi Motors confederation.
"Honda is a question mark," said Koji Endo, an auto analyst at SBI Securities in Tokyo. "Can they win with the current volume? Is it is possible for Honda to do everything just by itself?"
Hachigo seems willing to try. Honda's investing in self-driving cars and fuel cell technology, which powers cars with compressed hydrogen and emits water. By 2030, Honda aims to have two-thirds of global vehicle sales coming from electric drive-trains. Its Clarity sedan brand features an all-electric, plug-in hybrid and fuel cell versions.
Honda punches above its weight class when it comes to research and development spending, but that's been a drag on profits. Its R&D budget represented about 4.9 percent of total sales last fiscal year, the highest among all major Japanese carmakers, according to data compiled by Bloomberg. Honda aims to increase R&D outlays by 54 billion yen this fiscal year, which is expected to contribute to a 14 percent decline in operating profit.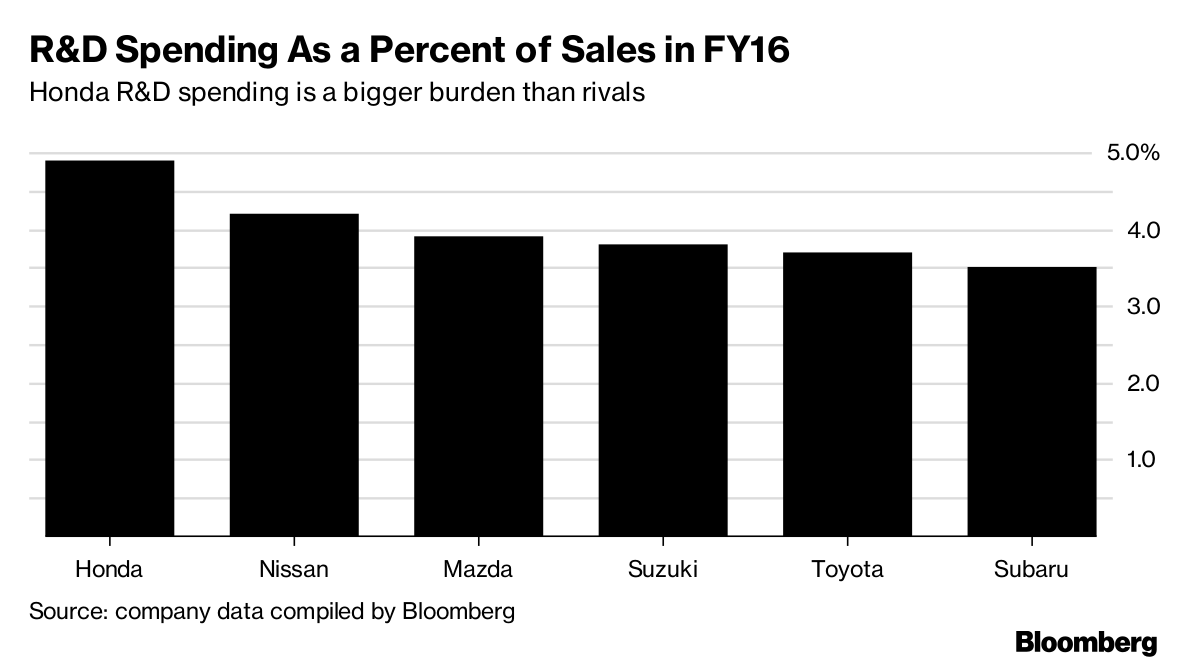 "Honda faces a significant challenge as it has a lower revenue base than Toyota," said Macquarie Capital Securities analyst Janet Lewis. "Its global revenues are higher than Nissan, but it lacks the benefit of alliance partners, so it must invest a bigger percent of revenues in R&D to remain competitive."
Honda is open to focused partnerships that don't tie-up a lot of cash in equity stakes. Honda and Hitachi Automotive Systems Ltd. in February announced plans to set up a joint venture to develop, produce and sell motors for electric vehicles. A week earlier, the automaker said it will establish a $85 million joint venture with General Motors Co. to jointly manufacture fuel cell systems starting around 2020.
Honda is also talking to Waymo, the autonomous driving unit of Google parent Alphabet Inc., to try to strike a deal that would put its self-driving technology into some of the Japanese automaker's cars. The automaker has made progress in the talks, said Seiji Kuraishi, Honda's executive vice president.
"Honda is open to all possibilities of win-win relationships with other companies, regardless of their industries," said spokesman Teruhiko Tatebe.
Aside from its new alliance with Mazda, Toyota also owns Daihatsu Motor Co. and Hino Motors and holds minority stakes in Subaru Corp. Isuzu Motors and Yamaha Motor Co. On top of that, it's studying a business partnership with Suzuki Motor Corp., which is the largest carmaker in India.
Last year, Nissan Motor Co., the second-largest Japanese carmaker, bailed out Mitsubishi by buying a 34 percent stake after the smaller carmaker was found cheating on its fuel economy data. Globally, Nissan-Renault-Mitsubishi Motors alliance sold 5.27 million units of vehicles in the first half this year, overtaking Toyota and Volkswagen AG to become the biggest auto group.
"With a volume at about 1 million, it's extremely difficult to make foray into new technological territories," Mitsubishi Motors CEO Osamu Masuko told reporters on July 27. "It's absolutely better to have a bigger volume."
The auto industry isn't short of failed capital alliances. Suzuki's partnership with Volkswagen ended in acrimony without producing one single joint product. Ford Motor Co's alliance with Mazda unwound after the 2008 financial crisis.
"I don't think the current Honda management is under pressure to rush into any capital alliance," said Seiji Sugiura, an analyst at Tokai Tokyo Research Center. "Electric cars and autonomous driving are still in the beginning of the story. If in 5 or 10 years they need to form across-the-board alliance with other carmakers to fully enjoy scale economy, they could still do it then."