Ben Lippolis flew across the country to take part in a student hyperloop competition hosted by Elon Musk. This was no science fair. At the Space Exploration Technologies Corp. headquarters on the outskirts of Los Angeles, engineers from some of the world's top universities loaded 2,000-pound hunks of metal onto a tubular track and, one by one, raced their pods to see who could clock the fastest speed.
Lippolis, a recent graduate of Northeastern University, teamed up with some classmates and students from Canada's Memorial University of Newfoundland to form team Paradigm. They've been toiling away to construct a passenger train that can travel at high speeds inside an enclosed tube, as envisioned by Musk. To fund their project, including air travel, accommodations, parts, machinery and transport for the pod, they cobbled together grants from the Canadian government and corporate donors.
In the two years since Musk's SpaceX started organizing these competitions, the rocket company has found a unique formula for luring talent at little cost. While most companies spend extensively on recruiting, the hyperloop competitions consistently bring in eager, young prospects on their own dime jockeying to show off their abilities. Winners of last month's contest received no prizes, and all entrants were required to hand over rights for SpaceX to use any of their technology in the future without compensation.
The real reward: a shot at impressing their hero. "Everyone on our team really looks up to Musk and what he's been able to do for the world so far," said Lippolis, 23. "The thought that something you've directly worked on and helped develop could one day be incorporated into a system that would vastly improve everyone's quality of life is truly amazing."
Hackathons and other technical competitions have been criticized for demanding that participants surrender the right to collect licensing fees from the organizer if that company happens to make use of their creation in the future. But the lack of any award money at SpaceX's event is particularly unusual. Even so, several contestants said they were happy to participate and offer their work as "open-source" for anyone to use, gratis. Tim Houter, who started a hyperloop company in the Netherlands called Hardt Global Mobility after winning a past SpaceX competition, said his team's early work was rudimentary and that they've come a long way since then. "There are no issues regarding the intellectual property."
A SpaceX spokeswoman said the company asks for rights to use participants' technology as a tradeoff for access to the test facilities. She declined to disclose the cost of building the track, which is almost a mile long and simulates near-vacuum conditions. The technology licenses are needed to protect SpaceX from potential litigation in the future, she said. The student teams retain ownership of the technology.
Musk is making plans to build his own underground hyperloop from New York to Washington, D.C., Bloomberg reported last month. The student events provide his companies with valuable insights, said Christian Claudel, an assistant professor at the University of Texas at Austin and adviser to his school's hyperloop team. "They get to build that facility that they will use anyway, and they let a few teams test their equipment," he said. "It's a very good deal for SpaceX."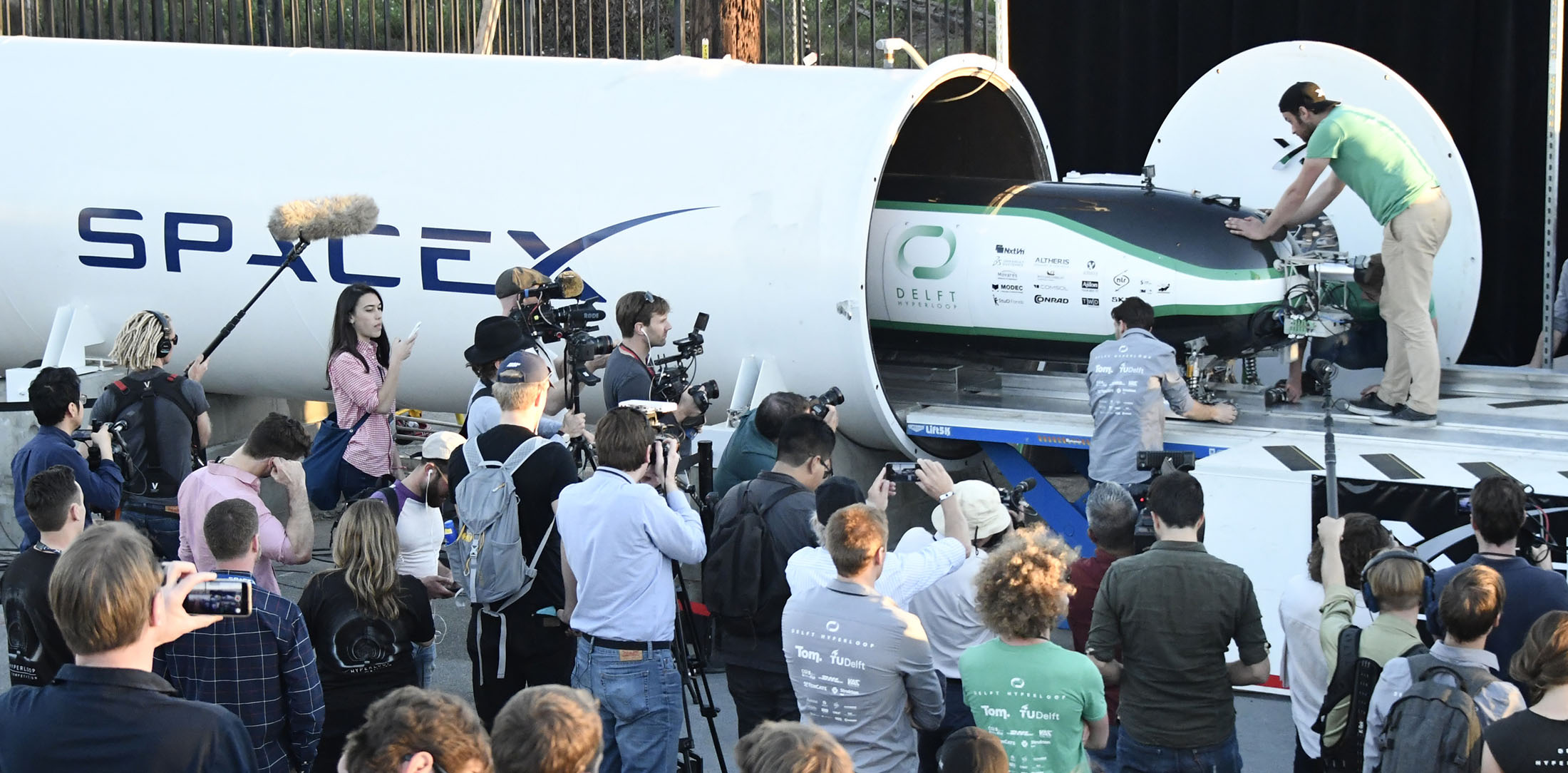 Many students said their main hope was to secure a job someday on Musk's team. The billionaire's companies recognize the recruiting opportunity. Representatives for SpaceX and Tesla Inc. prowled the staging grounds, where booths ranged from simple tables covered in résumés to an elaborate setup of hammocks and Weber grills, courtesy of Sacramento State. Recruiters made small talk and collected contact details from some contenders. Students also got face time with SpaceX engineers, who helped them prepare for various technical tests before the weekend race.
The effort paid off for the champions of last year's competition. One member of that team, from the Massachusetts Institute of Technology, now works as a structures engineer at SpaceX. Another is a robotics engineer at NASA's Jet Propulsion Lab. Others went to Hyperloop One, a venture-backed company inspired by Musk's vision and a sponsor of SpaceX's 2016 event. (The startup is now holding a competition of its own to identify commercially viable routes and revealed finalists on Thursday.)
MIT didn't participate last month, in part because so many team members had graduated and gotten jobs, said Douglas Hart, a faculty adviser and professor of mechanical engineering. The events were probably as beneficial to Musk as they were to the students because it showed his engineers what works and what doesn't with magnetics, brakes and other materials at high speeds, Hart said. "SpaceX was learning at the same time everyone else was."
Lippolis and his Canadian teammates didn't win this time, but they plan to do it all over again next summer at SpaceX's 2018 event, which is taking applications until the end of next week. The Paradigm team hopes to show that its air-bearing levitation technique can reach 200 miles per hour, matching the speed of the winning team's wheel-based train at the last competition.
In the meantime, Musk is starting to lay the groundwork for his hyperloop plan. SpaceX could conceivably lend its tube to the Boring Co., Musk's tunneling firm, for testing in the future, though no plans have been announced. The SpaceX spokeswoman said the company is actively talking with many of the students at last month's event for possible jobs.