Tesla Inc. helped electric vehicles gain a mainstream foothold in the U.S. by starting with luxury cars and then moving down-market. India's nascent transition to EVs is heading in the opposite direction.
Many consumers will get their first taste of electric vehicles from public-transit systems and corporate fleets in India, where car ownership per 1,000 citizens is just 20, compared with 800 in the U.S. Companies such as Bangalore-based Lithium Urban Technologies Pvt., which provides EV fleets to corporations, are expanding as India aspires to end sales of internal-combustion engines by 2030.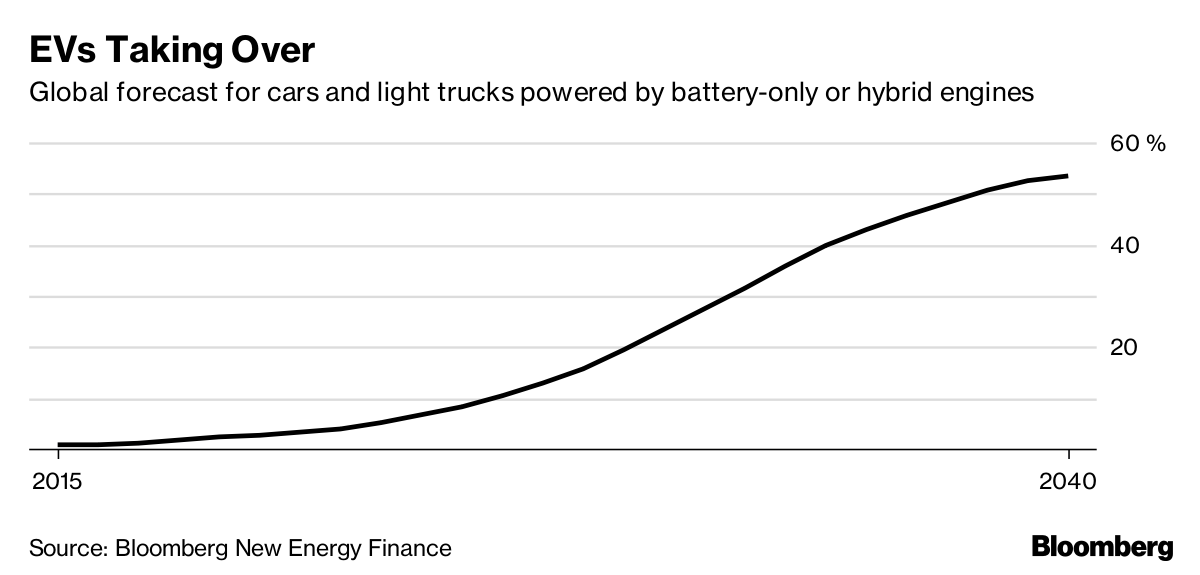 "In the next five years we'll have 10,000 electric cars and buses," Sanjay Krishnan, the firm's co-founder, said in an interview, adding that the company hopes to have its first electric bus as early as this year.
India's relatively low rate of car ownership means consumers have an opportunity to make the electrification leap without some of the challenges and costs other nations will face, and makes possible a path focused at first on mass transit and fleets.
"We started with mass mobility and will then go to an aspirational model — just the opposite of Tesla," Mahesh Babu, chief executive officer of Mahindra Electric Mobility Ltd., said last month at a conference in New Delhi. "It's important to think about public mobility when thinking of electric transport."
Mahindra partnered with ride-hailing company Uber Technologies Inc. in November to supply hundreds of electric vehicles for Delhi and Hyderabad. The company, along with Tata Motors Ltd., is also supplying battery-powered vehicles for India's first 10,000-car tender, aimed at government employees.
Predictions about India's path to wider EV acceptance mirror some of the ways in which China's market developed. Consumers there were introduced to electric vehicles after heavy public investment in infrastructure including buses, taxi fleets and electric railways, according to Sophie Lu, an analyst at Bloomberg New Energy Finance in Beijing. The Chinese also became acclimated to the technology through a long legacy of electric bikes and low-speed EVs. And about 75 percent of vehicles in car-sharing fleets are electric, according to BNEF.
Read BNEF's Electric Vehicle Outlook for a long-term forecast on electric vehicle sales out to 2040.
Lithium Urban, whose clients include Accenture Plc and Tesco Plc, is looking to raise $20 million from institutional and strategic investors. It plans to double its current fleet of 400 electric cars over the next six months, expanding in New Delhi and entering cities including Chennai, Pune, Mumbai and Hyderabad, according to Joy Nandi, head of the national capital region at the company.
Cost Comparison
Lithium Urban uses Mahindra & Mahindra Ltd.'s electric-car model e2o to ferry corporate employees. The fleet is cheaper to run than internal-combustion engines, and its use by corporations assures vehicles travel the minimum 175 to 200 kilometers a day required to break even, Nandi said in an interview at his office near Delhi.
"It costs under one rupee per kilometer on an electric car compared with four to five rupees on a diesel or petrol vehicle," Nandi said.
The company also sets up charging stations at its clients' locations and is working with the government to build 60 of them in and around New Delhi.
Even as corporations and public-transportation systems take their initial steps toward EV adoption, the nation's goal of ending all sales of vehicles powered by fossil fuels in coming years will be a stretch, according to Rahul Mishra, a principal consultant at AT Kearney.
"The vision of electric mobility shows good intention to address emission concerns and leverage our strength in the power sector," Mishra said in an interview. "However, a target without a clear road map is still an aspiration."
500,000 EVs
State-owned Energy Efficiency Services Ltd., which conducted a tender offer to replace the government's fossil-fuel driven fleet with electric cars, sees potential demand of 500,000 vehicles.
"Indian EVs will claim a good share of the mass-transportation market, unlike in the West," Pawan Goenka, managing director at Mahindra & Mahindra, said in an interview. Goenka's company plans to bid on all the government's tenders for EVs for three-wheelers, four-wheelers and buses, Goenka said.
Purchases made by fleet operators like Ola, Uber and Lithium Urban, along with regular large-scale procurement of EVs by the government, will accelerate the adoption of EVs in India, according to BNEF.
"This can attract other manufacturers to introduce more models in the market and will consequently improve consumer awareness, trigger the roll-out of charging infrastructure and attract early adopters into purchasing EVs," said Allen Tom Abraham, a BNEF analyst in New Delhi.