Green bonds issued by Indian companies are gathering pace as the country's ambitious target for renewable energy fuels interest from investors.
Renewable energy developer Greenko Energy Holdings raised $1 billion earlier this week, making it the largest corporate green bond issuer in Asia, Bloomberg data shows. It beat MTR Corp.'s $600 million issue in November. Green bonds from India are likely to increase as renewable capacity expands and the market gets bigger, according to Ashish Sethia, head of research and analysis for Asia Pacific at Bloomberg New Energy Finance.
Indian renewable energy developers face the highest nominal cost of debt in local currency across key markets in Asia and the Pacific region, and they will "continue to seek avenues to reduce costs, including in overseas markets where investor interest is rising," Sethia said.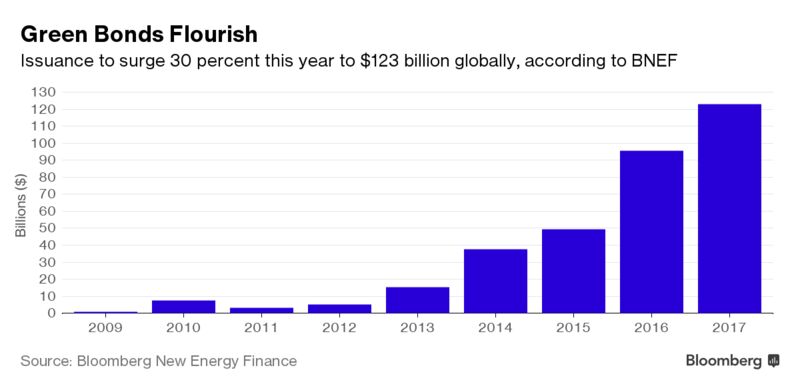 Interest in India's green bonds has been fueled by Prime Minister Narendra Modi's ambitious plan to triple renewable power capacity to 175 gigawatts by 2022. While the target is second only to China, the size of the market remains comparatively small. In China, $7.3 billion worth of green bonds were issued in the first five months of the year compared with $629 million in India, according to BNEF data.
Including Greenko's debt issue and Rural Electrification Corp.'s $450 million note, green bonds issued in India in the first seven months of the year increased to $2.1 billion, according to Bloomberg calculations based on BNEF data. That compares with $9.3 billion issued by companies in China in the same period, according to Bloomberg data.
"After building the hedging costs, some companies have been able to raise international bonds at lower rates (between 9 and 10 percent all-in-costs) as compared to project finance bank loans of between 11 and 13 percent," Abhishek Dangra, a director at S&P Global Ratings said in an email.
The global green bond market is just a decade old, with the first issue by the European Investment Bank in 2007. Issuance nearly doubled last year to $95 billion, according to Bloomberg New Energy Finance. The research group forecasts it will rise to $123 billion in 2017.
Appetite for Green
Greenko's issue is a reflection of the huge appetite for "green" investments from the largest investors in the world including pension funds, insurance companies and sovereign wealth funds, according to Vinay Rustagi, managing director at solar research firm Bridge to India.
Greenko received about $2 billion in orders from 75 global institutions for its bonds, which were priced between 4.875 percent and 5.250 percent. Greenko, which bought 1.7 gigawatts of wind and solar projects from SunEdison Inc., plans to partly use the proceeds to redeem its $550 million notes maturing in 2019 and to buy rupee-denominated debt from its units.
India has a huge requirement for clean-energy funding and many wind and solar energy projects require capital, Ajay Manglunia, head of fixed income at Edelweiss Financial Services Ltd, said, adding that he expects more green bonds to be issued in the next two to three years. Wind-energy developer Morgan Stanley-backed Continuum Energy is also looking to raise funds via five-year dollar-denominated notes.
Clean-energy investment in India this year is likely to total $10 billion and the country is likely to add more than 13 gigawatts of renewable energy capacity every year from 2017 onward, according to BNEF.
While there is no India-specific definition of green bonds, issuers can choose to adopt an international voluntary code, according to Bridge to India.