By Anindya Upadhyay and Upmanyu Trivedi
Falling renewable energy tariffs in India have prompted some state governments to tell generators that they can't buy the energy at prices agreed upon, exposing the businesses to risks due to poor enforcement of contracts in Asia's third-largest economy.
Investors panicked earlier this year when the southern states of Andhra Pradesh and Karnataka, which account for a quarter of the country's wind installations, backtracked on many purchase agreements to lower prices. Reason: cost per unit of power had fallen to a record low of 3.46 rupees in the country's first wind auctions held in February.
The issue goes to the heart of any commercial economy, said Rajiv Ranjan Mishra, managing director at the Indian arm of Hong Kong-based power developer CLP Holdings Ltd.
"You can extend it to every single contract and this can cause mayhem," he said. "Particularly in a sector where you have commitments for over 20-25 years, if you can't depend then it will be terrible news."
The country has consistently ranked among the worst places to do business in part because of its weak record in enforcing contracts — India ranked 172 out of 190 countries in that category, behind Egypt and Zimbabwe, according to the 2016 World Bank Doing Business report.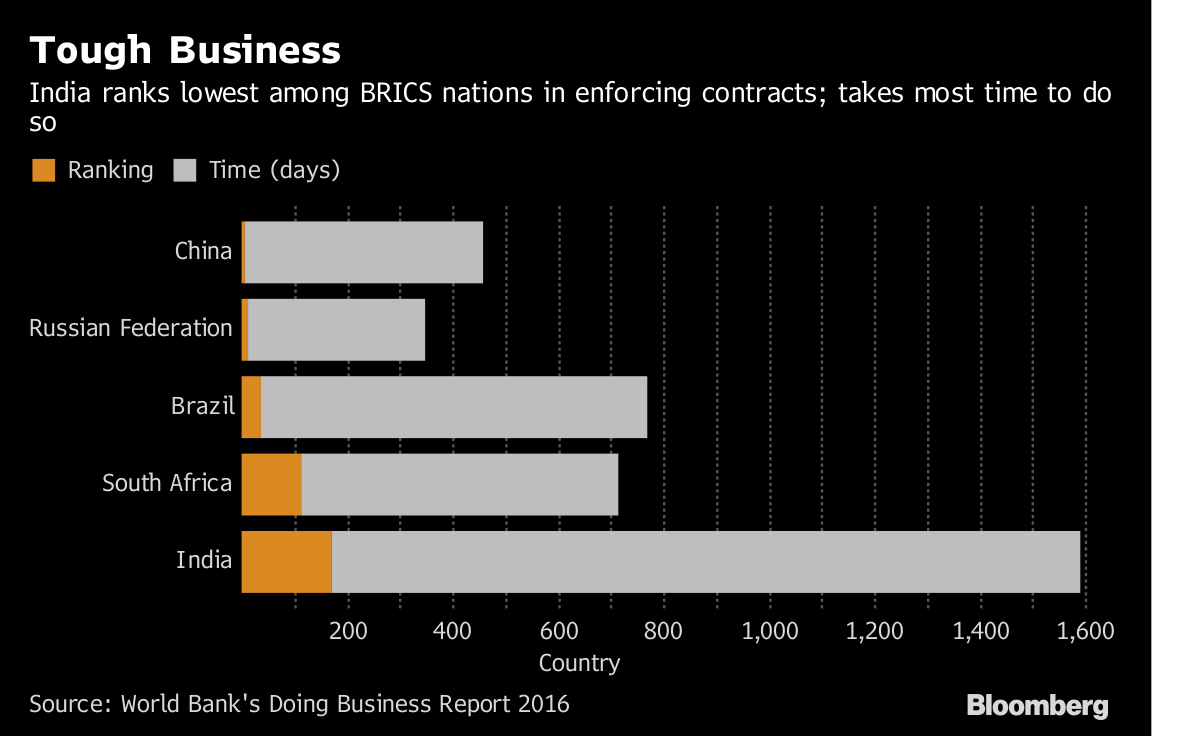 In wind alone, 3 gigawatts of capacity worth 480 billion rupees ($7.5 billion) in four states is facing uncertainty because of renegotiation, credit assessor Crisil Ltd. said Monday. That shows how the sanctity of contracts — the Achilles' heel of the Indian economy since it opened up to foreign investment in the 1990s — continues to be violated.
The move is an attempt to lower costs at bankrupt distributors that accumulated 4.3 trillion rupees ($67 billion) of debt as of September 2015 and lose money on every unit of electricity sold.
Modi's Goal
The wind-contracts issue also contradicts Prime Minister Narendra Modi's goal of building 175 gigawatts of renewable capacity by 2022. The target may require over $200 billion in investment, much of it from overseas.
"India needs foreign capital to grow its renewable energy sector and that money will quickly turn away if there is such blatant flouting of the rule of law," said Ranjit Gupta, chief executive officer at wind-project developer Ostro Energy Pvt., which is backed by private-equity investor Actis LLP.
While opening wind power pacts is the most recent example of violating contracts, it has happened elsewhere. In June, the power distributor for the northern state of Uttar Pradesh canceled purchase agreements with Bajaj Energy Ltd.'s five coal-fired plants, saying the agreed prices were too high and hindered the state's ability to provide electricity to all its citizens.
Bajaj Energy has challenged the retailer's decision in court. A company spokesman declined to comment, as the matter is being litigated.
In infrastructure, a residents' group went to court in 2012 to scrap toll on a road connecting the capital New Delhi with the suburb of Noida. The contract between the private developer and Noida permitted the former to recover construction and maintenance costs, in addition to a 20 percent operating profit.
'Public Utility'
The Allahabad High Court contended that the operator had recovered its cost and ordered the toll be scrapped. The matter is now with the Supreme Court.
The shares of Bajaj Energy's parent Bajaj Hindustan Sugar Ltd. rose 1 percent to 14.70 rupees as of 11:34 a.m. in Mumbai Wednesday. Noida Toll Bridge Co. fell 2.7 percent to 12.80 rupees after climbing 44.6 percent last week, the most on record.
Governments use the concept of 'public utility' as a renegotiation ploy for projects that concern the price of power or toll for a road arguing that the greater good outweighs narrow commercial interests, according to Abhishek Dutta, chief executive partner at law firm Aureus Law Partners.
"To reduce investor risk it's important to draft the contract in a way that defines what public interest would be so as to ensure more certainty over the life of a contract," Dutta said in a phone interview.
Meanwhile, as wind developers continue to hold talks with Andhra Pradesh and Karnataka, the federal government has stepped in. The Ministry of New and Renewable Energy wrote to seven states, including the two in question, to desist from opening contracts, according to an Aug. 21 letter seen by Bloomberg News.
Renegotiation of the wind contracts sets a bad precedent, according to Anish De, partner and head of infrastructure strategy and operations at consulting firm KPMG. "It's poor practice, which is bad for the economy because it damages the country's credibility completely," he said.
Seeing the success of federal auctions in reducing wind tariffs the states of Tamil Nadu and Gujarat did the same for 500 megawatts each of projects earlier this year.