The only electric-car maker in India says the business case for the clean technology is starting to make sense — and it won't require government subsidies to take off in a big way.
Mahindra & Mahindra Ltd., which announced a partnership this week with Ford Motor Co. to cooperate in areas including electric and driverless autos, says there's money to be made in a nascent EV sector that some carmakers warn is curbing their margins.
"We've just been believers for a while, haven't been making any money, but now the tipping point seems to be reached," Chairman Anand Mahindra said Wednesday at the Bloomberg Global Business Forum in New York.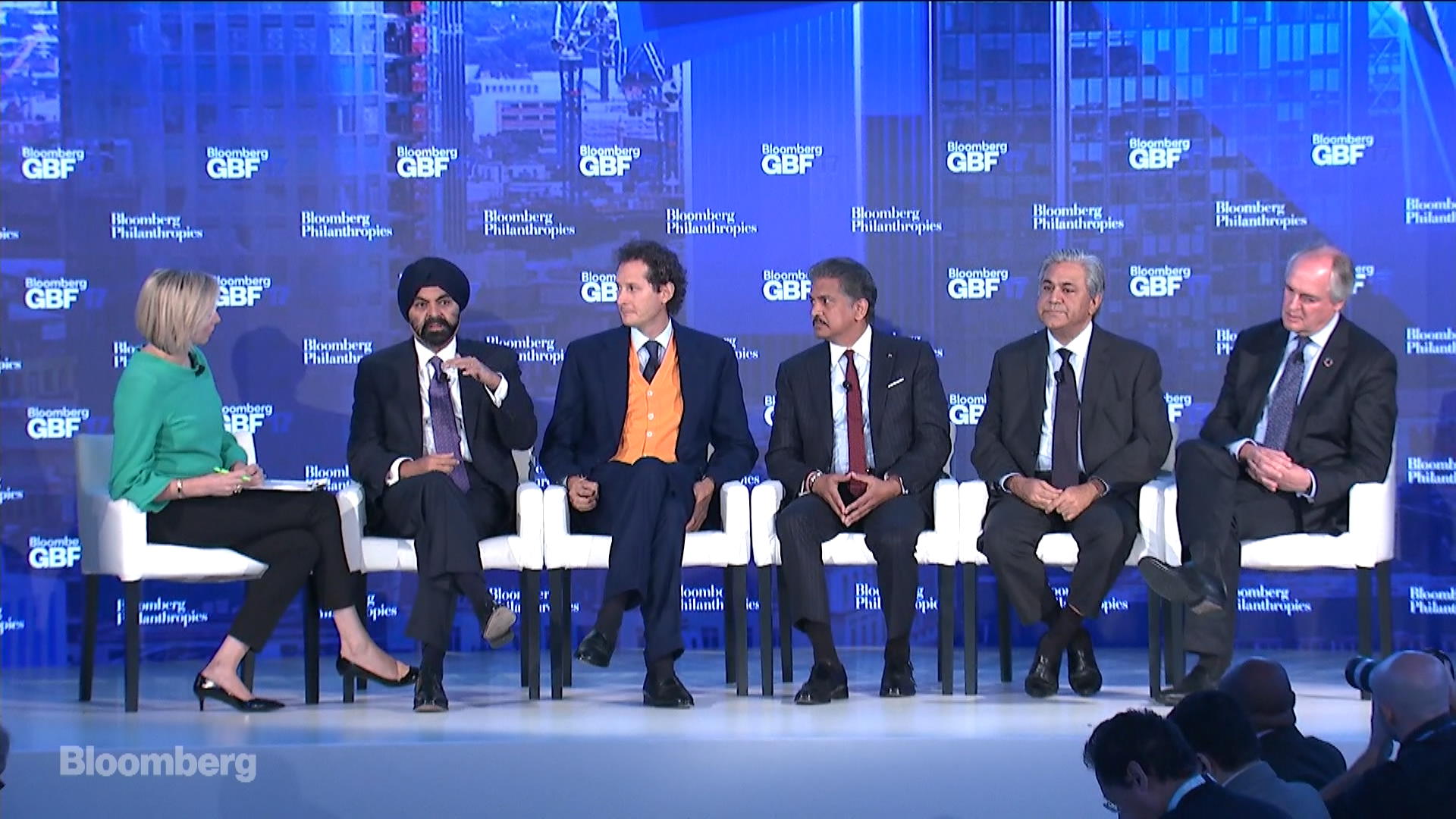 Global demand for electric cars has been sluggish to date in part because they remain more expensive than autos fueled with gasoline and diesel. Bloomberg New Energy Finance projected in July that they'll turn a corner in the coming years when prices reach parity, and that a third of the global auto fleet will be plug-in hybrid or battery-powered by 2040. Automakers are jostling to lead the fledgling space, with Tesla Inc. debuting its first mass-market EV and Volvo Car Group pledging to put electric motors in all of its new cars by 2019.
"This is not a trade-off. This is the single biggest business opportunity for the next couple of decades," Mahindra said of sustainable businesses. "Anyone not looking at these opportunities is going to miss out on growth."
Government Role
With green business choices starting to pay dividends, companies don't need government subsidies to justify expanding into sustainable areas, Mahindra said. But government leaders can support the efforts by clearly communicating the country's direction, as Indian Prime Minister Narendra Modi did by announcing a commitment to solar, he said.
"Businesses look for stability, they look for direction. You don't need that much more if you're just smelling opportunity," Mahindra said. "We're not looking for subsidies, we were just saying, 'Tell us that's the track you're going to follow.' If you're going to do that, there's money to be made, there's going to be a return."
Read BNEF's Long-Term Electric Vehicle Outlook
Modi has backed an initiative for most, if not all, vehicles in India to be powered with electricity by 2030. His government's top policy planning body Niti Aayog plans to present a blueprint that envisages an all-electric market before 2030, an official said in New Delhi on Wednesday.
China is poised to become the largest market to seek a phase-out of the internal combustion engine, following similar moves in France, the U.K. and Norway. 
Mahindra & Mahindra, which sells the e2o micro electric car, is looking for a joint venture partner in China, the business's chief said last year.
Governments can be helpful, but decisions to invest ultimately lie with companies, Mahindra said. While he called the U.S. withdrawal from the Paris climate-change accord unfortunate, he said early adopters will reap rewards.
"From my competitive juices point of view, we're delighted if someone's not going to look at these opportunities," he said. "There'll be more there for us."