India expects to have a surplus of power for the first time in at least 13 years, a sign that the country's goal of full electrification may be lagging.
The country's power plants are forecast to produce 8.8 percent more electricity than its distributors will demand during the year to March, the Central Electricity Authority said in an annual generation report last week. That would be the only surplus in records going back to the year ended March 2006.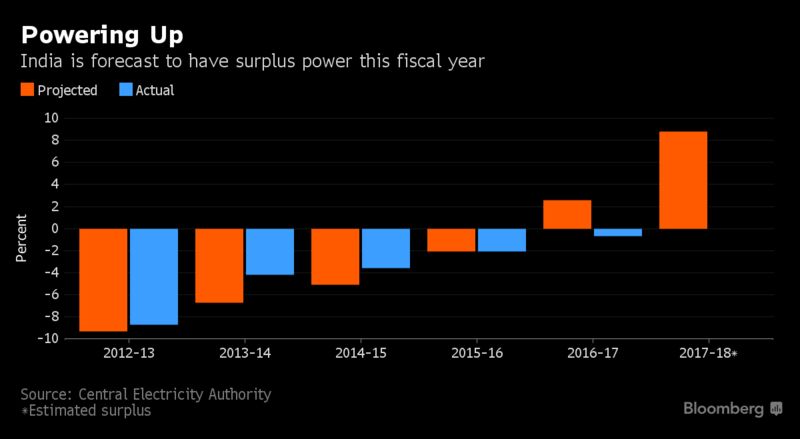 The narrowing deficit in recent years, and the projection for a surplus this year, have been aided by slowing demand growth from state distribution companies, known as discoms, who struggle to purchase enough electricity for the populations they serve. The CEA defines demand as the amount of power that distributors buy, not necessarily how much electricity would be needed for the whole country. That helps explain why an estimated 45 million rural households lack electricity and several cities face regular blackouts.
"One of the main reasons for the lower growth in power demand is the reluctance of discoms to increase their purchases to supply uninterrupted power," said Shantanu Jaiswal, an analyst at Bloomberg New Energy Finance. "Several power stations in India are running at low capacity factors, producing a fraction of the power they are built to generate."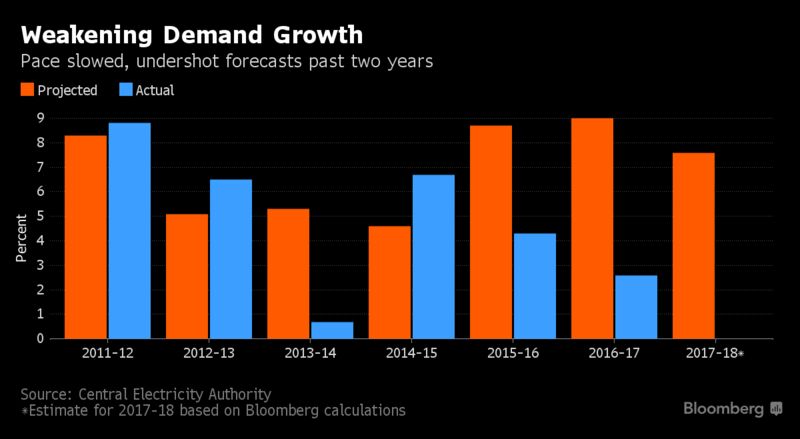 Demand for electricity grew 2.6 percent in the last fiscal year, slipping for a second year and undershooting the CEA's 9 percent forecast. Consumption this year is estimated to increase by 7.6 percent, according to Bloomberg calculations based on the CEA's outlook.
India's slowing economic expansion may be a challenge to the country hitting the CEA's power demand growth estimates. Gross domestic product grew at the weakest pace in more than two years in the three months to March, dragged down by Prime Minister Narendra Modi's cash ban in November and the weight of the country's bad bank debts.
The utilization rate at India's coal-fired power stations, which dominate the nation's electricity generation, is declining as capacity grows faster than discoms are able to purchase power, leading to a glut. Supply last year increased by 4.1 percent, compared with the CEA's forecast of 12.8 percent.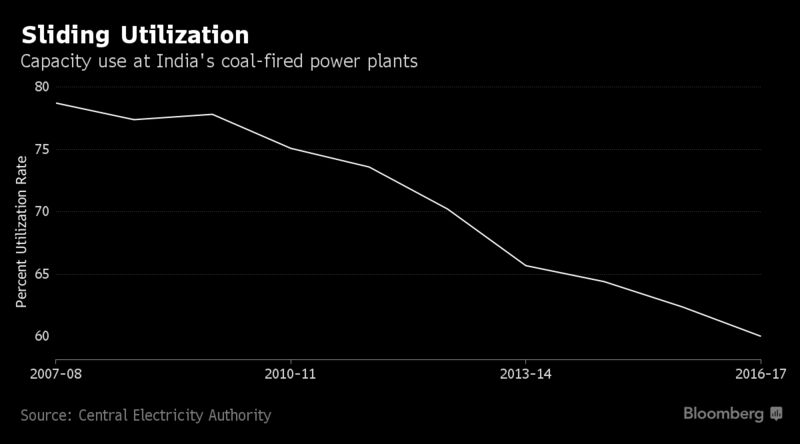 "We have enough capacity to generate more and consume more," CEA Chairman Ravindra Kumar Verma said in a phone interview. "However, due to reasons like breakdown of transformers, inadequate transmission capacity and distribution infrastructure, we're forced to switch off our generation."
Modi's government is aiming to supply power to all citizens in the world's second-most populous nation by 2019. To help reach that goal, his administration launched a debt-restructuring program aimed at making all state retailers profitable by that year.
Most of India's provincial electricity retailers lose money selling below cost to poor and agricultural customers and through power theft. State-run distributors held combined debt of 4.3 trillion rupees ($67 billion) as of September 2015, the latest year of available data.
The results of the plan to turn around the retailers are emerging, said Sabyasachi Majumdar, senior vice president at rating agency ICRA Ltd. Discoms are taking steps to reduce theft, while the falling price of renewables and efforts to bring down fuel costs will make cheaper electricity available to them.
"In the power sector all these things take time. It will not improve overnight," said Ashok Kumar Khurana, director general at Association of Power Producers, a lobby group of private-sector generation companies. "All of these reforms show impact in the medium-term, not the short-term.