ReGen Powertech Pvt., one of India's top five wind turbine makers, last month shuttered a factory in the northwest city of Udaipur and laid off workers, signaling challenges roiling the nation's wind turbine manufacturers as they adjust to an auction system that's throwing into doubt how much wind energy gets built.
"We all have extra capacity so it was a good decision to restructure to stay lean," Madhusudan Khemka, managing director at ReGen Powertech, said in a phone interview. "We will only operate from the 1-gigawatt factory in the state of Andhra Pradesh and have reduced staff strength to 1,300 employees from 1,700 and are still at it."
At the center of the issue is the government's decision earlier this year to introduce competitive bidding for wind projects instead of offering a feed-in-tariff. That's creating uncertainty in the industry, with developers and industry representatives saying the government has been slow to release capacity.
Domestic and foreign turbine manufacturers in India have the capacity to produce 12 gigawatts of turbines and and were hoping this year to deliver 6 gigawatts in orders, according to the Indian Wind Turbine Manufacturers Association, the industry body. Manufacturers produced a record 5.4 gigawatts last year, the association said.
Roughly 2 gigawatts will probably be produced this year, leading some manufacturers to idle their facilities, according to D.V. Giri, the wind association's secretary general.
So far this year, India has held one wind auction, awarding contracts in February to develop 1 gigawatt of capacity. India will push back the date for an auction of 1-gigawatt of additional capacity by about 2 1/2 weeks to Oct. 4, Sanjay Sharma, general manager at the Solar Energy Corp. Of India, the country's implementing agency for renewable targets, said by phone on Friday without elaborating on the reason for the deferment.
The secretary and media officer at the ministry of renewable energy didn't respond to questions seeking comment on the pace of auctions.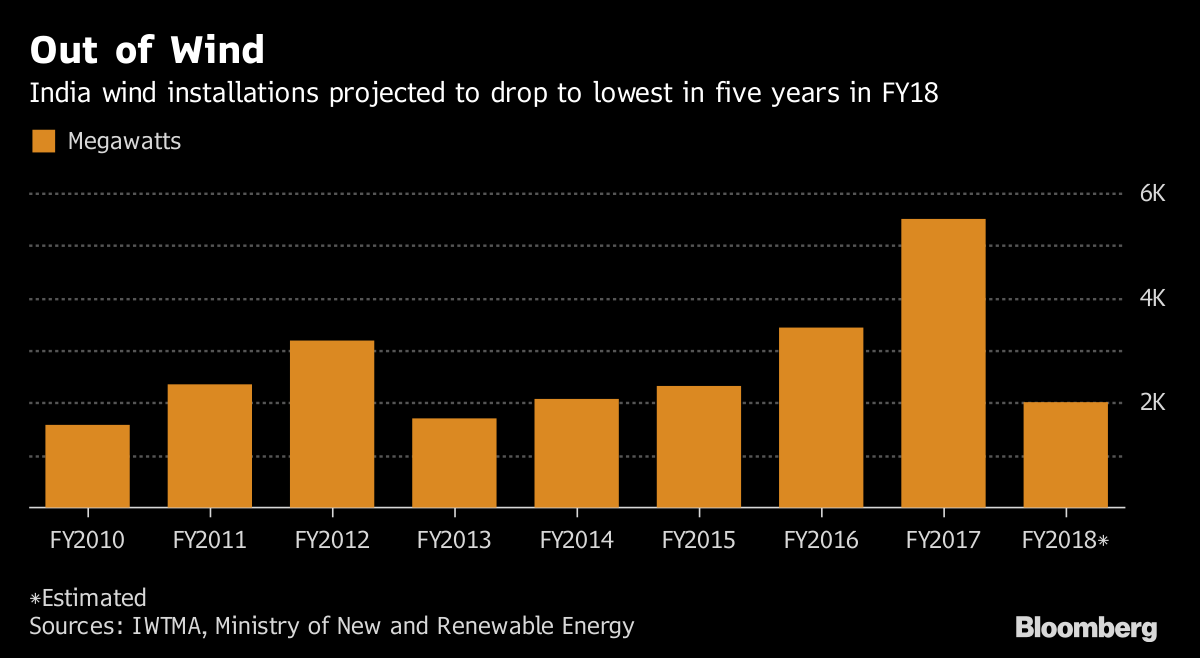 Although Prime Minister Narendra Modi is credited with bolstering the country's renewable energy targets and attracting foreign investment into the sector, job creation is seen as his government's biggest failing.
With scarce fresh employment opportunities in India, manpower cuts in the wind manufacturing sector adds to pressure on Modi to fulfill his 10-million-jobs-a-year campaign pledge with less than two years to go before he faces re-election. 
"When you have so much inventory and no visibility of sale, there will be temporary lay-offs of people," Giri said in a phone interview, adding that the wind association is asking the government to hold auctions more frequently.
The slow pace of auctioning poses a challenge for turbine manufacturers like Siemens Gamesa Renewable Energy SA, Suzlon Energy Ltd., Inox Wind Ltd. and ReGen Powertech.
On Friday, Inox Wind fell as much as 1.1 percent in Mumbai to 125.70 rupees, while Suzlon Energy dropped as much as 1.8 percent. The benchmark Sensex dipped as much as 0.3 percent.
Leaving factories working at less than capacity leads to job losses, especially when equipment manufacturers are trying to remain competitive, Vivek Sharma, senior director for energy and natural resources at credit ratings agency Crisil Ltd., said in an email.
"Every megawatt's loss will directly lead to around 1-2 job losses and will have indirect job losses through associated and related industries like blade and part manufacturers in India," Sharma added.
Manufacturing Measures
Siemens Gamesa, the biggest wind turbine supplier in India for the last three years, saw a 7 percent drop in revenue in the three months ended in June after sales were squeezed in India because of the switch to auctions, the Spanish turbine maker said in July.
The pace of new auctions means some temporary manufacturing measures in the wind supply chain are needed, Ramesh Kymal, Siemens Gamesa's chief executive officer for India, said in an email.
"While the industry is taking all possible efforts to adapt to these market conditions, it is awaiting positive signals from the government with respect to clarity on power purchase agreements, initiating more auctions to stabilize capacity additions, which will help the industry to bounce back to normality," he said.
For an overview of some of the challenges facing wind projects in India, please see here.
In May, Indian turbine maker Inox Wind said it had stopped all manufacturing after 700 megawatts of orders won under the previous feed-in-tariff regime became a "piece of paper" after states stopped signing power purchase agreements. The company has manufacturing capacity of 1,600 megawatts but has orders of only 300 megawatts to be executed from October.
On an earnings call in July, executives said they had excess inventory.
"We have sufficient project (site) inventory as of June end 2017 for installation of an aggregate capacity of more than 5,000 megawatts," Devansh Jain, a director at the company, said at the time.
Inox didn't respond to an email sent to the company on Aug. 31 seeking additional comments on capacity under-utilization and job cuts.
Wind Market Impact
On a quarterly earnings call on Aug. 15, Suzlon Energy executives hinted at "manpower rationalization" as part of efforts to deal with costs.
"The manpower cost optimization takes time to initiate action…and as a result, you will see it after a quarter or two, we don't see it immediately," Suzlon Chief Executive Officer J.P. Chalasani said during the call.
A Suzlon Energy spokeswoman declined through email to respond to questions and instead referred to the transcript of the August earnings call.
Looking ahead, 2018 could be the worst year for new wind installations in more than a decade in India, according to Bloomberg New Energy Finance.
"The Indian wind industry can see a revival in 2019 but only if two to three gigawatts of wind projects are auctioned in the next six months," said Shantanu Jaiswal, the New Delhi-based India research head at BNEF.
As of June, India had 32.5 gigawatts of wind capacity. The nation is aiming to have 60 gigawatts by 2022 as part of the country's climate pledge.