The World Bank's International Finance Corp. and European asset manager Amundi SA are targeting year-end to raise $2 billion for what is expected to be the world's largest green-bond fund dedicated to emerging markets.
The fund aims to marry the goals of investors seeking more high-yield opportunities and development banks seeking to expand the green economy in emerging markets. Initially, only 10 to 12 percent of capital in the Amundi-IFC fund will be invested in green bonds, said Fred Samama, deputy global head of institutional and sovereign clients at Amundi, in an interview.
Lenders such as the World Bank are eager to see the market for environmentally-friendly securities grow faster to help reach global climate goals. The entire green bond market is projected to surge more than 30 percent this year to a record $131 billion, according to Bloomberg New Energy Finance, still just about 0.2 percent of the total bond market.
"We see the opportunity to offer yield and diversification to these investors," Jean Marie Masse, chief investment officer at IFC, said in the interview.
The International Finance Corp. said in April that it would invest as much as $325 million in the so-called Green Cornerstone Bond Fund, which will buy green bonds issued by banks in Africa, Asia, the Middle East, Latin America, Eastern Europe, and Central Asia. Amundi will raise the rest of the $2 billion from global institutional investors.
The fund will phase in investments in green bonds over seven years, "otherwise, we'd need to buy all the green bonds in China and India," Samama said. Those two countries have issued the most emerging market green bonds thus far, with China being the biggest source of green bonds last year.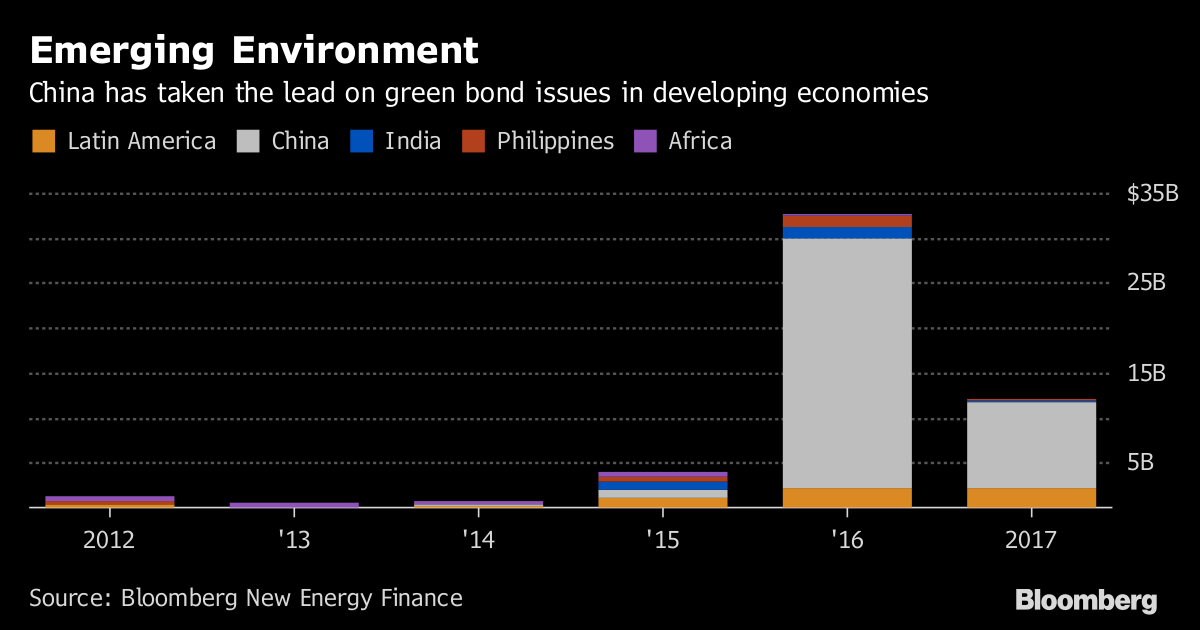 Amundi and the IFC are seeking investors keen for emerging markets exposure and yield, but not the risk that that sometimes entails. That's part of the appeal of green bonds, which are typically investment-grade even as the sovereign rating of many emerging markets aren't, Masse said.
With solar power now cheaper than coal in some parts of the world and an increasing focus on energy efficiency and transportation infrastructure, the green-bond market is poised to tap into fast-growing sectors of the economy, Masse said.
Green bonds come with extra environmental certification costs and typically don't get better pricing than conventional bonds, factors that have discouraged some issuers. Some obvious candidates, such as Tesla Inc., have opted against issuing green bonds while Spanish refiner Repsol SA, has.
The IFC has a separate philanthropic fund aimed at covering the certification costs of green-bond issues and will help emerging markets companies with green bond documentation. Amundi will only buy those bonds for the fund if they fit its investment goals, Samama said.
The overall goal is to see "What can we do to accelerate these economies in a climate-smart way?" said Sean Flannery, a senior adviser at the International Finance Corp.