Written by Jim Polson. This article first appeared in Bloomberg Markets.
Connecticut took a step toward propping up nuclear energy on Thursday, wading into a national debate over how to keep aging reactors running that's become so intense that even the Trump administration is weighing in.
A bill passed Thursday and sent to Connecticut Governor Dannel Malloy directs agencies to consider above-market power agreements for Dominion Energy Inc.'s Millstone plant, the state's sole nuclear plant. In seeking to shore up its profitability, Connecticut is following in the footsteps of New York and Illinois which have already offered subsidies to keep money-losing operations there open.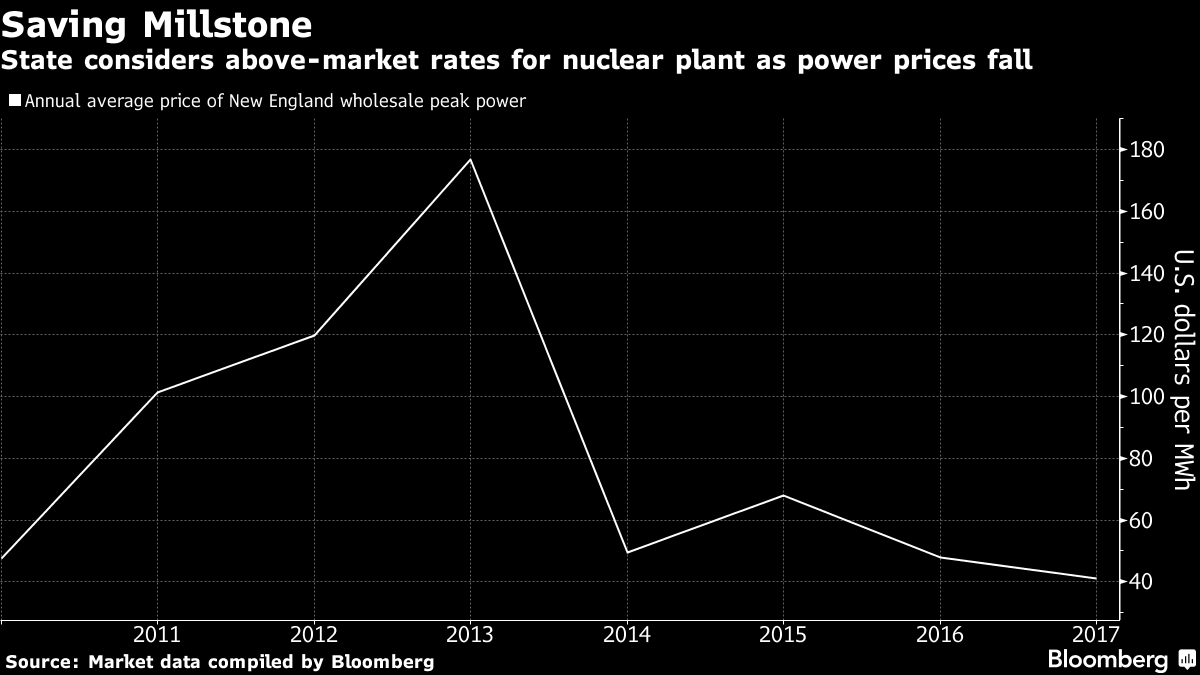 Millstone is facing the same pressures from cheap natural gas and renewable energy that have led to a wave of reactor closures and prompted some states to offer subsidies. Just last month, U.S. Energy Secretary Rick Perry laid out a plan to reward nuclear and coal plants for their ability to supply around-the-clock power, a proposal that's drawn fierce opposition because of concerns it'll undermine the nature of competitive markets.
Dominion's chief executive officer, Tom Farrell, meanwhile described the Connecticut bill as "a path forward to retain 1,500 well-paying jobs and Millstone's substantial environmental, energy, and economic benefits for Connecticut."
The Connecticut House of Representatives voted in favor of the Millstone measure after the state's senate approved the bill last month. Dominion rose the most on an intraday basis since May.
"Our office will review this bill and it will be considered in the context of the overall budget," Chris Collibee, a spokesman for the governor, said by phone.
Dominion said in August it was limiting its hedging of 2018 production from the plant pending the outcome of legislation. If the plan is adopted, customers may pay a premium for nuclear power, set in a competitive auction alongside wind, solar and hydro.
"Millstone could sell about half of its output into this auction," Shahriar Pourreza, an analyst for Guggenheim Securities LLC, said by phone Wednesday. "It's a very good chunk."