For the third time this month, a hurricane is spinning toward the already battered Caribbean and gathering strength along the way.
The National Hurricane Center upgraded tropical storm Maria to a hurricane Sunday as winds picked up to 85 miles per hour. The storm, 100 miles (160 kilometers) northeast of Barbados, is intensifying, and hurricane warnings have been issued for the islands of Guadeloupe, Dominica, St. Kitts, Nevis and Montserrat, according to an advisory issued around 11 p.m. New York time.
Watches are in place for locations including the U.S. and British Virgin Islands, St. Martin, Anguilla and St. Barthelemy — all of which were devastated by Hurricane Irma earlier this month. Meanwhile, the Northeast U.S. is preparing for rain, beach erosion and riptides from a projected brush with offshore Hurricane Jose.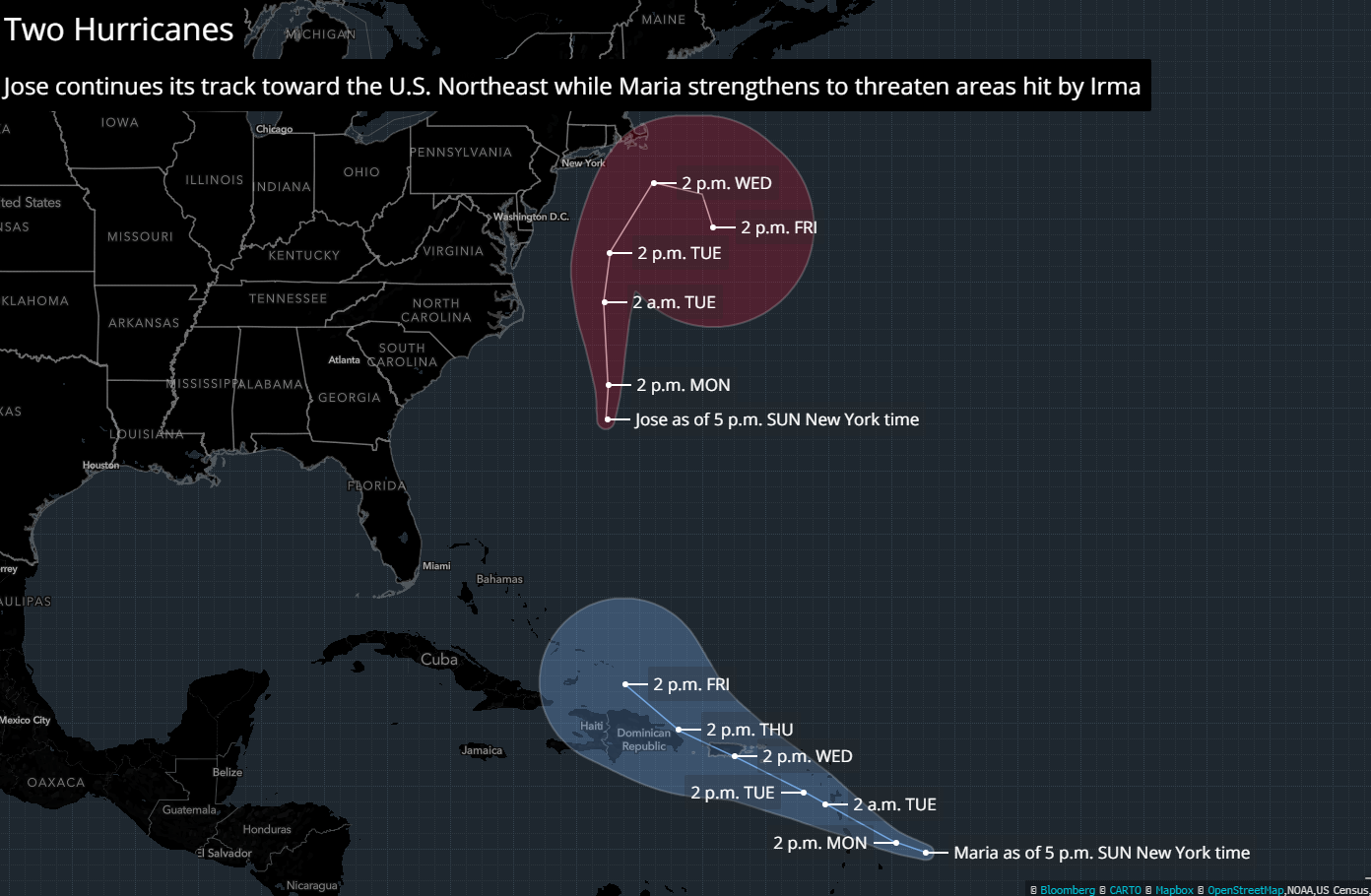 Maria is the latest in a series of devastating storms that have battered the Caribbean and Gulf of Mexico during the 2017 season. In the past month, hurricanes Irma and Hurricanes Harvey left dozens of people dead and upended energy and agriculture markets.
Maria is traveling west-northwest at 13 mph and is forecast to move across the Leeward Islands on Monday. Projections from forecasting service AccuWeather Inc. show Maria will probably become a Category 2 hurricane before reaching the Leeward Islands, and intensify once again to Category 3 as it nears Puerto Rico and the Virgin Islands on Wednesday. A Category 3 storm has maximum sustained winds above 110 mph.
Forecasters didn't have enough data late Sunday to tell how Maria might affect the U.S. Jose, which is expected to stay off the coast of the Northeast U.S., probably will affect Maria's path, according to Weather Underground of Ann Arbor, Michigan. While some models show Maria staying well off the U.S.'s eastern coast, others show it could pose a threat in about a week, the forecasting service said.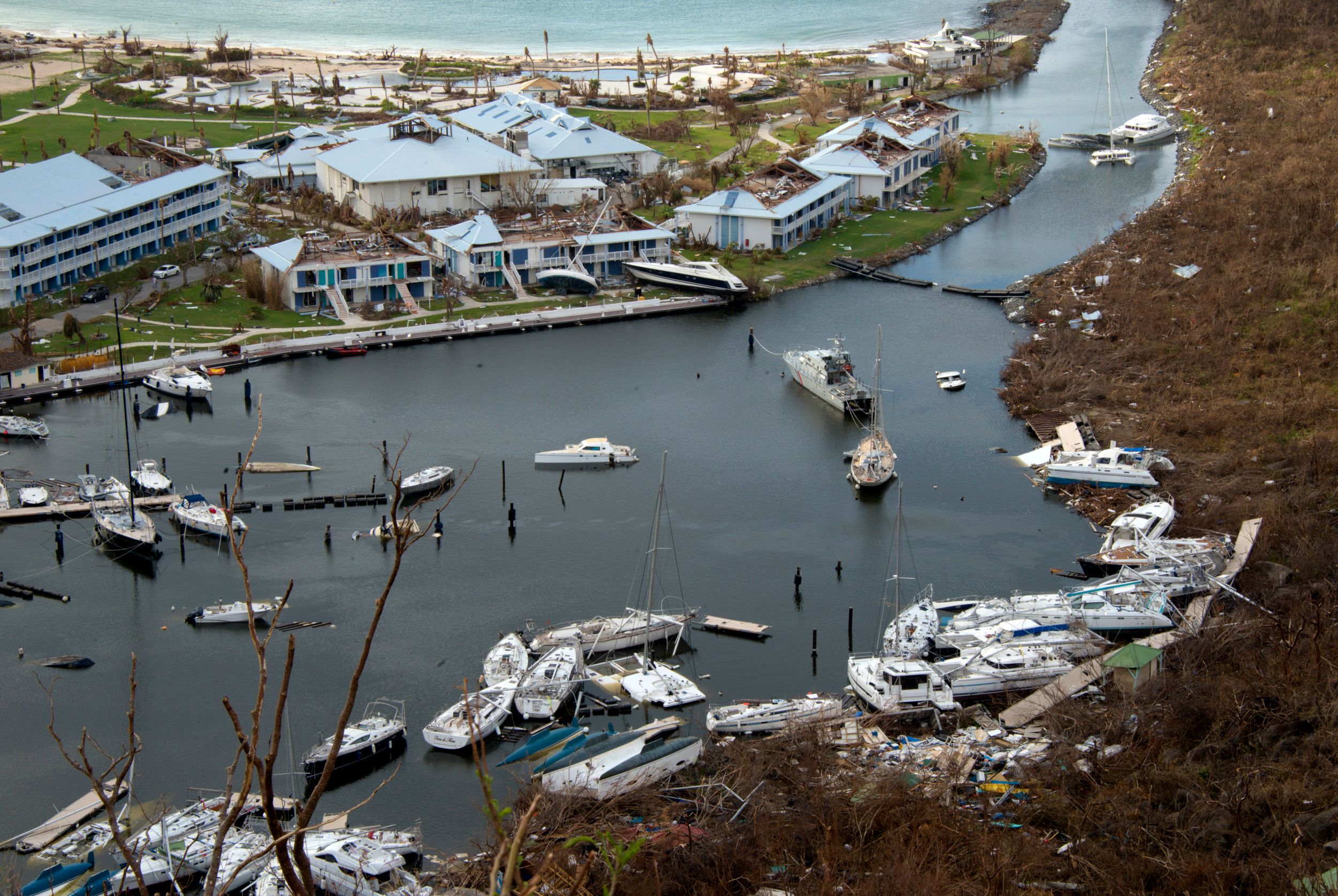 Islands Prepare
In Puerto Rico, where Irma knocked out power to more than 1 million customers, officials set up 450 shelters, closed schools Monday, and planned to send government employees home at noon in advance of Maria.
In the nearby Dominican Republic, President Danilo Medina held an emergency meeting Sunday with officials from the armed forces and Center for Emergency Operations, before traveling to New York to attend the UN General Assembly meeting. Officials said they would monitor Maria's progress and meet again Monday morning.
"We are preparing for a powerful hurricane that will put even more pressure on our infrastructure already deeply affected by Hurricane Irma," Carlos Mercader, a representative of Puerto Rico's government in Washington, said in a statement.
After the Storm, Someone has to Pay
Dominica, an island of 75,000 people in the eastern Caribbean, planned to shut schools, businesses and all government offices except emergency services Monday, said Prime Minister Roosevelt Skerrit in a national address. 
"We should not take this storm lightly. Just because the last one skipped us, we should not believe this one will skip us," he said. "We ought to be mindful of the serious devastation caused in some of the islands" by Hurricane Irma. 
Storm Surge
Skerrit ordered shelters to open and said the government would call for people in some areas to evacuate.
Storm surge is expected to be a significant hazard and could raise water levels by as much as 5 feet to 7 feet as it crosses the Leeward Islands, the hurricane center predicts. Swells, accompanied by life-threatening surf and rip current conditions, are already affecting islands across the Lesser Antilles, the hurricane center said.
The latest data on Jose show its threats to the U.S. have diminished, although locations such as Martha's Vineyard, Nantucket and an area from Fenwick Island, Delaware, to Sandy Hook, New Jersey, are under a tropical storm watch, according to the NHC's 11 p.m. advisory.