Written by Anna Hirtenstein. This article first appeared in Bloomberg News.
Microsoft Corp. is moving to use fuel cells at its power-hungry server farms, saying the technology may double the efficiency of energy used.
The software company is testing how it can use the devices to generate electricity and plans to install a 10-megawatt fuel cell within a few years at a cost of about $45 million.
"This technology is very, very disruptive, and we're investing a lot of time and money into it," said Sean James, principal research program manager at Microsoft's R&D program on energy strategy. "We could almost double the energy efficiency. We've been able to model and measure in the lab that with fuel cells."
Once so expensive that they were only used in laboratories and space projects, fuel cells have spread to more commercial applications seeking lower-pollution forms of energy. They generate electricity through a chemical reaction involving natural gas, hydrogen or a biofuel. Companies developing them including Ballard Power Systems Inc., Ceres Power Holdings Plc and FuelCell Energy Inc. are also seeking to put them into home heating and to extend the range of electric vehicles.
Investment in the fuel cell industry has dipped in recent years, shrinking 85 percent between 2015 and 2016, according to data from Bloomberg New Energy Finance.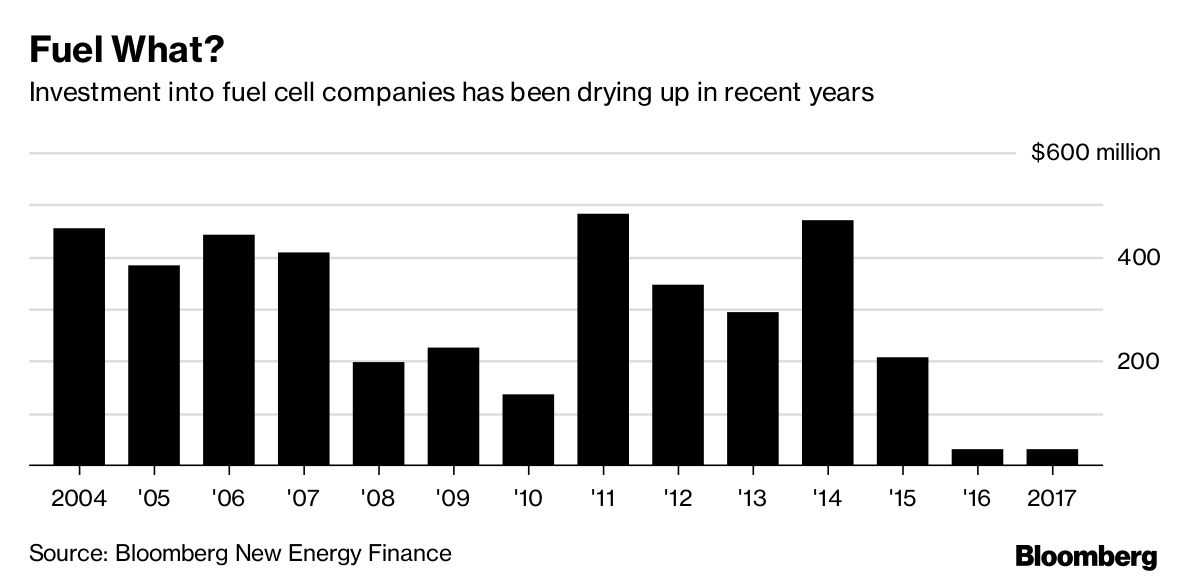 "While fuel cells were seen as the answer to electric vehicles in the 2000s, they never managed to achieve the scales of economy that we have seen with batteries," said James Frith, energy storage analyst at Bloomberg New Energy Finance. "This has led to fuel cells largely being left at the wayside."
Data centers are a good market for fuel cells because of the amount of power they consume. Worldwide, they draw more than 1 percent of the world's electricity. This demand is expected to rise as the global population becomes increasingly technology-savvy and more objects become gadgets as everything from thermostats to kettles connect to the internet. By 2020, 1 million new devices are expected to come online every hour, according to Microsoft.
Microsoft is also attracted to fuel cells because they are responsible for less greenhouse gases than traditional sources. They emit small amounts of CO2, but no pollutants such as sulfur or nitrogen oxides that are typically produced by burning fossil fuels. Microsoft gets 50 percent of its energy from solar, wind and hydropower and is targeting to increase that proportion to 60 percent by 2020.
While it will be using natural gas in its fuel cells at first, it will seek to procure a clean fuel such as hydrogen made from renewable energy in a similar fashion that it signs power purchase agreements with solar and wind developers, James said.
While Microsoft would like to install fuel cells in its data centers as soon as possible, the industry is nascent and it's not possible to buy the devices at the scale that the company would need, according to James.
"Essentially what we want to do is get out of R&D as soon as possible and actually use them to power the data center, we hope to do that as soon as possible," he said. "Unfortunately we have a supply chain issue. I need hundreds of megawatts of these things."