For all the excitement Tesla Inc. mustered by starting to deliver its cheaper Model 3, the tall order ahead for the sedan will be to pull off what no electric car has done to date — move the needle on the auto market.
Tesla's sedan starting at $35,000 has landed as U.S. sales of EVs and other green autos, including hybrids, perk up for the first time in four years. The gains have been too modest to matter to an industry in decline during the first half of the year. Total car and truck deliveries probably shrank a seventh straight month in July.
A dearth of EVs offering both affordability and ample driving range has kept consumers from demanding them in large numbers thus far. On paper, the Model 3 and General Motors Co.'s Chevrolet Bolt have the potential to take significant steps toward EVs finally reaching mainstream relevance. Both are priced closer to what the average vehicle sells for in the U.S. and are capable of going more than 200 miles between charges.
"If you're trying to make a difference in the world, you obviously have to make cars that people can afford," Elon Musk, Tesla's chief executive officer, told reporters Friday before handing over the first 30 Model 3 sedans to company employees. "This is a car that about half of the people in the U.S. — in an advanced economy — can afford."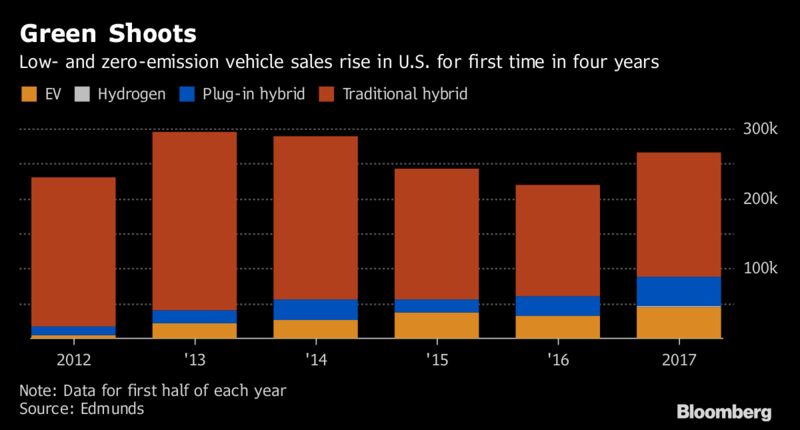 When automakers report monthly U.S. vehicle sales on Tuesday, they'll probably show the annualized pace of total light-vehicle sales slowed to 17 million in July, according to a Bloomberg News survey of analysts. The projected rate, which is adjusted for seasonal trends, would be down from 17.9 million a year earlier.
For GM, the Bolt that started sales in December and the Volt plug-in hybrid introduced years earlier draw consumers that otherwise aren't shopping for Chevrolets. More than 80 percent of Bolt customers hadn't owned a set of wheels from the brand before, Chief Executive Officer Mary Barra said during an earnings call last week.
Larger forces — including an industrywide sedan slump and GM's pullback from low-margin shipments to rental-car companies and other fleets — have undercut the company's total sales this year. For July, analysts predict GM will report an 8 percent drop.
GM isn't alone: Every major automaker in the U.S. is projected to post declines.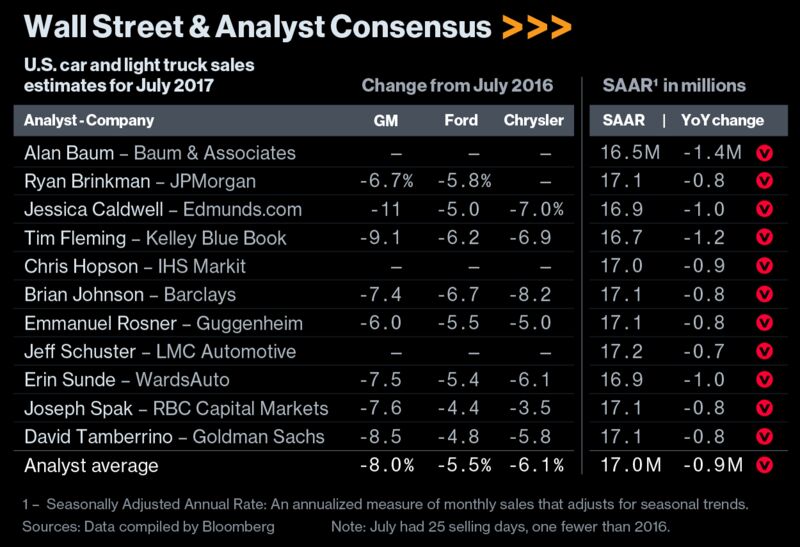 While EV sales surged 41 percent in the first half of the year, according to car-shopping website Edmunds, they still accounted for just 0.5 percent of the total light-vehicle market. While adoption has been slow to date, even some of their leading skeptics are beginning to see their rise as imminent.
Fiat Chrysler Automobiles NV's Sergio Marchionne, who once said he hoped consumers wouldn't buy the unprofitable plug-in Fiat 500e, told analysts last week he believes electrification is inevitable. The CEO cited battery prices coming down and diesel becoming a target of regulators and environmentalists, though he cautioned EVs may still be more expensive than traditional autos for years to come.
"I still think that there's going to be a huge increase in prices in '21, '22, if effectively electrification becomes as widespread as people expect," Marchionne said during an earnings call. The higher cost of EVs "will cause a shrinkage of demand," he said.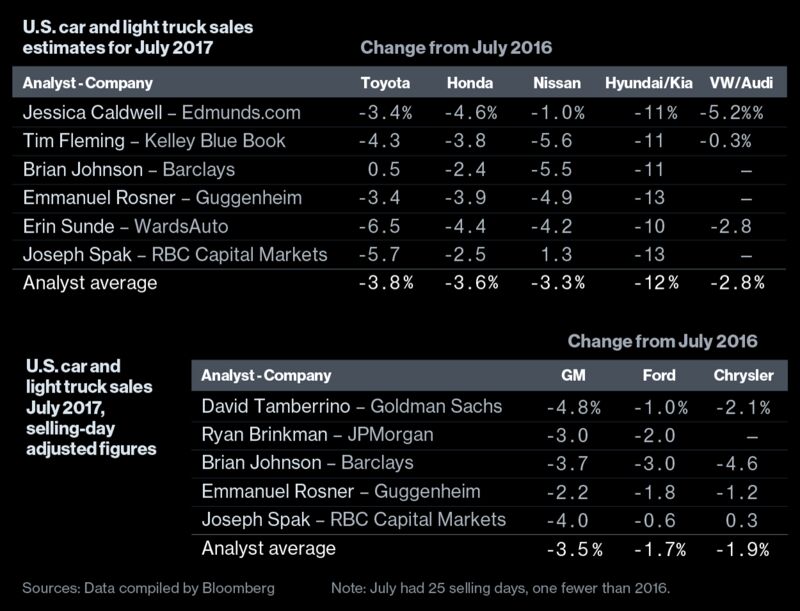 One key to EVs, hybrids, plug-in hybrids and hydrogen-powered fuel cell cars regaining steam this year has been an improved variety of body types, including the introduction of crossovers like the gasoline-electric Kia Niro.
"If automakers want car shoppers to adopt green technology, they can't just offer it exclusively in a little econobox," Edmunds analyst Jessica Caldwell said in an email. "As tastes have taken a dramatic turn away from passenger cars, and battery technology improves, automakers have an opportunity to drive adoption forward by offering electric powertrains in vehicles shoppers actually want."
Another catalyst could be the progress toward charging infrastructure. Musk said Friday that Tesla plans to triple the size of its supercharger network to 18,000 worldwide by the end of next year.
While President Donald Trump has signaled the U.S. will relax federal fuel economy standards, charging infrastructure is being built in states taking it upon themselves to demand electric vehicles, said Pasquale Romano, the CEO of station builder ChargePoint Inc.
Within a few years, Romano sees EV costs being on par with traditional cars and automakers having enough variety of models to entice buyers, even without government subsidies. ChargePoint's partners include GM, Fiat Chrysler, Nissan Motor Co. and Volkswagen AG.
Purchases of EVs are "going to start accelerating in a big, big way, probably in that 2018-2019 time frame," Romano said. "From there, I think it's going be very challenging to make a business case for a gas car."