Tesla Inc.'s Model 3 handover party Friday is a long-awaited moment for thousands of consumers who've coveted its cars but couldn't afford one. Yet with the $35,000 price tag just a starting point, many mainstream buyers will still find the electric sedan out of reach.
Tesla has characterized the Model 3 as its inroad to mass-market drivers — the base model, before options or incentives, will be roughly half the price of the company's cheapest Model S. A crucial unanswered question is whether would-be buyers will be able to add features that have been popular on the brand's existing high-end models, without being priced out of the market for the car.
"One question for Model 3 reservation holders is: How much are they really willing to pay?" said David Whiston, an auto analyst with Morningstar Inc. in Chicago. "Thirty-five grand is going to get you a very basic model. The average Model 3 is going to be more like $42,000, and a fully-loaded one will probably be in the $60s. It's not a mass-market car."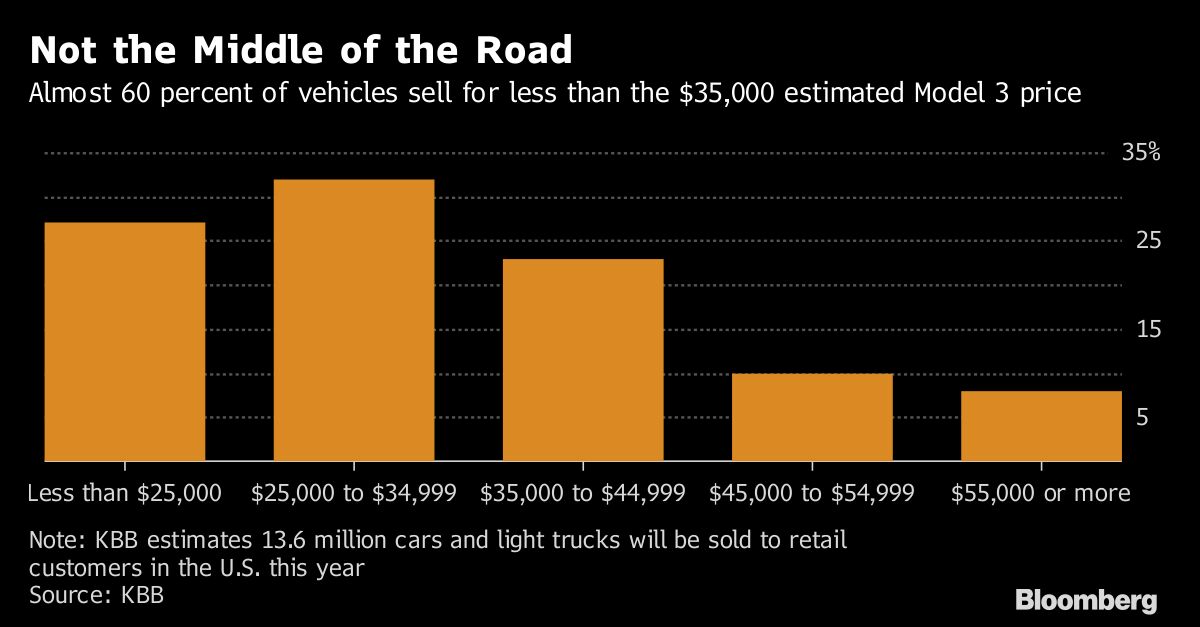 Having an electric car in the lineup that's affordable for more households is pivotal to Chief Executive Officer Elon Musk reach the mass market. What the Model 3 ultimately costs will determine how many consumers make the jump from a refundable $1,000 deposit to the driver's seat. For the youngest publicly traded U.S. automaker, pulling off the price point — and doing so at a profit — is critical in its bid to reach a substantial swath of consumers.
"There's a lot — if not everything — riding on the launch and riding on the price point holding as low as possible for the bulk of the versions of the Model 3," said Jeff Schuster, an industry analyst with LMC Automotive.
The base Model 3's listed price is within striking distance of the average amount Americans have been paying for new vehicles in the U.S., which was $34,442 in June, according to Kelley Blue Book. Still, that doesn't make it a mass-market sedan. The industry average includes pickups and sport utility vehicles, which tend to cost more than passenger cars. The median car model sells for more like $24,000, almost one third less, according to KBB.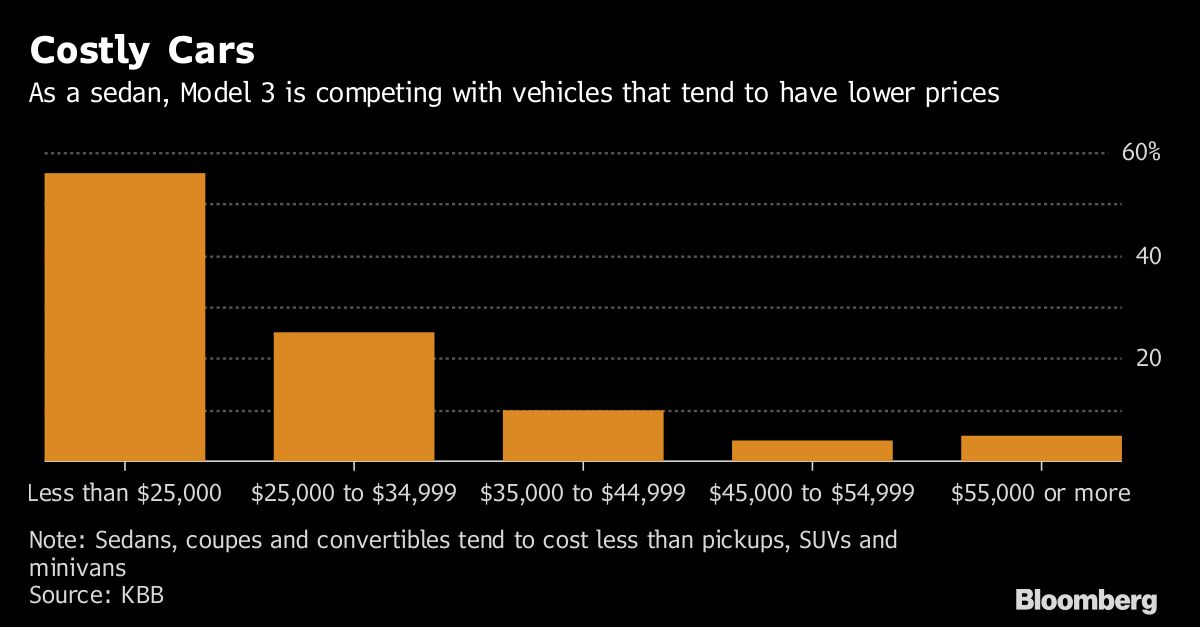 The Model 3 buyer is not a Honda Civic buyer," said Tim Fleming, a KBB analyst. "It's closer to a BMW 3 Series. The right price point is still being figured out for electric vehicles, and there's still a hefty premium for the Model 3."
Jeet Mahal in Mill Valley, California, is one of those customers eyeing a Model 3 as a replacement to his current luxury ride. Mahal, 46, drives a BMW and placed a reservation on the first day possible nearly 16 months ago.
"This feels like next generation technology," he said in an email. "It's basically the same reaction I had to the iPhone.
Tesla's share price has climbed 57 percent this year in anticipation of the Model 3 launch, pushing the electric-car maker past both Ford Motor Co. and General Motors Co. in market capitalization.
The Model 3's starting price is about the same as a basic version of the BMW 3 Series. Adding features will run up the bill, though Tesla has yet to release details on costs.
All-wheel-drive requires two electric motors, which adds about $5,000 to the price of a Model S. Tesla's package of enhanced driver-assist features called Autopilot adds thousands more. For every extra thousand dollars that ends up being added to the price of Model 3, the size of the market shrinks by 1 percent to 2 percent, according to KBB.
Musk said in April of last year that a Model 3 with the average option mix will probably cost buyers about $42,000, a price that's more in line with the $41,832 average for an entry-level luxury car, KBB data show.
At least for a while, the cost of the Model 3 to the consumer could be kept in check by government incentives. Electric cars qualify for a $7,500 federal tax credit, though that begins to phase out once manufacturers sell 200,000 electric vehicles in the U.S.
While Tesla releases only global sales figures and has not said how many cars it has sold to date in the country, Bloomberg New Energy Finance projects Tesla will cross that threshold next year.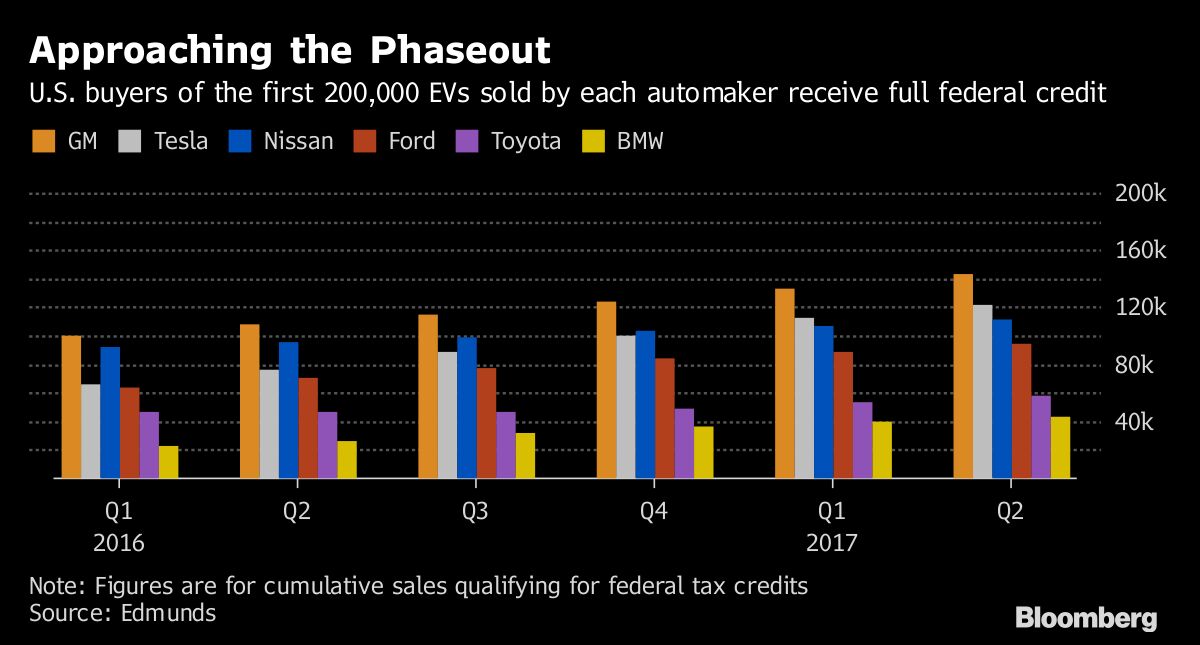 Demand for Tesla cars will increase "exponentially" as the company is able to drop its prices, Musk said during an earnings call in May. He estimated interest in the Model 3's price point was 30 to 70 times higher than at that of the Model S.
"Premium sedans are like nothing, less than 1 percent of the market," Musk said. "Consider 17 million cars and trucks sold in the U.S. per year, of which only 100,000 are premium sedans and we have a one-third market share. If we can replicate that in other segments, the results are obvious."
Tesla, which reported last spring that 373,000 people had placed deposits for the Model 3, aims to produce 100 of the cars in August and more than 1,500 in September, then ramp up to a targeted rate of 20,000 a month in December.
Adam Howell, a 31-year-old health-food store owner in Baton Rouge, Louisiana, said price played a leading role in his decision to put down a $1,000 Model 3 deposit. He said he reserved online before he even saw the design.
"Budgetary wise, this just fits better for me," he said by phone. "I've been holding onto my '07 Sonata while waiting for it."