Time may soon be up for Europe's most influential power price.
For 15 years, futures based on Germany and Austria's shared electricity market have dominated power trading and anchored wholesale energy rates across Europe. With the joint price area due to end next year, a successor is emerging.
Trading this month in German-only futures for 2020 is set to surpass the volume in the benchmark for the first time since the contract's launch in April on the European Energy Exchange AG. The shift may hasten the end of the German-Austrian standard, which still has more than 30 billion euros ($35 billion) of futures outstanding. 
The market split will be particularly problematic for Austrian factories and utilities. Not only will prices in the country be higher than in its larger neighbor, trading in a new Austria-only contract has been almost non-existent, with only one contract changing hands since its start on EEX. 
"Until now, everything has been transparent," said Johannes Paeffgen, head of energy trading at Next Kraftwerke GmbH in Cologne. "An Austrian customer with a hydro power plant knew which price he would get. But now we can't simply point to one price on a website anymore."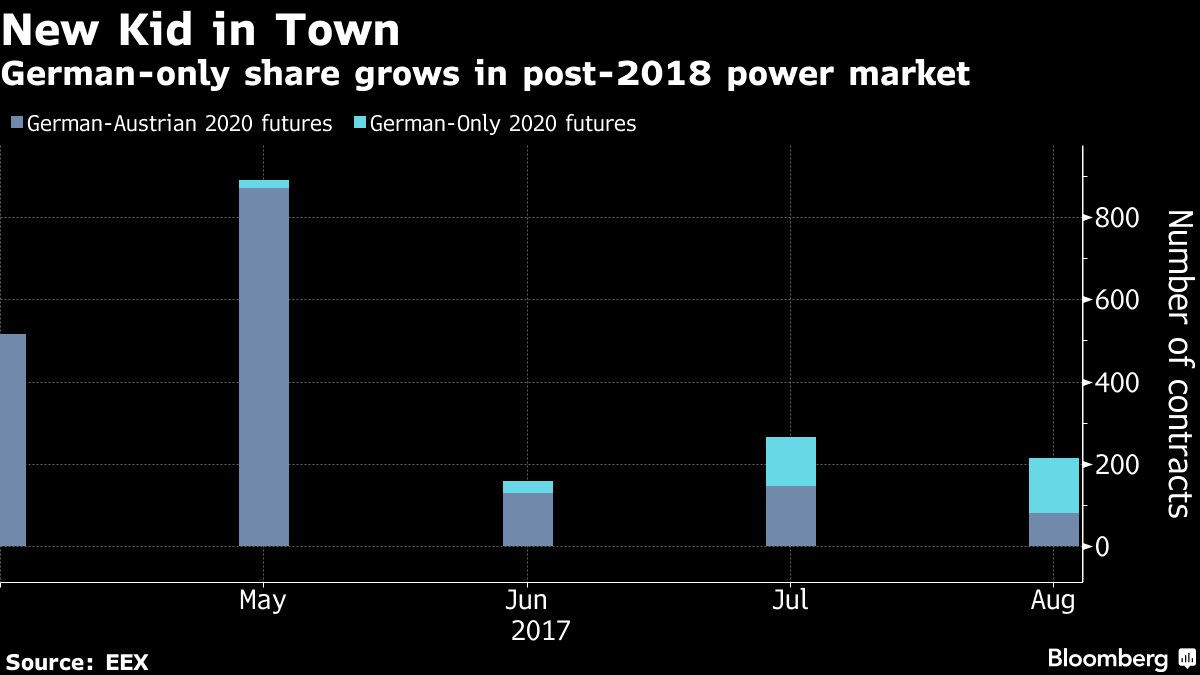 The German-Austrian power futures contract, born out of the liberalization of Europe's electricity markets in the 1990s, is based on a measure of average hourly prices known as the Physical Electricity Index, or Phelix. Germany sought the split in order to reduce the cost of keeping grids balanced and to end Austria's unbounded access to cheap electricity from its wind and solar plants.
EEX started to offer contracts for Germany in April, followed by those for Austria two months later. While German-only trading makes up only a fraction of this month's volume for electricity deliverable next year, the portion increases to more than 80 percent of the German-Austrian futures expiring in 2019. For 2020, trading in the German contracts has overtaken that for the benchmark this month, data on the Leipzig, Germany-based exchange show. 
RWE AG, Germany's largest power producer, and Swedish utility Vattenfall AB are acting as market makers for the German-only contract, while they have stopped posting buy and sell prices for the German-Austrian contracts.
"A gradual switch into the Germany-only contracts is happening at the EEX," said Jens Wimschulte, head of analysis at Vattenfall's trading unit. "Having two large market makers for these contracts helps to foster liquidity."
Click here for more on the division of Europe's biggest power market
The market split isn't expected to affect German prices much, with German-only futures for 2019 trading in line with the combined benchmark rate. Austria-only contracts are about 5 percent higher, based on indicative, end-of-day price data on EEX.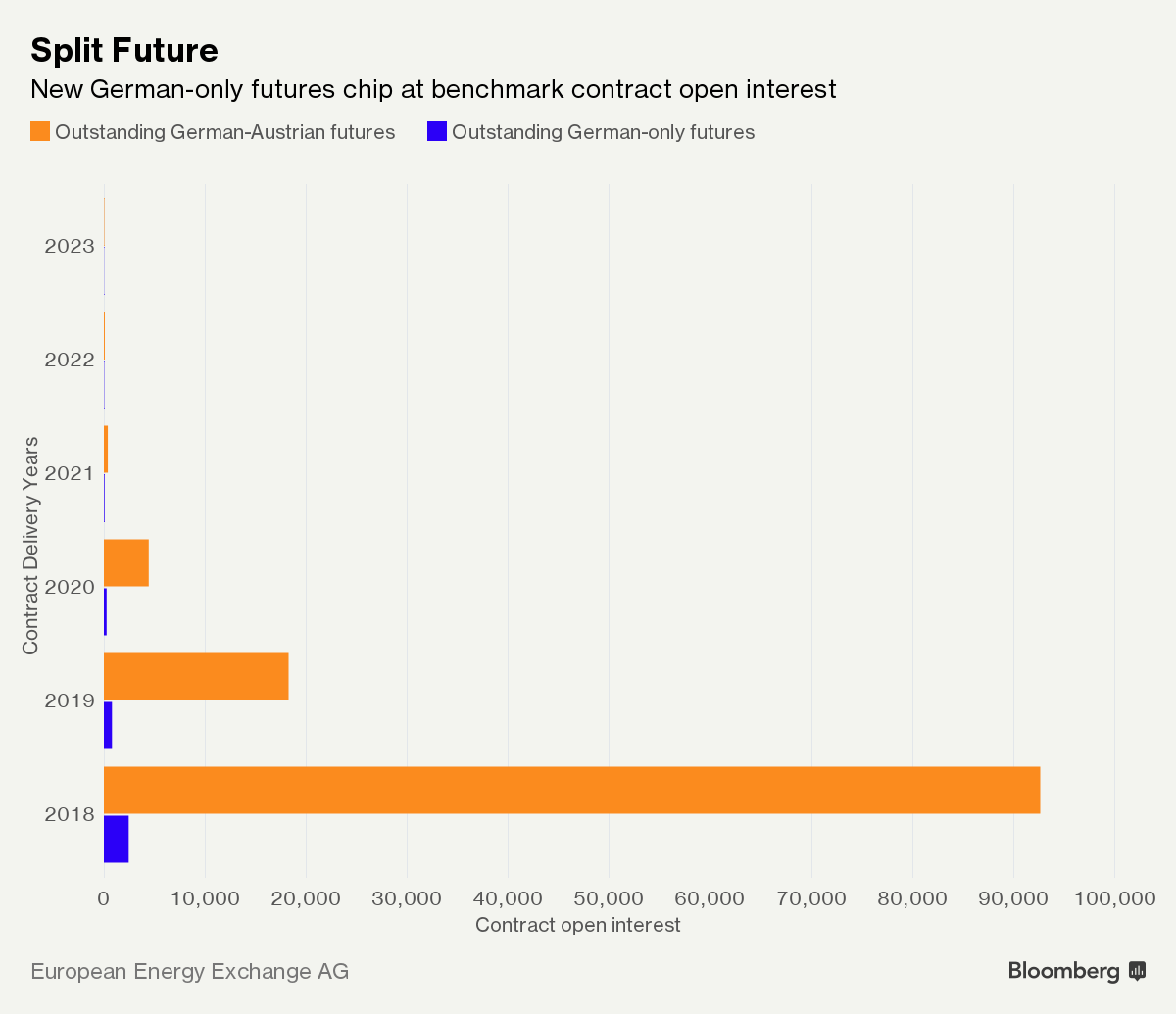 While volume is rising, the number of outstanding futures, or open interest, is still dwarfed by the German-Austrian contract. For power deliverable in 2019 and 2020, the German-only open interest is about 5 to 6 percent of that for the benchmark.
The German-Austrian futures will still be available even though a new benchmark is evolving, according to Tobias Paulun, the director of strategy at EEX.
"We'll offer German-Austrian futures as long as the market trades them." he said. "But we're seeing that the new Phelix-DE contract is developing into the benchmark and that liquidity is increasingly gathering in the new German product."