Researchers in Japan are closing in on a safer generation of batteries that could weather extreme temperatures in outer space.
At least that's what Hitachi Zosen Corp. is betting on. The Osaka-based company, better known for building plants that convert waste to energy, is developing a new strain of solid-state lithium-ion battery that's been capturing the attention of industry heavyweights.
"We can offer solid-state lithium-ion batteries that are on par with the liquid type in performance even now," Hitachi Zosen President Takashi Tanisho said in an interview in Tokyo. "Solid-state batteries have many advantages," because they're more durable and can handle temperature changes better than those filled with liquid, he said.
Researchers around the world have been racing to commercialize solid-state batteries. Because they eliminate the liquid electrolytes that can overheat and cause fires in the current generation of batteries, solid-state units will have greater application in industries where there's no margin for error. With the promise of shorter charging times, improved power storage and reduced risk of fire hazards, automakers such as Honda Motor Co. and Toyota Motor Corp. have signaled their interest in solid-state battery technology.
"Solid state batteries hold a lot of promise in terms of better safety and performance," said I-Chun Hsiao, a Tokyo-based analyst for Bloomberg New Energy Finance. "However, they currently have low power characteristics because solid-state electrolytes have high electrical resistance. This and other challenges need to be resolved for their potential to be realized."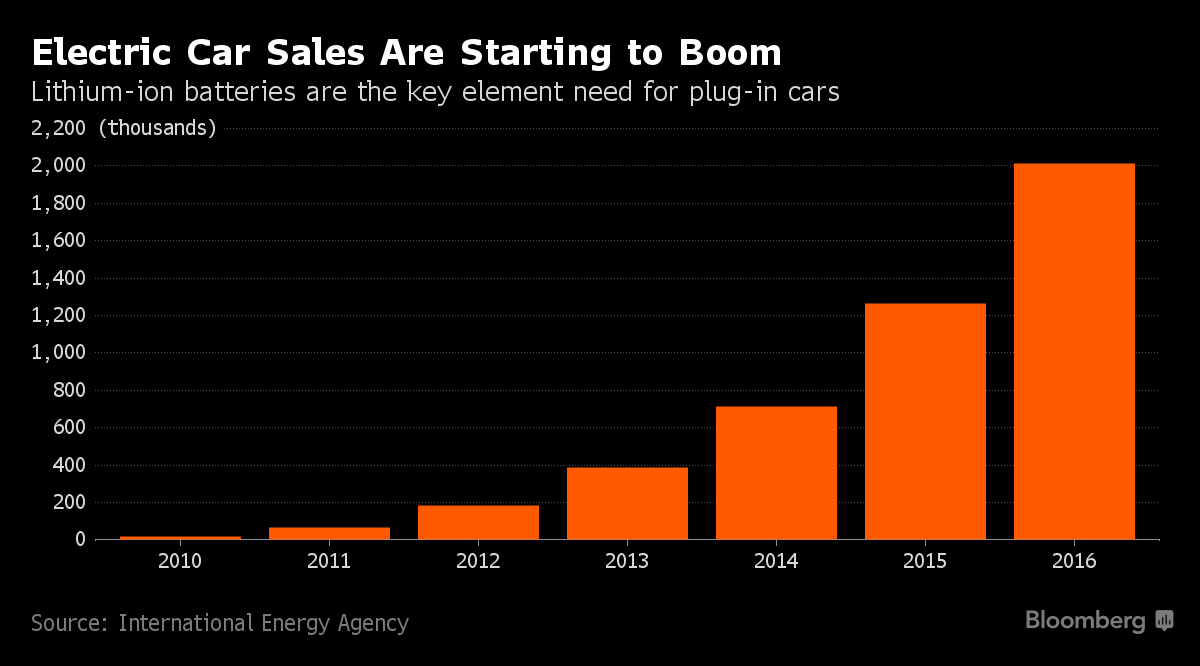 Hitachi Zosen, which has a market capitalization of 90 billion yen ($817.5 million), is down 13 percent this year. The shares rose 1.1 percent in early Tokyo trading Thursday.
The manufacturer has already shipped samples of its new units to potential customers in the aerospace and automobile industries. It's working with an undisclosed Japanese battery maker and intends to start commercializing small-size batteries by 2020, Tanisho said.
Batteries may not be sold under Hitachi Zosen's brand, Tanisho said, adding that details still need to be worked out. They can be used to power devices inside rockets and vacuum equipment for the production of semiconductors, he said.
The work complements an effort by Hitachi Zosen to develop solid-state batteries for cars. It has shipped samples to Honda R&D Co., Honda's research arm. While there's great market potential for better cells in the automobile industry, the solid-state units require further development, Tanisho said.
Global Shift
"There are many companies working on solid-state batteries," Tanisho said. "We need to work hard on how to reduce cost while keeping our lead in quality," he said.
Hitachi Zosen's prototype solid-state version has about the same level of energy density as conventional lithium-ion battery but it is expected to improve, according to the company.
The company's work is further evidence that all kinds of industries are trying to get a bigger piece of the emissions-free transport business. Automakers worldwide say they will be offering more electric vehicles in the coming decade. France and the U.K. plan to end the sale of cars powered by diesel and gasoline by 2040. Electric cars may account for more than half of all new sales by 2040, according to Bloomberg New Energy Finance.
Toyota said on July 25 that it is aiming to commercialize solid-state batteries for electric vehicles by the early 2020s, saying such batteries are the closest currently to practical applications for cars. John Goodenough, the 95-year-old creator of the lithium-ion battery, published details of his research team's all-solid-state cells earlier this year.
Breakthrough Tech
"Costs of solid state batteries haven't reached the level competitive with the conventional lithium-ion batteries as they are hardly available in the market," Tanisho said. "We plan to start with small-size batteries for special purposes as we expect they'd be acceptable even if they are a bit more expensive."
Breakthrough technologies will be needed to reduce the cost of lithium-ion batteries to $73 a kilowatt-hour by 2030, compared with $273 in 2016 according to Bloomberg New Energy Finance. Mass produced solid-state batteries could reach $77 by then if they're adopted quickly, according to the London-based researcher.
Hitachi Zosen makes pressing machines that can shape materials such as aluminum and carbon fiber and hopes demand for such lighter materials to be used in cars will increase.
It's seeking to become a major supplier in the environment-related businesses, to be competitive with European water companies such as Veolia Environnement SA. It has set aside 30 billion yen for mergers and acquisitions for the three-year period through March 2020 to build up businesses in water and waste processing.
"There are many things we are lacking," he said. "We are eyeing several M&As in the next several years."