Nissan Motor Co. is aiming to more than double annual deliveries of the Leaf with a new model that offers self parking and longer driving range, seeking to fend off Tesla Inc.'s entry into the affordable electric-vehicle market.
The new features should boost the appeal of the Leaf, said Daniele Schillaci, executive vice president for global sales and marketing. Nissan unveiled the car on Wednesday with a more conventional design to appeal to a wider audience and not just early adopters.
The Yokohama-based automaker sold 49,000 Leafs in 2016, falling behind Tesla's Model S. The redesigned vehicle, which goes on sale in Japan from October and in Europe and the U.S. in January, has a window to build momentum before Tesla ramps up production for its mass-market Model 3 and other carmakers hit the market with a parade of new electric vehicles in the next few years.
"All these competitors coming to the EV world is more than welcome," Hiroto Saikawa, Nissan's chief executive officer, said in an interview Wednesday in Tokyo. "This is what we have been waiting for. Otherwise EV is not going to be a major trend in the automotive industry."
Features like autonomous-parking capability and increased driving range should help boost sales of the new model, which underwent the first revamp since its introduction seven years ago. The automaker sold about 2,000 units fewer than Tesla's Model S in 2016, data compiled by Bloomberg New Energy Finance show.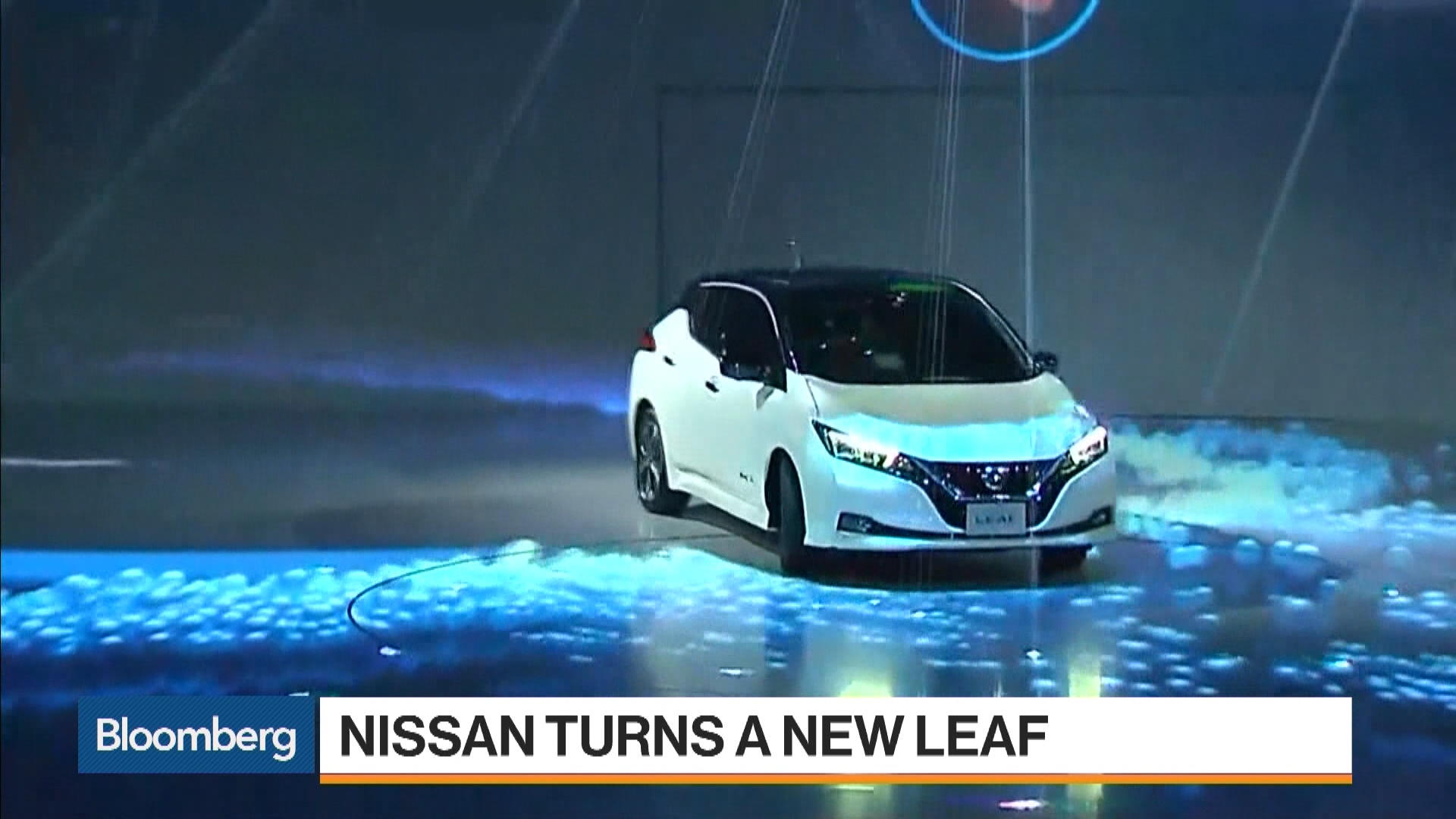 Nissan has shipped almost 300,000 units of the first-generation Leaf, making it the world's best-selling electric car on a cumulative basis. Tesla has said more than 450,000 people have put down deposits on its new Model 3.
It's taking longer than the company initially thought for electric vehicles to be a material part of U.S. vehicle sales, Jose Munoz, the chairman of Nissan North America, said Wednesday in a Bloomberg Television interview. It may take 10 to 15 years until there's significant growth in the segment, he said.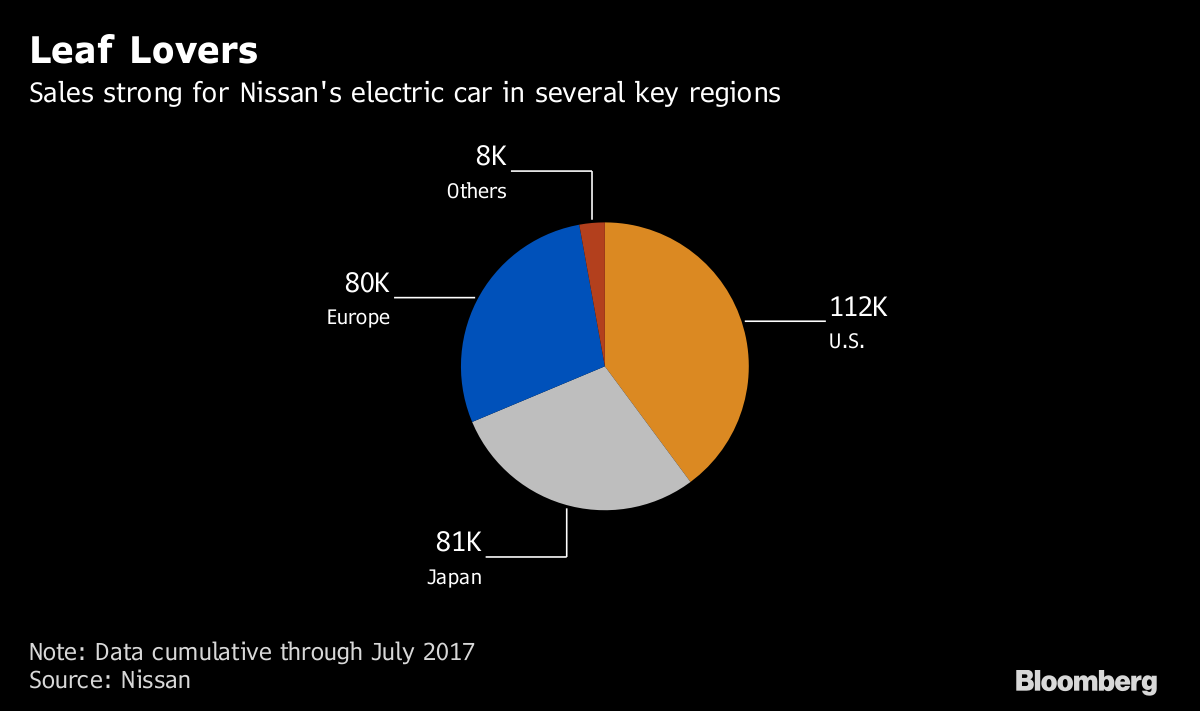 In Japan, the new Leaf starts at a price of 3.15 million yen ($29,000), according to a statement Wednesday. Chinese buyers in the mainland will have to wait until 2018 or 2019. The Tesla Model 3 starts at $35,000 before extras or incentives while the Chevrolet Bolt costs around $37,000, with both cars sporting longer battery range than the 150 miles for the new Leaf's entry offering.
| Model | Battery | EPA Range | Price |
| --- | --- | --- | --- |
| Nissan Leaf | 40kWh | 150 miles | $30,000 |
| Tesla Model 3 | 50kWh | 220 miles | $35,000 |
| Chevy Bolt | 60kWh | 238 miles | $37,000 |
Why Electric Vehicles Are Coming But Not Yet Here: QuickTake Q&A
"The new Nissan Leaf will continue to offer one of the least expensive and practical ways to own a pure electric car," said Ed Hellwig, a senior editor at car-shopping researcher Edmunds. "It probably won't offer as much range as the Chevy Bolt, but if the Leaf delivers even a modest bump over its current range, it will be enough to get the attention of most mainstream EV shoppers."
The new Leaf will feature a system that allows drivers to control braking and acceleration with a single pedal and will sport an upgraded version of the ProPilot advanced driver assistance system, making it the first Nissan capable of parking itself.
Nissan could have given the new Leaf a bigger battery and will introduce variants as soon as next year with more range, Chris Reed, the vehicle's chief overseas engineer, told reporters Wednesday in Detroit. The company opted against this for now so that it could offer cheaper models first.
"You're getting a better value at a slightly lower cost," Reed said.