By Matthew Monks, Brian Eckhouse, and Mark Chediak
Utility giant NextEra Energy Inc. and investment fund Global Infrastructure Partners are among at least seven companies looking into buying renewable energy assets from NRG Energy Inc., the U.S. power generator under pressure from billionaire investor Paul Singer to streamline.
Private equity firm Blackstone Group LP, GIC Pte, Borealis Infrastructure Management, John Hancock Life Insurance Co. and KKR & Co. are also considering bids, people familiar with the matter said, asking not to be identified because the process isn't public. A transaction may still be months away, they said. NRG declined to comment. Its shares closed little changed at $24.39 on Thursday after jumping earlier to the highest level since May 2015.
The nation's largest power generator is looking to divest as much as $4 billion worth of assets, including its stake in solar and wind farm owner NRG Yield Inc., after Singer's Elliott Management Corp. and C. John Wilder's Bluescape Energy Partners pressed for asset sales, debt reductions and cost cuts. The two disclosed activist stakes in the company this year and won two seats on the board. NRG's deal would be one of the largest ever done for renewable energy assets, following Brookfield Asset Management Inc.'s planned acquisition of two SunEdison Inc. yieldcos valued at $2.49 billion.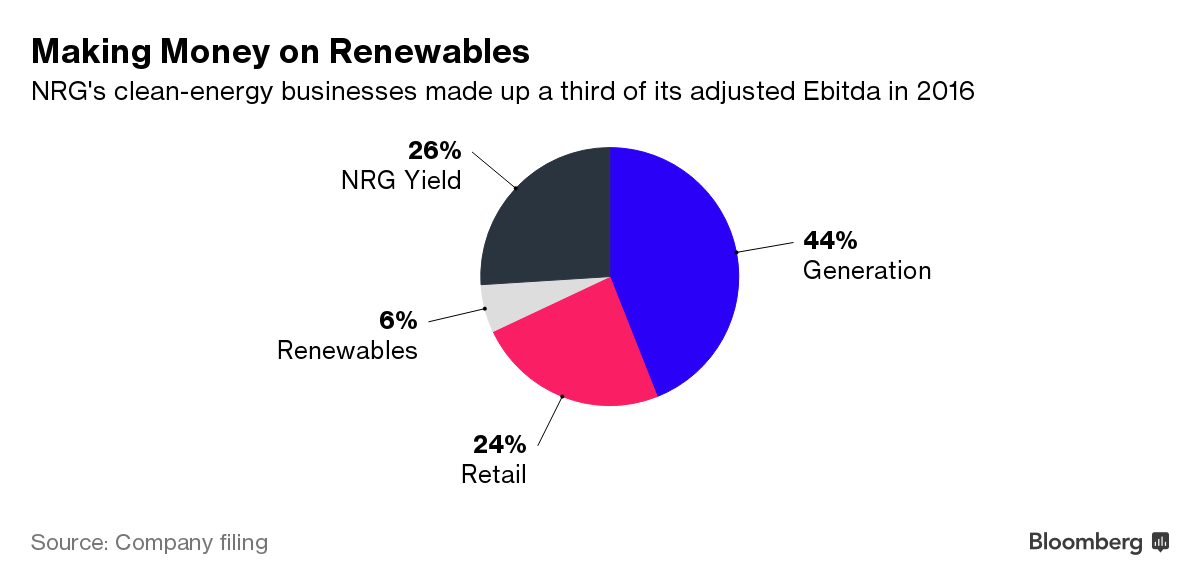 NextEra, Blackstone, Borealis Infrastructure, KKR, John Hancock, Global Infrastructure Partners and GIC, Singapore's sovereign wealth fund, declined to comment.
Some potential buyers are interested in only a subset of the assets on sale and are considering partnering with others to acquire the full portfolio, one person familiar with the talks said.
NRG told investors in a call Aug. 3 that the company expects to announce asset sales beginning as soon as this quarter. In a July interview, NRG's senior vice president of renewables, Craig Cornelius, said the generator had seen "robust" interest from potential buyers for its clean energy assets, describing the sale as exceeding "the scale of anything that's going into a process like this."
Other assets NRG is looking to unload include a set of power plants in Louisiana, which may sell for at least $700 million, the people said. That process is further along than a deal for the company's renewables assets, they said.
NRG Yield is not the only so-called yieldco looking for buyers. U.S. solar manufacturers First Solar Inc. and SunPower Corp. may end up selling their stakes in the 8Point3 Energy Partners LP yieldco.
The units are on the chopping block at an opportune time. A large and deepening pool of buyers are coveting the assets they offer: wind and solar farms that benefit from long-term contracts with utilities. These buyers include pension funds and insurance companies with long-term liabilities that neatly dovetail with the utility contracts. They may also include infrastructure funds.
NRG is among the handful of so-called independent power producers that sell electricity directly into wholesale markets. They've seen their profits squeezed by cheap natural gas and the onslaught of renewable energy resources, touching off a wave of consolidation, with companies including FirstEnergy Corp. and American Electric Power Co. looking to get out of the business altogether. Nuclear subsidies in some states are also challenging their margins.