NRG Energy Inc. says buyers are hungry for the company's renewable-energy business as the power generator looks to cut debt and sell assets under pressure from billionaire investor Paul Singer.
Almost a week after the largest U.S. independent power producer disclosed that it's looking to slim down, the company is seeing "robust engagement from a variety of potential co-sponsors or sponsors" for its clean-energy units, Craig Cornelius, senior vice president of renewables, said in a phone interview Tuesday. NRG is moving to shed as much as $4 billion of assets, including a stake in its NRG Yield Inc. yieldco, as part of a deal with Singer's Elliott Management Corp. and turnaround titan C. John Wilder's Bluescape Energy Partners.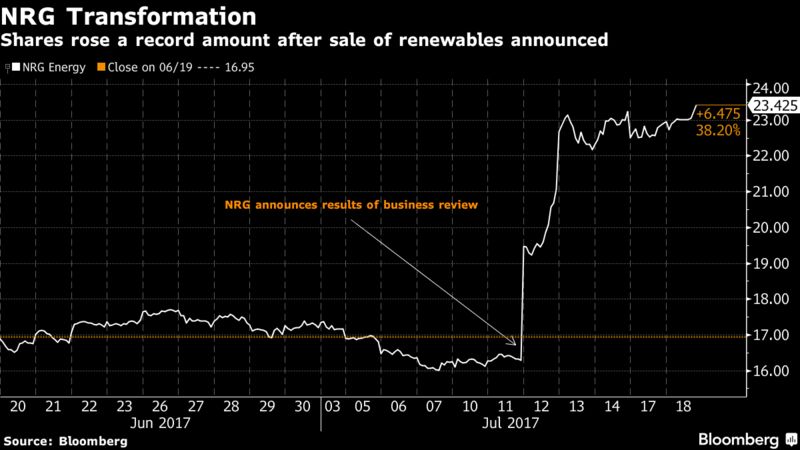 "In almost every dimension, it's a pretty substantial renewable-energy enterprise," Cornelius said. "It exceeds the scale of anything that's going into a process like this."
NRG is pursuing a sale at an opportune time. While yieldcos — companies formed to own assets with predictable cash flows — have amassed little equity in the public markets recently, a large and deepening pool of buyers covets the assets they own: wind and solar farms that benefit from long-term contracts with utilities. These buyers include pension funds and insurance companies with long-term liabilities that neatly dovetail the utility contracts.
NRG moved into renewables about eight years ago, when it bought a large solar farm in Southern California. It has since become one of the most prolific renewables developers in the U.S., and is one of a few U.S. companies capable of financing early and late-stage development and construction on balance sheet. The renewables division has been a prime growth unit for the company recently.
"The fact that its renewable assets are the most attractive, liquid piece of its portfolio speaks for itself," said Nathan Serota, a New York-based analyst at Bloomberg New Energy Finance, in an email Monday. "For nearly a decade, Renew has been successfully developing wind and solar assets -– for both utility clients and commercial customers –- despite NRG management and shareholder's mercurial approach to portfolio of green business units."
NRG's renewables strategy has occasionally shifted. Former Chief Executive Officer David Crane saw the potential for growth in clean energy, so the company moved into wind and solar.
But NRG's stock began slipping in 2014, and the generator's renewables push slowed. Best to focus on core strengths, it decided — until determining that clean-energy was a leading growth engine. In November, NRG completed its largest-ever acquisition of clean-energy assets, buying 1.5 gigawatts of renewables projects. Now, it may return to being a fossil fuels-oriented company.
NRG Yield's "asset quality and the profile of the assets themselves are as competitive as any," said Michael Morosi, a Nashville, Tennessee-based renewables consultant and former equity analyst at Avondale Partners LLC, in an interview last week. "But a yieldco is measured by the health of its sponsor. NRG has its fair share of issues and has backpedaled from its renewables commitment at times. That's been a headwind for NRG Yield."
A sale of its renewables holdings — or part of them — would be the third blockbuster clean-energy sale announced this year. In February, AES Corp. and Alberta Investment Management Corp. agreed to buy one of the largest U.S. private solar companies, sPower. A month later, Brookfield Asset Management Inc. agreed to buy bankrupt clean-energy giant SunEdison Inc.'s two yieldcos.
NRG's renewables business is strong enough to stand on its own, Cornelius said.
"It has been essential for this platform to be embedded within NRG to become what it has become now, but it doesn't necessarily rely on being embedded within NRG going forward," he said.