By Jessica Summers
Oil rose and gasoline eased gains amid anticipation of Hurricane Harvey.
Crude futures in New York settled 0.9 percent up, paring a weekly loss to 1.3 percent. Gasoline futures eased gains, after surging as much as 4.6 percent during Friday's session. Several oil and natural gas platforms have shut as the storm bears down on an area of the Texas coast that's home to a significant portion of the nation's refining capacity.
"You're going to see some disruption in imports. This is a bullish event for crude, but tempering that is you've got a lot of refining activity in that part of the world," Bill O'Grady, chief market strategist at Confluence Investment Management in St. Louis, said by phone. "You'll have less imports, but you'll also see a drop in refining activity."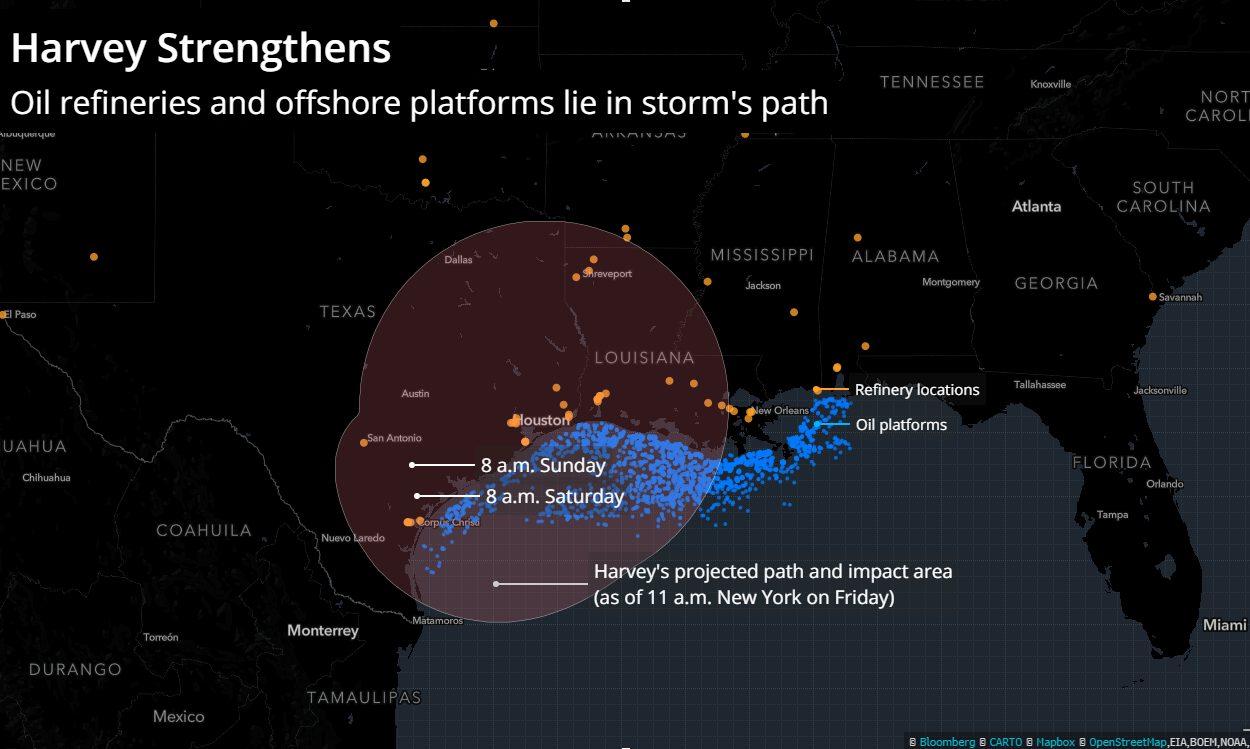 Oil in New York has lost about 5 percent this month as investors weighed rising global output from producers such as the U.S. against production cuts by members of the Organization of Petroleum Exporting Countries and its allies. Harvey's approach has depressed demand for crude with about 1 million barrels of daily refining capacity already shut. Citigroup Inc. estimates more than 2 million barrels of gasoline output may be affected by the storm.
West Texas Intermediate for October delivery rose 44 cents to settle at $47.87 a barrel on the New York Mercantile Exchange. Total volume traded was about 17 percent below the 100-day average.
Gasoline futures for September delivery climbed 0.2 percent to settle at $1.6666 a gallon, the highest level in more than three weeks.
Brent for October settlement gained 37 cents to end the session at $52.41 a barrel on the London-based ICE Futures Europe exchange. The global benchmark crude traded at a premium of $4.54 to WTI.
The Bloomberg Dollar Spot Index fell as much as 0.6 percent. A weaker greenback boosts the appeal of commodities as an investment.
Refining Threat
Gulf Coast refineries in the path of the storm process almost 5 million barrels of oil a day. So far, refineries that have shut in the port city of Corpus Christi, Texas include Flint Hills Resources LLC and Valero Energy Corp.'s plants. LyondellBasell Industries NV's Houston plant is said to be operating at reduced rates.
In addition to refineries, Magellan Midstream Partners LP suspended operations at its Corpus Christi, Texas marine terminal and condensate splitter, while Genesis Energy LP is said to have shut its Cameron Highway Oil Pipeline System, known as CHOPS, in the Gulf of Mexico. Phillips 66 says its Freeport, Texas terminal is closed. Operators in the Gulf of Mexico have shut in about 377,200 barrels a day of crude production, according to the Bureau of Safety and Environmental Enforcement.
In the product market, investors have already taken positions and made profits, Tariq Zahir, a New York-based commodity fund manager at Tyche Capital Advisors LLC, said by telephone. "The play was a couple days ago and now it's just kind of see what happens with the storm, especially if it lingers for three or four days and you get massive flooding."