Nigeria, Africa's biggest oil producer, is set to become the first country on the continent to issue a security that raises funds for environmental projects when it launches its green bond on December 18.
The government plans to sell 10.7 billion naira ($30 million) and the offer is billed to close on Dec. 20, said Lanre Buluro, director of sales at Chapel Hill Denham, the financial adviser for the issuance.
The offer, which will be listed on the Nigeria Stock Exchange, is the first tranche of a 150 billion-naira program, Moody's Investors Service said in a statement.
Nigeria plans to use the bond to finance projects in its 2017 budget including renewable-energy micro-utilities and forestation programs, the Debt Management Office said Wednesday in an emailed statement. A road show for prospective investors is planned in the capital, Abuja, Thursday and in the commercial hub of Lagos on Friday, it said.
The pricing will reflect secondary market rates, DMO Director-General Patience Oniha said Thursday at a press conference in Abuja.
Climate Change
The bond will enable the West African country, which aims to reduce its CO2 emissions by 40 percent by 2030, to "support initiatives aimed at moderating climate change by investing in solar plants, hydro power and agriculture," Buluro said by phone from Lagos.
Nigeria, which derives more than 90 percent of its export income from crude, will become the world's fourth sovereign issuer of green bonds. Africa's biggest economy is reeling from its worst economic slump in about 25 years due to lower crude output and a slow recovery of oil prices last year, pushing it to tap debt markets to fund its budget.
The global green bond market has risen from non-existence just over a decade ago to projected issuance of $135 billion in 2017, according to Bloomberg New Energy Finance's report. While issuers were mostly development banks to begin with, companies and now states are joining in. Poland was the first country to issue green bonds last December, followed by France and Fiji. Cities such as Gothenburg in Sweden, Canada's capital Ottawa, and Cape Town, South Africa, have also sold them.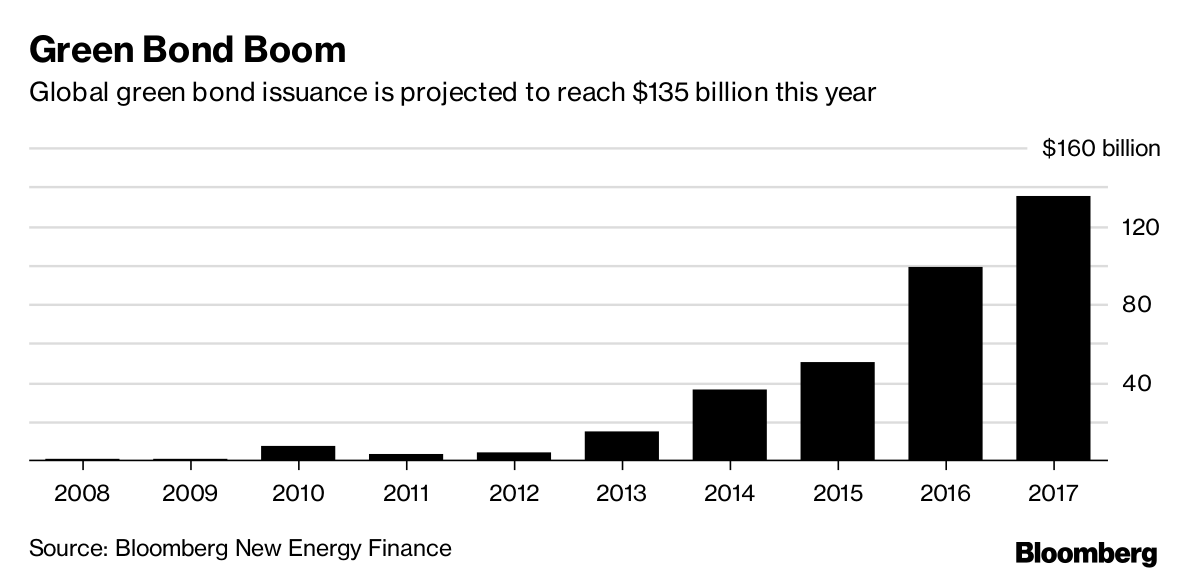 Nigeria's then-Minister of Environment Amina Mohammed said in February the government would look into foreign-currency green bonds after an inaugural naira-denominated issue had created a framework and pipeline of projects that could be scaled up.
The government expects its maiden green bond to be certified by the Climate Bond Standard, having already gotten a pre-issuance assurance, according to Moody's.
The rating firm assigned a GB1 (Excellent) grade to the bond, saying the Nigerian government had set up a comprehensive governance structure to track use of the proceeds.