Written by Peter Flanagan. This article first appeared in Bloomberg Quint. 
Irish authorities warned some of the worst weather conditions to hit the country in 50 years will endanger lives, as Storm Ophelia's remnants batter the coast with "extreme" conditions on Monday.
Met Eireann, the nation's weather service, extended its most severe warning nationwide for the first time ever, with Ophelia expected to bring winds in excess of 80 kilometers an hour (50 miles per hour) to parts of western Ireland, with some of the strongest gusts rising above 150 kilometers an hour.
The storm will slam the south of the country at about 10 a.m., hit Dublin at about 1 p.m. and gradually spreading northwards before clearing tonight, Met Eireann said. Power lines are already down in some parts of the country, according to broadcaster RTE.
"This has the potential to be life threatening," Sean Hogan, chairman of the government's emergency planning group, said. "We are have a lot of experience of storms, but there is something different about this. "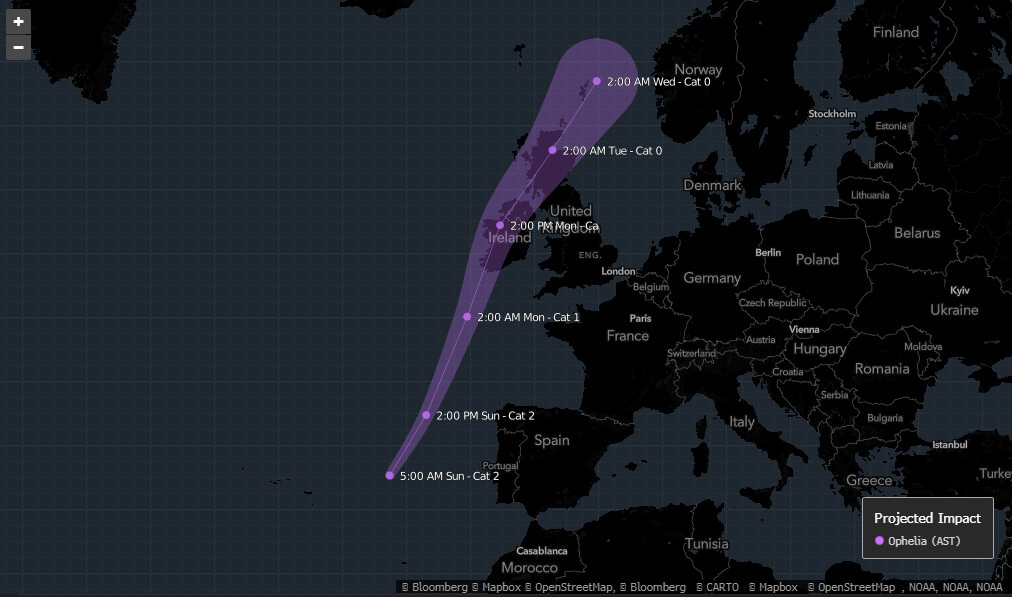 "It's on its way," Joanna Donnelly, a spokeswoman for Met Eireann, said in an interview with RTE on Monday. "This is happening."
Significant Flooding
A dangerous storm surge and significant coastal flooding are expected in the areas where the storm makes landfall, the U.S. National Hurricane Center said. In another precaution, tonight's soccer game between Cork City and Derry, which has the potential to be a title decider, has been postponed and some court hearings were deferred.
Transport services will be severely disrupted, the government said. Hospitals canceled appointments and many stores closed. Insurer FBD Holdings Plc dropped as much as 1.3 percent to 7.90 euros in Dublin trading.
The storm comes 30 years after the remnants of another Atlantic hurricane brought some of the most destructive weather in Irish and U.K. history. The "Great Storm of 1987" in mid-October of that year brought devastation with winds of as much as 100 mph and killed 18 people.
Ophelia could become the strongest post-tropical system to rake Ireland since Hurricane Debbie in 1961, which killed 18 people. Ophelia's remnants will bring similar conditions to Debbie, according to Hogan.
Using a prior forecast track, Chuck Watson, a disaster modeler at Enki Research in Savannah, Georgia, said damages from Ophelia in Ireland could reach $800 million and $300 million in the U.K.
Weather Warnings
Ophelia could make landfall close to the Trump family's golf resort near the village of Doonbeg. The resort, which has said it can lose as much as 10 meters of land to coastal erosion during a bad storm, is along the route expected to be hit by Ophelia's gale force winds.
The U.K. Met Office has issued amber warnings for winds for Northern Ireland, with a less-severe advisory for parts of Scotland, northeast England and Wales.
Ophelia may also bring record wind production. Peak U.K. wind generation is forecast at 9,129 megawatts on Monday, beating the previous record of 8,905 megawatts on Oct. 1.