In curbing global-warming emissions, economics will pick up where President Donald Trump left off.
Trump might have just pulled the U.S. out of the Paris climate accord, an international pact to fight global warming. But market forces will continue to squeeze carbon dioxide out of the U.S. power mix as generators replace costly and aging coal-fired units with cheaper, cleaner-burning natural gas ones, according to William Nelson, an analyst at Bloomberg New Energy Finance. And for every megawatt-hour of electricity produced from gas rather than coal, the U.S. is keeping about 0.6 metric ton of emissions out of the air, he said.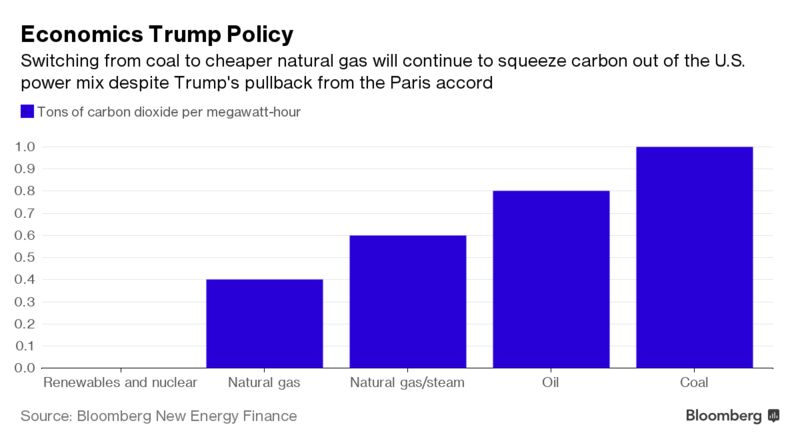 Power suppliers have cut their coal use by so much that electricity generation is, for the first time in decades, not the biggest source of carbon emissions in the U.S. (The transportation sector is.) This shrinking carbon footprint highlights the challenges Trump faces in making good on his promise to bring back coal jobs and underscores the determination of states and power companies alike to transition to gas and renewables. U.S. utility giants including Duke Energy Corp., American Electric Power Co. and Edison International reaffirmed their commitments to curbing emissions.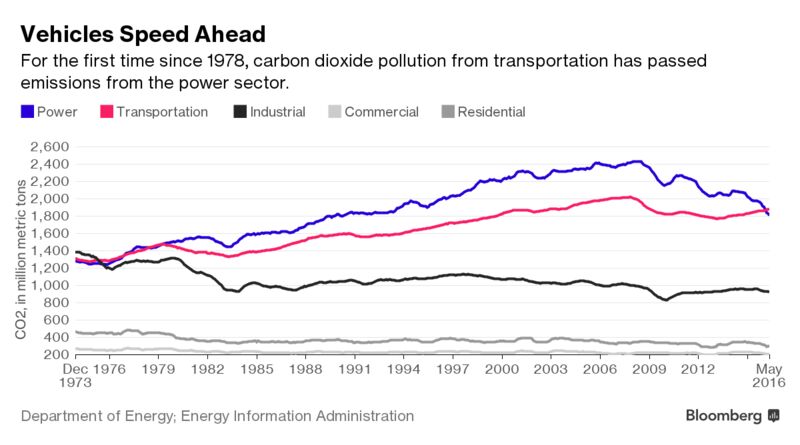 In announcing his intention to withdraw the U.S. from the Paris climate pact, Trump vowed to pursue a better deal. The Paris agreement would "undermine our economy, hamstring our workers, weaken our sovereignty, impose unacceptable legal risk and put us at a permanent disadvantage to the other countries of the world," Trump said.
Still, carbon emissions from electric utilities fell almost 25 percent below 2005 levels as of the end of 2016, according to the Edison Electric Institute, a Washington-based trade group for investor-owned utilities.
"Paris is purely symbolic," Nelson said in a phone interview. "It's fuel economics that have driven most of the decarbonization to date. And the coal-to-gas fuel switch is extremely potent. It's the relative cost of coal and gas that will have the greatest impact on U.S. carbon emissions."
What a U.S. Departure Means for the Paris Agreement
Source: Bloomberg
Grid operators dispatch power generators in the order of their short-run, marginal costs. And in that order, gas units jump ahead of coal, Nelson said. That's come even as Trump has started to roll back environmental rules such as the Clean Power Plan, which targeted carbon cuts in the power sector."Our businesses will continue to deliver clean energy solutions that make sense for our customers, with or without the Paris agreement," Jessi Strawn, a spokeswoman for the energy unit of Warren Buffett's Berkshire Hathaway Inc., said by email.
Melissa Lavinson, vice president of federal affairs at PG&E Corp., owner of California's largest utility, similarly said the industry has transitioned its generation fleet "even without regulation of carbon." And demand for cleaner power generation will persist because of commitments by big businesses, she said by phone.
"If they have to do it outside of a government construct," Lavinson said, "they will."