China will expand its agricultural use of environment-damaging plastic film to boost crop production even as authorities try to curb soil pollution, a government scientist said.
Some 1.45 million metric tons of polyethylene are spread in razor-thin sheets across 20 million hectares (49 million acres) — an area about half the size of California — of farmland in China. Use of the translucent material may exceed 2 million tons by 2024 and cover 22 million hectares, according to Yan Changrong, a researcher with the Chinese Academy of Agricultural Sciences in Beijing.
The plastic sheets, used as mulch over 12 percent of China's farmland, are growing in popularity because they trap moisture and heat, and prevent weeds and pests. Those features can bolster cotton, maize and wheat yields, while enabling crops to be grown across a wider area.
"The technology can boost yields by 30 percent, so you can image how much extra production we can get — it can solve the problems of producing sufficient food and fiber," Yan said in an interview at his office at the academy's Institute of Environment and Sustainable Development in Agriculture.
The downside is that polypropylene film isn't biodegradable and often not recycled. Potentially cancer-causing toxins can be released into the soil from the plastic residue, known locally as "white pollution," which is present at levels of 60-to-300 kilograms (132-to-661 pounds) per hectare in some provinces.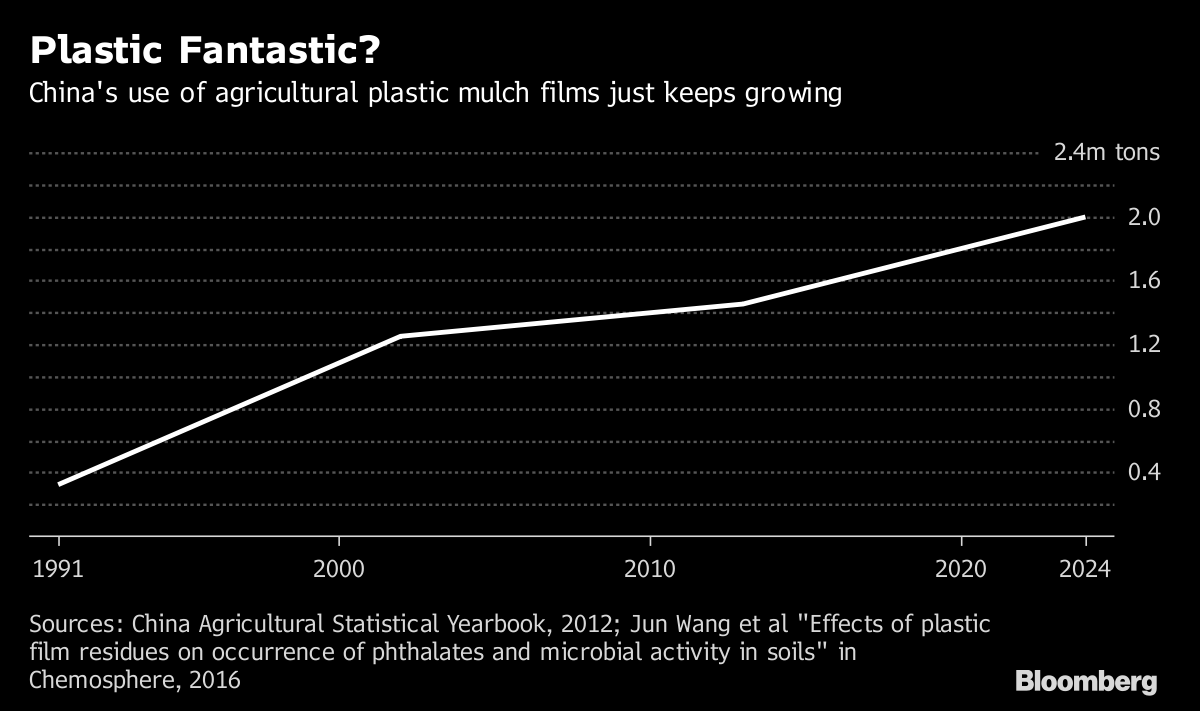 While polyethylene contamination occurs worldwide, the threat is especially acute for China, where about a fifth of arable land contained levels of toxins exceeding national standards, according to 2014 government estimates.
Alternatives Sought
Regrettably, there are no viable alternatives to polyethylene that possess the same agronomic advantages. That means farmers are compelled to keep using it to boost production and income, said Yan, as he flicked through slides showing pollution in the northwest region of Xinjiang.
The material enables crops to be grown in both drier and colder environments. In Xinjiang, which accounts for almost 70 percent of the country's cotton output, plastic mulch is used on all cotton farms; and across 93 percent of the country's tobacco fields, he said. The film reduces water demand by 20-to-30 percent.
To address mounting food-safety concerns amid worsening soil pollution, in May last year China's State Council urged the recycling of used mulch films. The country's top legislative body, the National People's Congress, is also drafting the country's first soil pollution law.
Easier to Retrieve
The government is considering raising the minimum thickness of mulch films beyond the current standard of 0.008 millimeters to ensure that they are more robust and easier to retrieve, the Ministry of Environmental Protection said in May last year. China is also conducting a nationwide survey on farmland pollution to be completed before 2018.
"White pollution" has become an important issue as the country pursues more sustainable forms of food and fiber production, the agriculture ministry said in May. The government aims for 80 percent of polyethylene mulch to be recycled by 2020 in provinces where it's used intensively, such as Xinjiang, Inner Mongolia and Gansu. Currently, the recycling rate is less than 66 percent.
Plastic left in farmland can damage soil structure, stifle crop emergence, and ultimately reduce yields, the ministry said. Cotton yields are being reduced by the pollution in some areas of Xinjiang, said Qu Ruijing, vice director with the China Association of Circular Economy after a recent visit there.
Ingested plastic particles can cause physical damage to soil fauna populations, such as earthworms, that help nourish the earth, said Zhu Yong-Guan, who runs the Institute of Urban Environment within the Chinese Academy of Sciences in the southeastern city of Xiamen. Incinerating the plastic can cause air pollution, he said.
No Food Risk
"Mulch film has so far no potential risks on food safety, but there should be rules and regulations in place to control any potential risks from the pollution," Zhu said Tuesday in an interview. He recommended the use of farm subsidies to encourage the use of environmentally friendly alternatives.
Recycling used film, though, consumes large amounts of water and energy because of the difficulty removing dirt from ultra-thin films collected from farms, a China representative of BASF SE said in an emailed response to questions.
"Why should we recycle used sheets? The cost is higher than buying new ones," said Chen Lin, chairman of Xinjiang Tianye Co., the country's largest producer of polyethylene mulch films, adding that recycled plastic mulch can be 10 percent more expensive than new product.
Scientists in Spain may have an another answer: wax worms. Larvae of the wax moth Galleria mellonella are able to biodegrade polyethylene, researchers at the Institute of Biomedicine and Biotechnology of Cantabria showed in a study published in April.
Biodegradable films are the best solution, BASF said, adding that it has been testing the use of its more sustainable alternative, Ecovio, in Xinjiang since 2012. The product consists of a compostable polymer and polylactic acid, and can be degradable into water, biomass and carbon dioxide.
Incentives Needed
Still, polyethylene costs a quarter of the price and a lack of incentives from the government means that Chinese farmers are unwilling to invest in biodegradable films, the company said.
Besides being more expensive, biodegradable films are less attractive because they don't preserve as much heat in the soil as polypropylene, resulting in a yield decrease in cotton crops in Xinjiang, the Chinese Academy of Agricultural Sciences' Yan said.
But when the pollution costs are accounted for, the sums favor polyethylene less.
"Taking into account the environmental and recycling costs, biodegradable films may be feasible for some areas with serious pollution," said Weng Yunxuan, secretary general of the degradable plastics committee of the China Plastics Processing Industry Association. Still, Weng said the country may have to rely on polyethylene films to boost crop output.