Written by Stephen Cunningham and Mark Chediak. This article first appeared in Bloomberg Markets. 
PG&E Corp. just capped its worst week in nine years on speculation that downed power lines may have played a role in deadly wildfires raging across California. And the rout is far from over.
After wiping out almost $6 billion of PG&E's market value this week, investigations into whether PG&E's power lines helped ignite the blazes that have destroyed homes and forced thousands to evacuate threaten to plague the utility owner's stock for months. Evercore ISI said investors are pricing in "significant financial exposure" of about $8.4 billion to fires while RBC Capital Markets said it could take fire officials six to eight months to come up with a report.
San Francisco-based PG&E confirmed that the fire service is looking at the utility's power lines and other equipment as it probes the possible causes of the wildfires. The company said it has $800 million in insurance that could cover potential losses and its financial condition could be "materially affected" if liabilities exceed its coverage.
The stock slid 16 percent this week in the worst performance since October 2008. PG&E was also the worst performer on the S&P 500 Index on Friday, losing 11 percent to $57.72.
"Unless the narrative changes regarding the presumed root cause, it could be a long period of time before Cal Fire either exonerates PG&E or accuses them of being liable," Greg Gordon, an analyst at Evercore ISI, wrote in a research note.
It's not the first time that Cal Fire, the state Department of Forestry and Fire Protection, has investigated PG&E. In 2015, a Cal Fire probe showed a power-line conductor operated by PG&E ignited the Butte fire that burned more than 70,000 acres, destroyed hundreds of structures and killed two people. And the utility owner is still dealing with the consequences of the deadly 2010 San Bruno gas pipeline explosion after being found guilty of safety violations and fined $1.6 billion.
Just this week, Cal Fire sued the utility to recover $3.9 million spent containing a 670-acre blaze near Hollister, California, in October 2015 that was allegedly ignited when an insulator with a live electric line broke off a power pole and fell to the ground.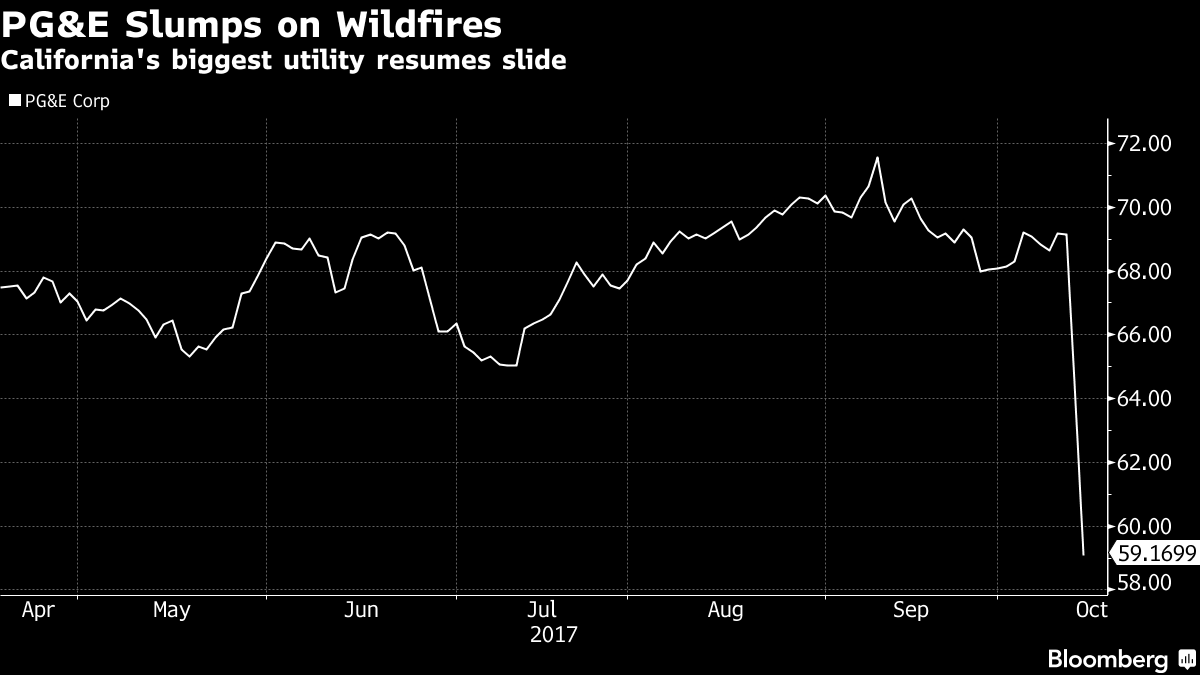 PG&E's stock had barely budged earlier this week when the wildfires began spreading, consuming people's homes and forcing thousands to evacuate. Then local media began pointing to potential connections between the fires and PG&E power lines knocked down by strong winds. By Thursday, California fire officials had confirmed they were investigating the role of downed power lines, and utility regulators said they were looking at PG&E's maintenance activities in the area.
The safety and enforcement division of California's Public Utilities Commission reminded PG&E in a letter Thursday to preserve evidence related to the wildfires. Spokeswoman Terrie Prosper said the agency was also looking into the company's activities in the area of the wildfires, "with specific focus on maintenance of facilities and vegetation management practices."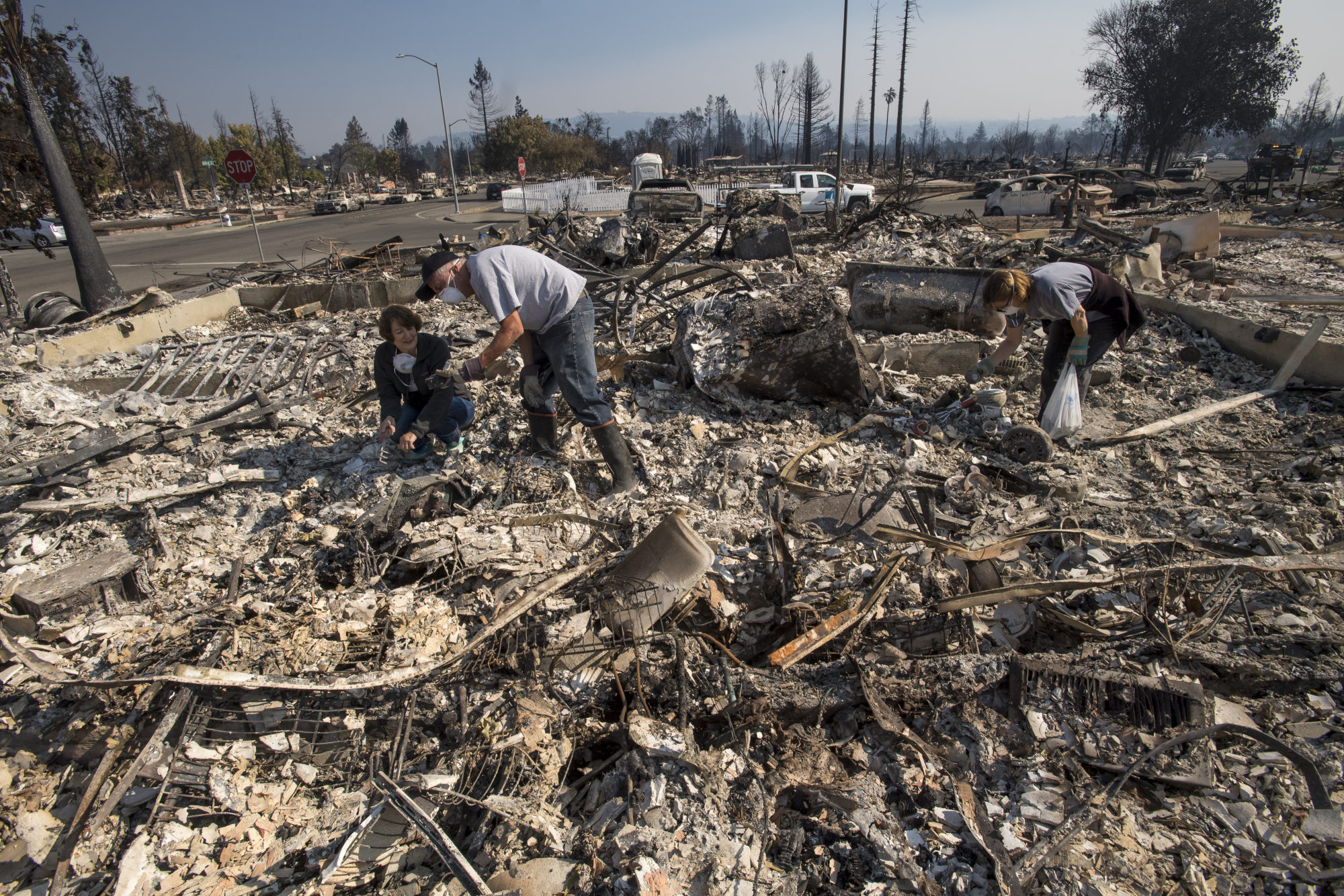 If the utility is suspected to have been involved, the commission will follow up with "in-depth investigations," she said.
California Governor Jerry Brown had declared a state of emergency in some counties as 17 large fires burned more than 220,000 acres of land as of Friday, according to Cal Fire. The blazes have claimed at least 31 lives.
"The patience level of California is very short because of the issues PG&E's had before," said Shahriar Pourreza, an analyst at Guggenheim Securities, referring to the Butte fire and also San Bruno.
PG&E said crews were assessing damage to its electric and gas system in Napa and Sonoma counties. About 28,900 customers lacked electricity service in those areas Friday, according to a statement on its website.
Daniel Berlant, a spokesman for Cal Fire, said Friday that the agency is "definitely looking" at power lines as one of the possible causes of the fires. The agency hasn't determined any cause yet and has investigators on scene, he said.
California's utility regulator has a history of conducting lengthy proceedings, said Kit Konolige, an analyst at Bloomberg Intelligence. "The death toll in the wildfires, now at 31 versus eight at San Bruno, ratchets up the political pressure to punish any entity deemed liable," Konolige said in a note on Friday.