Written by Joe Ryan. This article first appeared in Bloomberg News.
Wealthy nations are falling short on promises to help the developing world reduce greenhouse gases by investing in clean energy, jeopardizing the global fight against climate change.
Clean energy investments in China, sub-Saharan African and other emerging markets fell 27 percent in 2016, to $111.4 billion, Bloomberg New Energy Finance said in a study Monday. Less than 10 percent of that spending came from rich countries.
While emissions decline in the U.S., U.K. and other wealthy nations, they are rising across the developing world as cities expand and nations build power plants and other infrastructure to lift people from poverty. Wealthy nations pledged in 2009 to spend $100 billion annually to help poorer countries make that transition without increasing greenhouse gases. But investment from the richest nations totaled just $10 billion in 2016, BNEF found.
"The figures highlight the gap between talk and action when it comes to addressing climate and supporting clean energy," BNEF analyst Ethan Zindler said.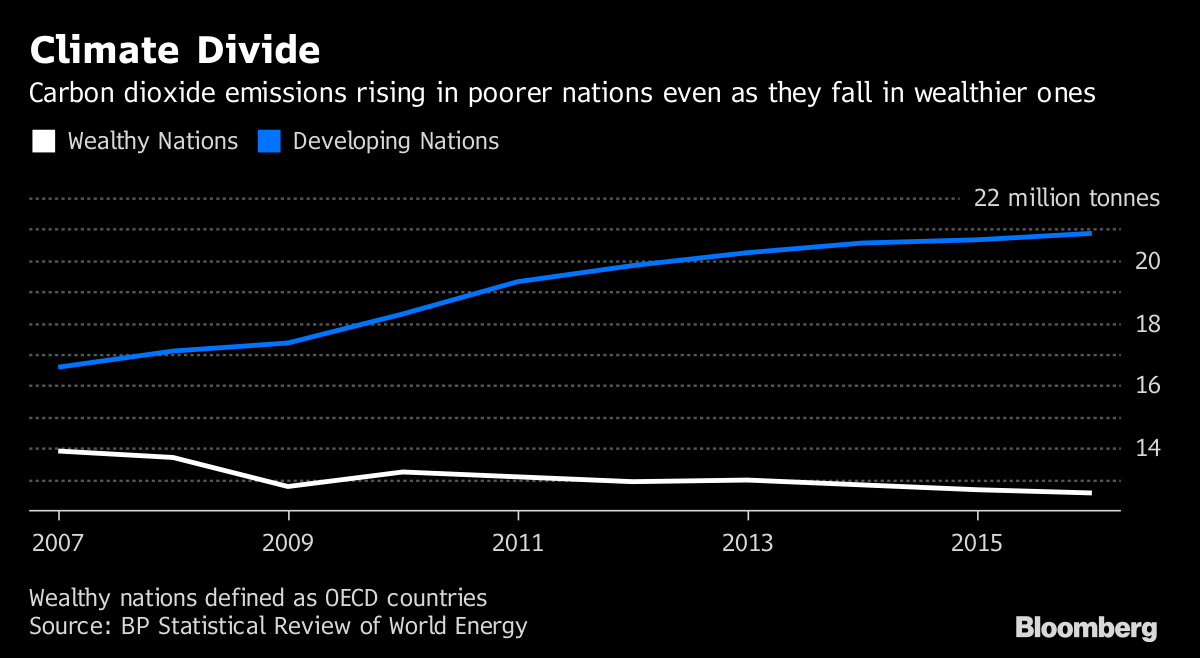 Global carbon dioxide emissions increased by less than 1 percent last year, with the growth stemming primarily from developing nations. A rapid expansion of wind and solar energy is crucial to changing that. BNEF estimates that $8.7 trillion will be invested in clean energy through 2040. Meeting goals set under the Paris Agreement will require an additional $5.4 trillion, BNEF said.
The problem isn't just wealthy nations, the members of the Organisation for Economic Co-operation & Development. In many instances, developing countries have not put policies in place to give investors confidence to finance projects, Zindler said.
Nonetheless, capital from developed countries is critical to cut emissions in less-developed regions. At the landmark 2015 United Nations climate summit in Paris, some poorer nations pledged to meet emissions targets only if they received financial and technical assistance. Nineteen said they would cancel their commitments if help didn't materialize.