Royal Dutch Shell Plc is turning to India's textile, cement and steel factories as it seeks to expand demand for its natural gas.
The Hague-based energy giant has set up a team of about six executives to identify small businesses that use dirtier fuels like coal and convince them to switch, according to Ajay Shah, a vice president with the company's Asia unit. Shell, which will import the fuel as liquefied natural gas, is betting these users will account for a significant part of India's gas demand growth, which it estimates will expand fivefold in 15 years.
"Historically, we have targeted big customers, wholesale style," Shah said in an interview on June 21 in New Delhi. "Now is the time of having more relations with the end customer. There is a significant market opportunity."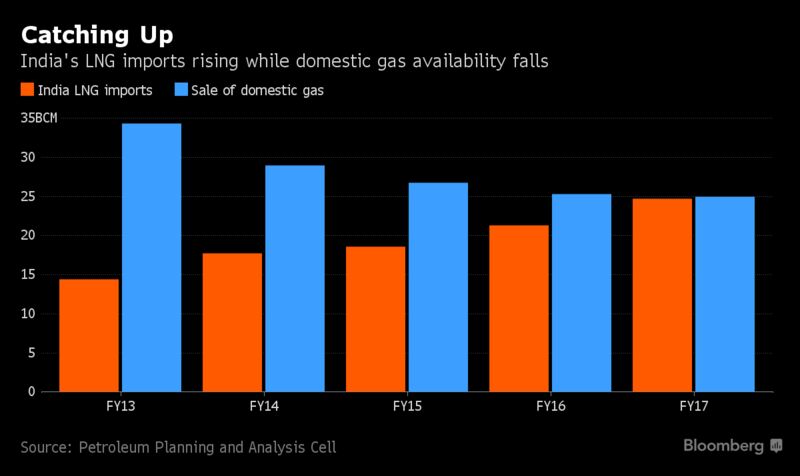 The push deeper toward small, industrial users comes as Prime Minister Narendra Modi's government promotes gas to curb dirtier alternatives such as pet coke and furnace oil and seeks to slash emissions by a third by 2030. The government is building gas pipelines and new import facilities as it seeks to more than double the share of gas in its energy mix to 15 percent by 2020.
Shell is studying how it might convert coal users in the western Indian city of Surat, a major textile hub, Nitin Prasad, a chairman with the company's India unit, said in the same interview. Shell is exploring installing LNG-refueling stations at its retail fuel outlets in India as the country seeks to use more LNG for transporting goods.
"In terms of capacities, we are not constrained. We have projects, we have plenty of opportunities," Prasad said, adding that the company is looking at India as a business prospect for the next 30 years.
The company operates a 5 million ton-a-year LNG import terminal on the west coast of India through a joint venture with French energy major Total SA, which accounts for about a quarter of the country's total imports of the fuel. India is the world's fourth-largest buyer of LNG and imported 18.99 million tons in 2016, according to the International Group of Liquefied Natural Gas Importers.
About 600 million people in India would need access to some form of energy over the next 15 years, which will push the nation's energy demand up almost two-and-a-half times to keep pace with the economic growth rate, Prasad said.
"There are other areas in smaller customers, medium-sized customers, who are not necessarily looked at by players today," Prasad said. "There is a lot of value in servicing the long tail as long as you can do it economically."