Written by Brian Eckhouse. This article first appeared in Bloomberg Technology.
There's long been a Catch-22 about residential solar: despite staggering market demand, it's been hard to make money doing it. Until now.
Sunrun Inc. said Wednesday that it's cash-flow positive. And Blackstone Group LP-backed Vivint Solar Inc. expects to hit that mark next year.
Rooftop solar installers have chased growth in recent years, investing revenue into marketing and installations. The model helped fuel the expansion of residential power systems in the U.S., driven by leases and power-purchase agreements that require little to no upfront cash from consumers.
"It's a major milestone if both of these companies can demonstrate that they can fund their continuing operations and continue to create new leases and generate money," said Joseph Osha, a San Francisco-based analyst at JMP Securities LLC.
Sunrun expects to generate about $40 million of normalized cash flow this year. "We are very clearly profitable," Chairman Ed Fenster said in an interview Wednesday. The shares gained 7.8 percent to $6.35 at 10:02 a.m. in New York.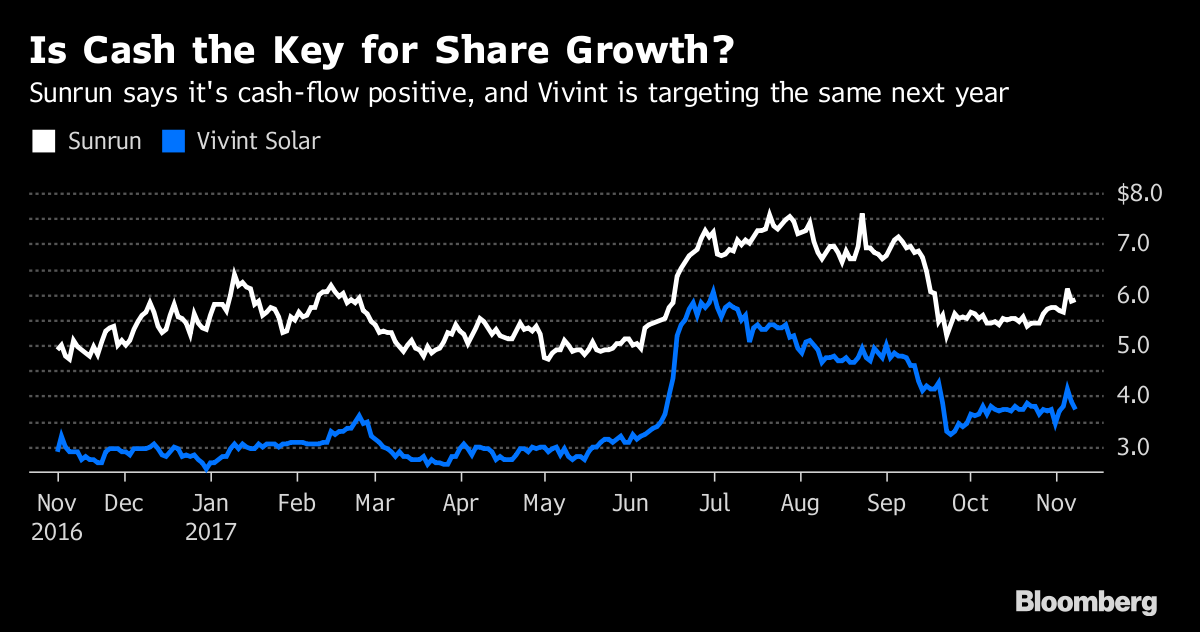 Vivint is pushing to be cash-flow positive in 2018, Chief Executive Officer David Bywater said in an interview Wednesday. The Lehi, Utah-based company has prioritized profitability under Bywater, who became CEO last year, over a single-minded focus on installation growth.
"Others were leading this charge on growth, growth, growth," Bywater said. "But growth is only great with strong unit economics."
Though rooftop power was once the fastest-growing part of the U.S. solar industry, installations have slowed this year as some states revised incentive programs. Cash flow and profitability became leading industry buzzwords. Investors began focusing on companies' marketing and unit costs, while debating the financial merits of long-term leases versus sales, either paid with cash or funded with loans.
Vivint and market-leader Tesla Inc. have pivoted. Tesla is prioritizing sales, ceased door-to-door marketing and has ceded market-share to rivals including Sunrun, which expects to boost installations by 15 percent this year. Vivint last year decided it needed to right-size and diversify itself following its failed acquisition by now-bankrupt clean-energy giant SunEdison Inc., and stopped chasing growth for the sake of growth.
Rooftop-solar companies "haven't pedaled their product as hard as past years. Why? Investors' patience was wearing thin," said Hugh Bromley, a New York-based analyst at Bloomberg New Energy Finance. "They wanted a path to profitability and the easiest way to do that was to cut marketing spend at the expense of growth."
Vivint and Sunrun have pursued partnerships, partly to boost value and to reduce marketing expenses. Vivint is collaborating with sister company Vivint Smart Home on solar-and-energy-management bundles, and with Daimler AG's Mercedes-Benz Energy unit on power-storage systems. Sunrun has arrangements with Comcast Corp., National Grid Plc and Engie SA; Comcast will market Sunrun's panels to its customers over the next 40 months.
"We're gaining share, we're increasing our cash balance," said Sunrun CEO Lynn Jurich in the interview. "This is a big step."