Written by Mark Chediak and Brian Eckhouse. This article first appeared in Bloomberg News.
The U.S. solar industry is about to airlift rooftop panels and batteries to Puerto Rico, where more than 90 percent of homes and businesses remain without electricity after Hurricane Maria destroyed the grid. The first plane of supplies is set to leave this week.
It's primarily a humanitarian effort, according to the Solar Energy Industries Association. But it's also a chance for the industry to showcase what it can offer that conventional power plants and grids can't: an energy source capable of weathering natural disasters. And Puerto Rico Governor Ricardo Rossello, leader of an island wrecked by back-to-back storms, is all ears.
After Elon Musk suggested on Twitter Thursday that Tesla Inc. could rebuild Puerto Rico's electricity system with solar panels and batteries, Rossello responded: "Let's talk.
Renewable-energy advocates have wasted no time in promoting solar and batteries as a solution for regions wrecked by hurricanes Irma and Maria. Tesla Inc. said it would send hundreds of battery systems to Puerto Rico that could be paired with rooftop panels. Edward Fenster, chairman of solar-panel provider Sunrun Inc. said it's also looking to help in restoration efforts. The storms knocked out power to millions of utility customers who depend largely on fossil-fuel plants and long-distance transmission lines for service. Some in Puerto Rico may be in the dark for as long as a year as the grid's repaired.
"We build solar panels to withstand 150-mile-an-hour winds — if the roof stays on your house, the solar panels stay on your roof," Sunrun's Fenster said in an interview at Bloomberg's San Francisco office Thursday. "And batteries are real-life safety equipment. From a broad perspective, solar and storage can strengthen grids everywhere."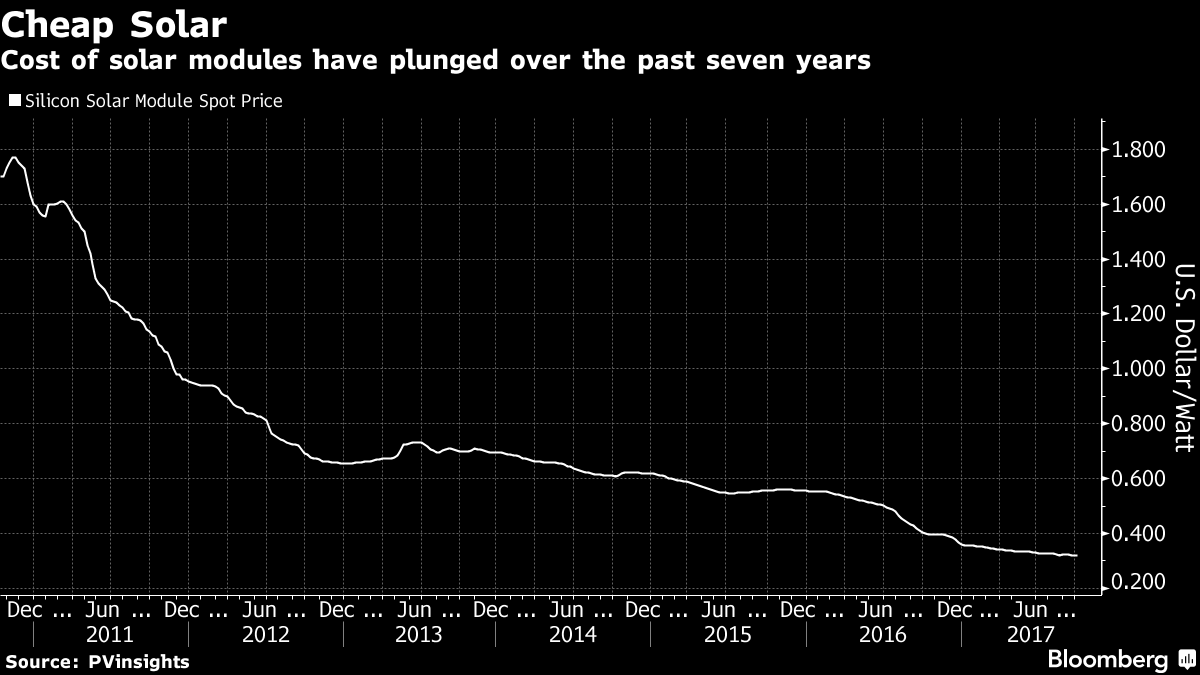 Solar's proposition is proving an attractive choice for an island facing the daunting task of rebuilding a system from the ground up. It could take six months to a year before power's restored across the entire island, the U.S. Army Corps of Engineers in Puerto Rico said, citing initial forecasts.
"What's the smartest way to rebuild?" asked Abigail Ross Hopper, president of the Solar Energy Industries Association. "Do you recreate the infrastructure that existed and could be devastated in a storm, or do you balance a resilient system like solar plus storage that can better weather storms?"
Energy Storage
The supplies U.S. solar companies are sending to help with the hurricane response is a testament to how crucial energy storage has become to their business. Solar customers are looking for affordable ways to keep the lights on even when the sun's not shining — and lithium-ion battery pack prices fell 73 percent from 2010 to 2016, based on Bloomberg New Energy Finance estimates.
While such a combination may look increasingly appealing for regions like the Caribbean islands hit hard by the hurricanes, "the question is whether you can do it affordably," said Ethan Zindler, an analyst with Bloomberg New Energy Finance in Washington.
According to the Rocky Mountain Institute, a nonprofit group that promotes clean energy, it would cost roughly $250 million to build about 90 megawatts of solar and storage across a chain of Caribbean islands. That's enough to power an estimated 15,000 U.S. homes. While it may be sufficient for islands like the Turks and Caicos, more than a million households live in storm-battered and debt-ridden Puerto Rico alone.
Aid to Rebuild
"Certainly there's an opportunity here, with the potential for positive in Puerto Rico probably much larger than the potential total revenue," Zindler said. "There are sales potentially to be had," he said, but that assumes Puerto Rico gets the aid it needs to rebuild.
Meanwhile, the solar association has packed more than $1 million of donated gear onto airplanes. It's working with disaster-relief groups and other trade organizations to get the equipment where it's needed and to help raise money for the recovery efforts.
"We're trying to connect people with each other," said Hopper, the trade group's president. "Our customers have products that can make a huge difference in people's lives."