Hidden within the salt flats high in the Andes mountains of South America are vast deposits of the lithium that Elon Musk may need for his electric-car revolution. But extracting the mineral from brine ponds created by Orocobre Ltd. has proved more difficult than expected.
Bad weather and pump glitches meant production at the Olaroz facility in northern Argentina was 21 percent below Orocobre's initial target in the year through June. While things are getting back on track, Chief Executive Officer Richard Seville says the company "either underestimated the complexity or overestimated our capability."
Producers everywhere have struggled to keep up with demand as electric cars went from almost no sales a decade ago to more than half a million vehicles last year. The battery in a Model S from Musk's Tesla Inc. uses about 45 kilograms (100 pounds) of lithium carbonate. More mines are planned, but difficulties at Olaroz — the first new South American lithium mine in two decades — are limiting funding for new ventures in Argentina, home to the world's third-largest reserves.
"The uncertainty on the supply side is driving prices up and making investors nervous," said Daniela Desormeaux, CEO of Santiago-based lithium consulting firm SignumBOX. "We need a new project entering the market every year to satisfy growing demand. If that doesn't happen, the market will be tight."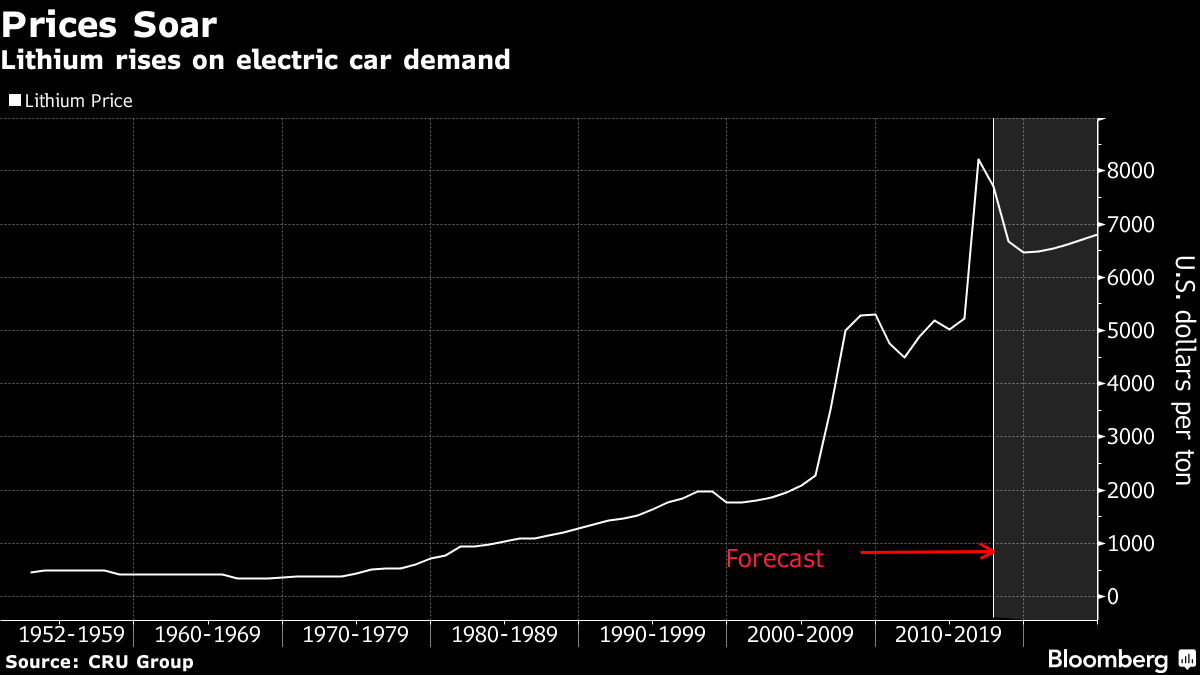 Australia is the biggest lithium producer, though Chile and Argentina account for 67 percent of global reserves, according to the U.S. Geological Survey.
Extracting lithium from the salt flats that dot the arid northern regions of the South American countries is a lot easier and cheaper than digging underground for metals like copper. Producers just pump the brine solution into evaporation ponds, harvesting the mineral once the moisture is gone.
Orocobre's experience in Argentina shows the process isn't without its challenges, especially for a newcomer. 
The Brisbane, Australia-based company initially forecast production at 15,000 metric tons for the year through June. That was cut to 12,000-12,500 tons. And the final tally ended up at 11,862. Unusually cold and overcast weather slowed evaporation and restricted transport of supplies, while pumping glitches meant there wasn't always enough brine in the right places. Since then, Orocobre has invested in improving pumping from one pond to the next, just in time for the key evaporation period, Seville said in an interview last week.
The company's shares have retreated 30 percent this year after doubling in price last year.
"Lithium production isn't easy," Juan Esteban Fuentes, CRU Group's head of South America, said in an interview in Santiago. "It requires high technical and chemical knowledge. Clearly there will be more disruptions, to the extent that there are miners entering the market that have never extracted lithium and do not have that technical knowledge."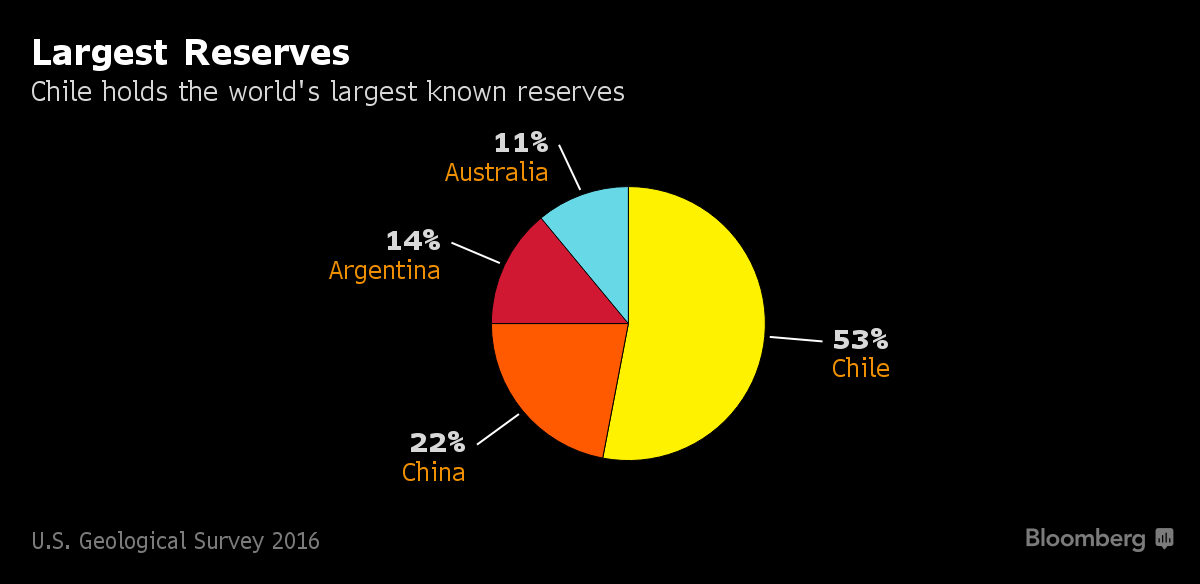 Rising demand for lithium used in a new breed of lightweight, rechargeable batteries caught producers of the mineral off guard. Tesla's gigafactory in Nevada aims to manufacture about 500,000 car batteries a year by 2018. The soft, silver-white metal is also used in cell phones.
Prices of lithium carbonate, the primary base-chemical produced by the industry, more than doubled in the five years to 2016, according to UBS Group AG. The material advanced about 5 percent to average $14,250 a ton in July from June, according to Benchmark Mineral.
With demand expected to keep rising as electric cars gain a bigger share of the global auto fleet, Argentina and Chile are attracting interest from mining companies because it costs about $2,000 to $3,800 a ton to extract lithium from brine, compared with $4,000 to $6,000 a ton in Australia, where lithium is mined from rock.
Still, most projects are expected to struggle to get off the ground.
Of the 39 lithium ventures tracked by CRU, only four have firm commitments, and all of those are in China, adding about 24,000 tons of annual supply. Another 10 projects representing 400,000 tons are rated "probable" – in Canada, Chile, China, Mexico, Argentina and Australia – but probably only about 30 percent will make it into production, CRU said.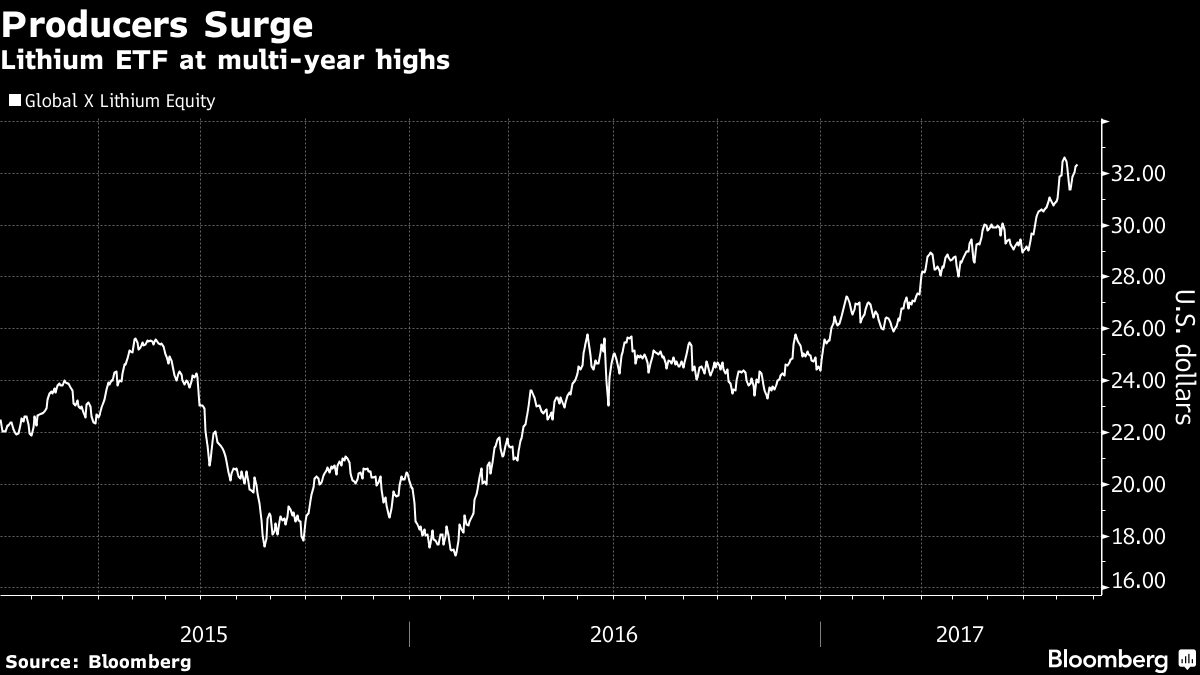 Orocobre's teething problems are being closely watched by investors, who are becoming more reluctant to fund projects by new entrants in Argentina, said Gabriel Rubacha, head of South American operations at Lithium Americas Corp.
Lithium Americas is developing a project in Jujuy province with industry veteran Soc. Quimica & Minera de Chile SA, a partnership that was essential in securing the $174 million needed to get started. "Most lithium projects in Argentina fail because they can't close financing," Rubacha said. "We are totally relying on SQM's expertise."
Santiago-based SQM is investing in Argentina after Chile's government moved to withdraw its license to exploit one of the world's largest deposits. That withdrawal is subject to an arbitration process between the company and state development agency Corfo that may be concluded this year, according to Corfo.
Expansions by established producers including China's Tianqi Lithium Corp. and North Carolina's Albemarle Corp. probably will leave a small global surplus by year end, but supply disruptions could put the market back into deficit, CRU's Fuentes said. If annual demand for Tesla's Model 3 reaches 700,000 units, as Musk says could happen, the industry will need additional supplies from lithium newcomers.
To read a QuickTake Q&A on electric vehicles, click here
While Chilean copper giant Codelco is looking to enter the lithium business via a partnership at its Maricunga tenements, the project will require deals with some of the salt flat's 40 land owners to make the operation large enough to be profitable.
Chile deems lithium to be "strategic," which means would-be producers need authorization from the Nuclear Energy Commission and operating conditions are set directly with the government on a case-by-case basis. Wealth Minerals Ltd. estimates it will take seven years to set up an operation in Chile.
Watch Next: Why Electric Cars Aren't Taking Over Yet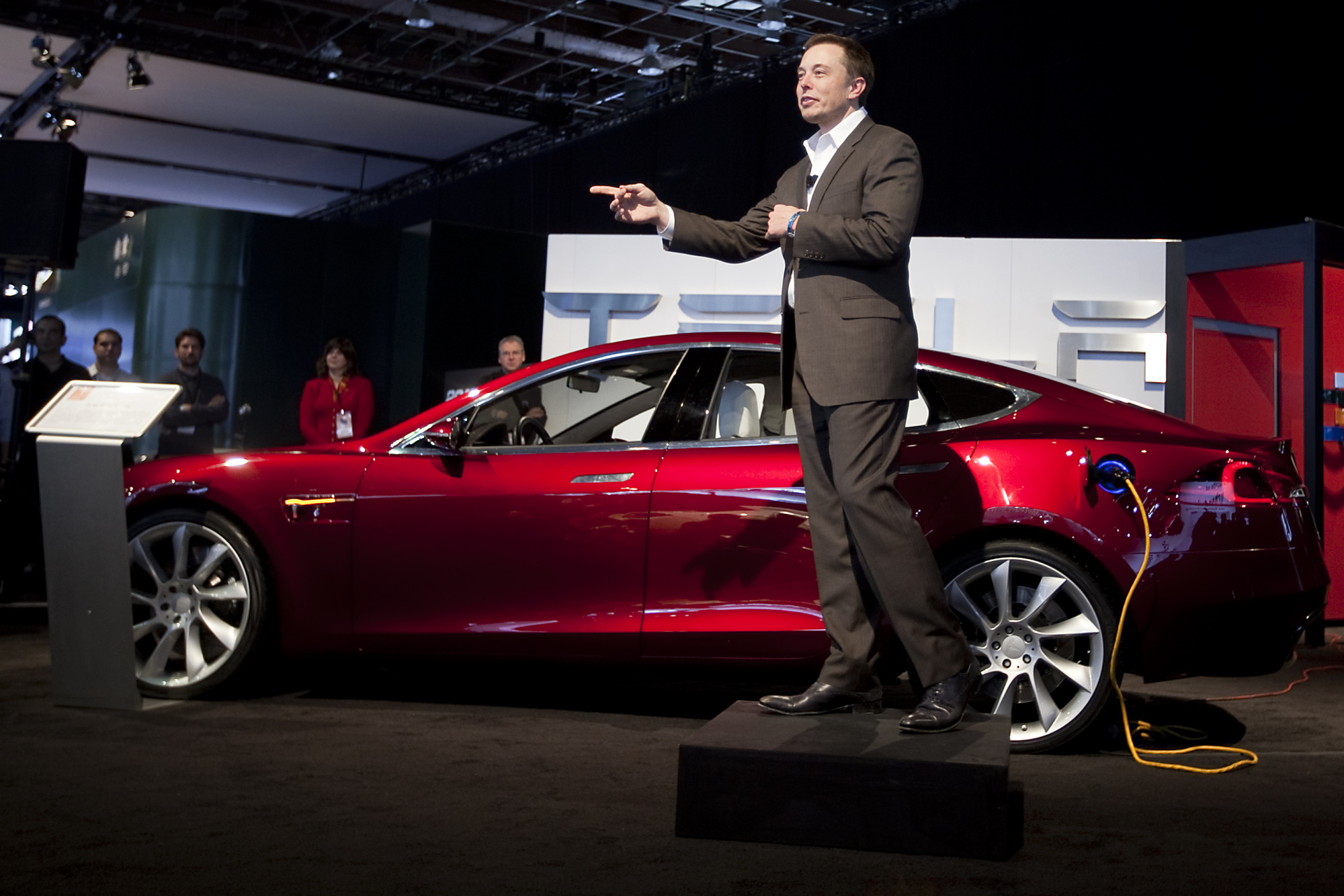 "But we have a window of only 25 years to develop these projects because prices can fall again as soon as a replacement to lithium appears," Marcelo Awad, Wealth's Chile manager, said in an interview in Santiago.