Written by Dana Hull. This article first appeared in Bloomberg Tech. 
Tesla Inc. still hasn't figured out how to overcome manufacturing challenges that threaten its viability as an automaker, with battery factory-line glitches pushing out production targets for the Model 3 sedan.
The company won't make 5,000 units per week of its cheapest car until sometime in March, three months later than planned. "I have to tell you I was really depressed about three or four weeks ago," Chief Executive Officer Elon Musk said on a call with analysts Wednesday after Tesla reported a record quarterly loss and cash burn.
But he downplayed the delay. "In the grand scheme of things," he said, "this is a relatively small shift."
Investors weren't so sure: Tesla shares fell 5 percent to $304.90 after the close of regular trading.
The early setbacks Tesla has had making the Model 3 have lengthened the wait for hundreds of thousands of reservation holders and extended the payoff period for the billions of dollars the company has spent to expand. The manufacturing snags will embolden skeptics who've doubted the company's ability to quickly reach mass production, a feat the youngest U.S. carmaker is trying to pull off for the first time with a car that starts at $35,000.
'Heated' Debate
"A spike in capital spending and cash burn ahead of the Model 3 ramp will keep the bull and bear debate very heated," wrote James Albertine, a Consumer Edge Research analyst. "There is not as much cushion in shares now for subsequent delays."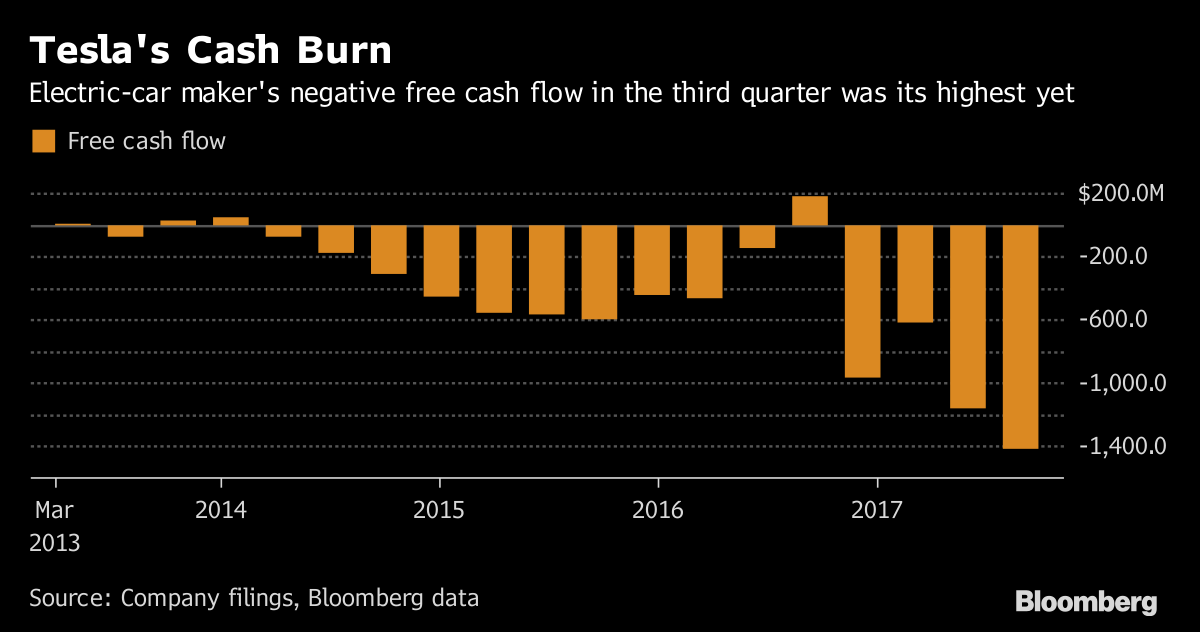 Tesla burned $1.42 billion in cash in the third quarter. The Palo Alto, California-based carmaker is spending heavily on both its auto assembly plant and at its battery gigafactory, contributing to an adjusted lost per share of $2.92 per share, worse than analysts estimated.
Subcontractor Blamed
The main constraint holding back Model 3 output has been on the assembly line that packages battery cells at Tesla's gigafactory in Nevada, which Musk blamed in part on a subcontractor that "really dropped the ball." Software had to be rewritten from scratch and mechanical and electrical elements of one area of the plant had to be redone.
Speaking from the plant, he later faulted himself for picking the wrong subcontractor. He recalled being on the assembly line at 2 a.m. on a Sunday to help diagnose robot calibration issues and said work was being done seven days a week to solve the issues vexing the gigafactory. "One should lead from the front lines and that's why I'm here," he said.
Just three months ago, Tesla said it would make 10,000 Model 3 cars per week in 2018. But during the call with analysts, Musk hesitated to reaffirm that guidance, saying more information about the outlook for next year would come after the fourth quarter.
Clearing Bottlenecks
Musk and Chief Financial Officer Deepak Ahuja wrote in a letter to shareholders that it was difficult to predict how long it will take to resolve all bottlenecks, or when new ones will emerge.
Some of Tesla's manufacturing lines, including those for drive units, seats, paint and stamping, have the ability to make more than 1,000 cars per week during "burst builds of short duration," they wrote. Battery pack assembly, body shop welding and final assembly are able to make about half as much and are ramping up quickly.
The costlier Model S sedan and Model X crossover are on pace for about 100,000 deliveries in 2017, an increase of more than 30 percent from last year. That said, the company forecast that output of those vehicles will fall about 10 percent in the fourth quarter from the previous three months. Musk said Tesla will be selling down inventory and workers will be shifting to Model 3 assembly lines.
The CEO lashed out against reports of Tesla firings following recent performance reviews by the company, saying that about 700 people were dismissed out of 33,000 from the company.
Musk predicted to employees in July that Tesla would be entering a period of "production hell" getting Model 3 manufacturing started. Asked by an analyst Wednesday how hot it was at the moment, he channeled Dante, saying the company was nine levels deep — the worst place it could be — and moving up to level eight.
"Now, I can see sort of a clear path to sunshine," he said. "It's very obvious what we need to do. It's just a matter of work to get there."