A former Tesla Inc. factory worker filed a lawsuit alleging the automaker fired him a day before his one-year anniversary, denying him hundreds of thousands of dollars worth of stock options that he claims should have vested.
Stephen Platt — who said he began working as a machinist at Tesla's Fremont, California, factory on Aug. 27, 2012 — was fired on Aug. 26, 2013, at the end of his shift despite having been told the previous month he'd be getting a raise for his performance, according to the complaint filed in California Superior Court in Oakland last month.
Platt had been offered 2,500 shares of Tesla common stock when he accepted the job, a quarter of which were slated to vest 12 months after the first day of his employment. Platt alleges he had completed exactly a year of work on the date of his termination and should have been allowed to purchase the shares.
A Tesla spokesperson said in an email Wednesday that Platt had a documented track record of poor performance. Although he isn't entitled to the stock, the company will take a fresh look at the circumstances of his firing and do what's fair, the spokesperson said.
Share Value
Under the terms of his employment agreement, Platt would have been able to purchase his vested shares for $27.37 apiece after a year of work, according to the complaint. The day he was terminated, Tesla closed at $164.22 in New York. Had Platt's options vested, he would have been able to acquire 625 shares at a fraction of the market price — shares that would now be worth more than $240,000 at Monday's settlement.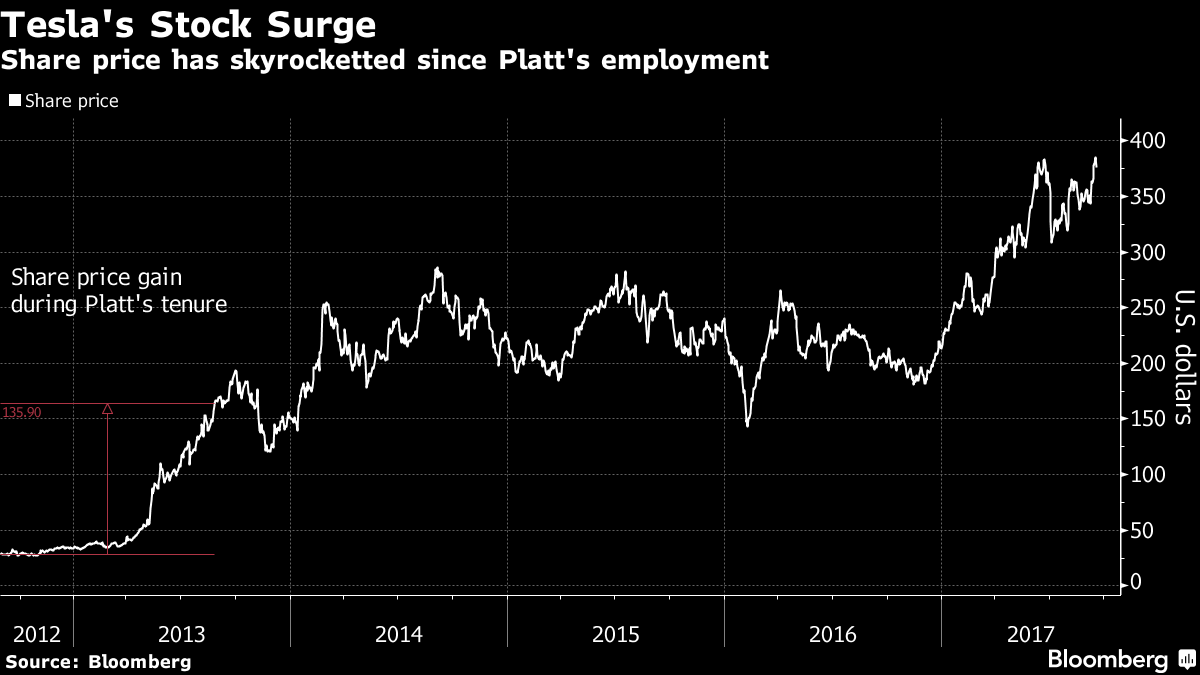 "Tesla is cheating its employees out of stock options that they are entitled to, and they are worth a significant amount of money," Yosef Peretz, Platt's San Francisco-based attorney, said in an interview. "It's a straight-up breach of contract case. The employment agreement says you vest after 12 months, he completed 12 months, and he should get his stock options."
The plaintiff is seeking class action for all employees who joined the company under the same terms, which the suit estimates to be at least 200 former workers. Peretz also represented Tesla co-founder Martin Eberhard in his defamation suit against Chief Executive Officer Elon Musk, which was settled in 2009.
Tesla Growth
Palo Alto, California-based Tesla, which makes electric vehicles and energy storage devices, has ballooned in both size and market value since its June 2010 initial public offering. It posted its first quarterly profit during the year Platt was employed and has since become the largest U.S. automaker by market capitalization.
Many Silicon Valley startups give employees shares that fully vest over a four-year period, with equity in fast-growing companies a critical part of compensation packages. This spring, cyber-security startup Tanium Inc. was roiled by allegations that its CEO kept a list of workers who were close to cashing in their options and firing them before they could do so.
As the company ramps up production of its new Model 3, some workers at the Fremont factory have draw attention to wages and working conditions and have said that Tesla needs a union.
Platt said in the lawsuit that he experienced breathing difficulties due to inadequate ventilation and that he received a "final written warning" alleging performance issues several weeks after visiting an occupational health physician. The breathing problems resurfaced a month before his firing, though an occupational health physician cleared him to work without restrictions several weeks before his dismissal.
The case is Platt v Tesla Motors Inc., RG17873032, California Superior Court, Alameda County (Oakland).