Written by Dana Hull and David Welch. This article first appeared in Bloomberg Technology.
Shareholders shrugging off Tesla Inc.'s plodding start with its newest electric car were backed up by the newest analyst to start covering the company, who instantly became the biggest bull on Wall Street.
Nomura analyst Romit Shah recommended buying Tesla shares, slapped a $500 price target on them and predicted an "unprecedented run-up" in revenue in his first report on the company Tuesday. The bullish call followed the carmaker's announcement that it had made just 260 Model 3 sedans in the third quarter, well short of its 1,500 unit forecast.
Investors excused Elon Musk for failing to deliver on another ambitious target. While the slower-than-expected initial production of Model 3 means a longer wait for reservation holders, it's more important that the company get its first mass-manufactured car out without quality or safety issues than rush output to meet the chief executive officer's lofty goals.
"It's the lesser of two evils," Jamie Albertine, senior analyst at Consumer Edge Research LLC, said in a phone interview. "Do you risk investor sentiment and hurt the stock price today or disappoint customers with a recall tomorrow? A recall on the Model 3 could be catastrophic."
Tesla shares extended gains after regular trading, climbing 0.8 percent to $351.01 as of 5:25 p.m. in New York. The stock closed up 1.9 percent.
Critical Roll-Out
A successful roll-out of the Model 3 is vital for Tesla's future. With a starting price of $35,000 before options or incentives, the car is designed to reach far more buyers than either the Model S sedan or Model X sport utility vehicle, which attract luxury buyers. Tesla has disrupted the global auto industry with its stylish electric cars, but it now faces growing competition from the likes of Daimler AG, Volkswagen AG and General Motors Co., which are introducing EVs in droves and have much more cash to spend.
The Nomura report shows there are those who think Musk, 46, can still prevail. Shah, who now has the highest price target among the analysts tracked by Bloomberg, projected Tesla revenue will surge to $58 billion in 2021. He said the company has an "insurmountable lead" in vehicle range per dollar and called its competitors "largely inferior."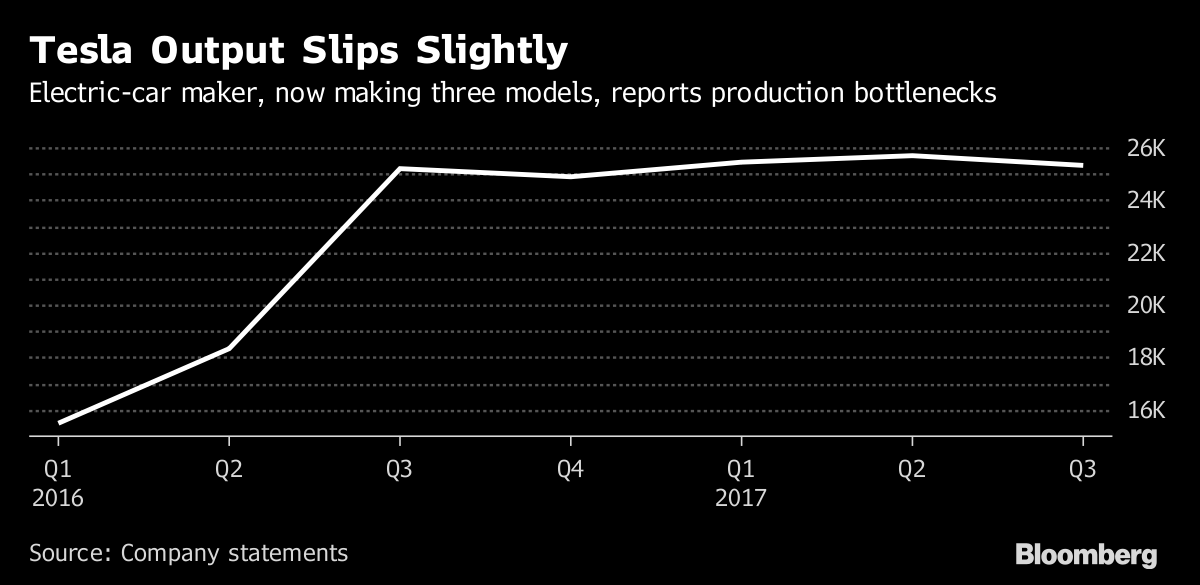 Musk has shown caution in making sure Tesla gets the Model 3 right by delivering the first cars to employees, a more forgiving audience.
"Let's face that the Model 3 is actually sort of a beta test right now," short-seller Jim Chanos, who's betting against Tesla shares, said on Bloomberg Television last week. "Even though it has been released, it's in the hands of employees and friends of the company."
But that's not necessarily a bad approach. The market would rather see the Model 3 produced well than have it rushed out quickly to meet delivery targets, said Morgan Stanley analyst Adam Jonas.
"Quality and attractiveness of early production is far more important than the quantity delivered — at least for now," Jonas wrote Tuesday in a note to clients. "Most auto launches have hiccups, and Tesla is no exception."
Several holders of Tesla shares shrugged off the miss, with Ross Gerber, chief executive officer of Gerber Kawasaki Wealth & Investment Management, noting that "Elon's never made a number, ever."
"Coming up short is what we expect of him," he said.
Forgiving, For Now
That said, investors won't wait forever for Tesla to hit its stride. The Palo Alto, California-based automaker had previously said that it would build 20,000 of the cars a month by December, and then 500,000 total vehicles a year in 2018. The company didn't reaffirm or change that guidance Monday.
"Continued challenges in executing on the Model 3 ramp would be disastrous for the company given the competition that is expected for 2019 and beyond," Jeffrey Osborne, an analyst at Cowen & Co., wrote in a report. He criticized the vagueness of Tesla's disclosure about its manufacturing issues and said the company's production goals for the end of the year are "at risk."
Tesla's $1.8 billion of 5.3 percent bonds issued in August fell as low as 97 cents on the dollar on Tuesday, according to Trace, the bond-price reporting system of the Financial Industry Regulatory Authority.
Michael LaChapelle, a portfolio manager at FoxForge Capital, which has a short position in Tesla, said he's surprised the market reaction has been so muted.