Orsted A/S, the Danish company built on oil and gas extraction, will issue its first green bonds as it moves toward completing a transition to renewable energy.
Orsted, which sold its oil division earlier this year, plans to offer a hybrid note due in 3017 (it's a 1,000-year bond) and a senior unsecured bond maturing in 2029, the company said in a statement Thursday. Both will be so-called green bonds, which means proceeds must be used to fund projects with positive environmental benefits.
"We have already seen seven perpetual green bonds issued to date, all of which sold in the last two years," said Dan Shurey, an analyst at Bloomberg New Energy Finance in New York. The sale shows that Orsted is "confident demand for green securities will be sustained."
Hybrids bonds are normally issued with a perpetual maturity. They run an infinite number of years, and the bond holder in practical terms is never repaid principal. But due to taxation reasons in Denmark, hybrid bonds are usually made to run for a fixed number of years, and issuers therefore choose a number of years that's so high so that it in all practical terms is a perpetual bond.
Orsted, formerly known as Dong Energy A/S, already is the world's largest developer of offshore wind park as well as Denmark's main utility. The Copenhagen-based company sold its North Sea oil and gas production division to Ineos AG at the beginning of the year for more than $1 billion.
"We didn't choose green bonds because we thought it was a better deal; we did it because it's in line with our overall strategy," said Henrik B. Lund, head of investor relations.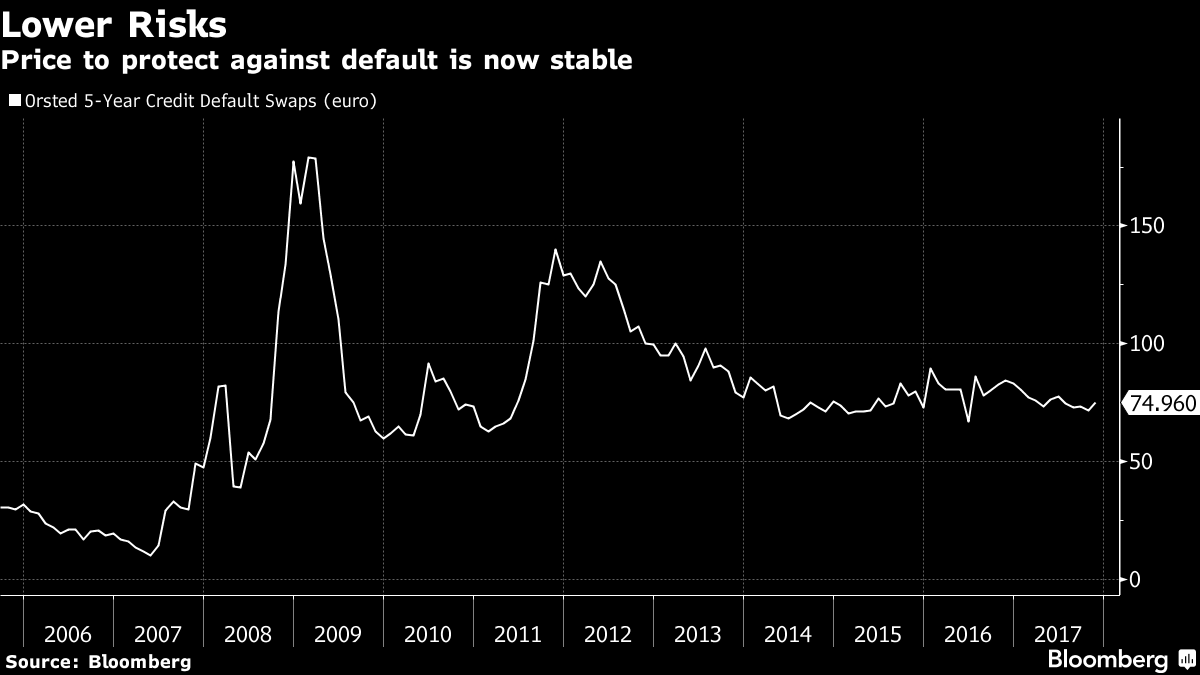 The company, one of Denmark's biggest debt issuers, may continue to opt for green bond market in the future, Lund said. The pricing probably won't be much different than if Orsted offers a non-green security, he said.
"The transactions for the green bonds haven't gone through yet, so first we need to gather some experience with them, but it's something that fits with the company's focus," Lund said by phone.
Orsted sold 750 million euros ($880 million) in the 12-year bond and sold 500 million euros in the hybrid, Bloomberg News reported, citing people familiar with the transactions.
The European Union is betting on green bonds to help combat climate change, and is supporting a so-called Sustainable Stock Exchanges initiative by the United Nations to promote use of capital markets. (The effort is holding a meeting Thursday in Bonn, to unveil new strategies.)
The market for eco-friendly investments is still small. Green equities make up just 5 percent of the world's stock and green bonds constitute only 0.2 percent of outstanding debt, according to the UN. Spanish energy company Iberdrola SA earlier this week priced a 1 billion-euro ($1.2 billion) green hybrid.
Moody's Investors Service assigned Orsted's new hybrids a Baa3 rating, which is the lowest investment grade, whereas S&P Global Ratings gave them a BB+, which is a step lower, the two rating firms said in separate statements.
Orsted, which has outstanding bond debt worth about $5.3 billion, also on Thursday said it will buy back as much as 580 million euros in three outstanding bonds, maturing 2019, 2021 and 2022.