By Dune Lawrence, Kartikay Mehrotra, Christoph Rauwald, Elisabeth Behrmann, and Ryan Beene
There's a saying in Stuttgart, where Robert Bosch GmbH was founded in 1886: "Halt dei Gosch, i schaff beim Bosch." It's a dismissive retort—roughly "Shut up, I'm the one working for Bosch"—suggestive of the company's culture of engineering brilliance, which has made it an icon of German industry. The world's largest automotive supplier, with revenue of €73 billion ($86 billion) last year, Bosch is largely responsible for the development of everything from fuel injection and antilock brakes to onboard navigation systems and so-called clean diesel technology.
That prowess has convinced management that the company can transform itself into a broader global technology giant in line with the Googles of the world. Bosch poured €6.95 billion into research and development in 2016 in an effort to expand its focus to the internet of things. This year it reportedly won orders to supply motion sensors for the next iPhone. It will begin shipping a home robot called Kuri in December. And in June, Bosch announced it would build a €1 billion factory to make semiconductors for self-driving vehicles, the biggest single investment in the company's history.
While Bosch tries to stride into the future, the past is catching up to it in a cascade of new claims that the supplier was at the heart of the diesel emissions cheating scandal, one of the biggest product fraud cases ever. In September 2015, Volkswagen AG admitted to hoodwinking U.S. regulators for years over emissions from its diesel models, kicking off regulatory probes and criminal and civil lawsuits. VW, which has racked up more than $24 billion in government penalties and owner restitution, used Bosch software to pull off the fraud.
Although Bosch early this year agreed to pay more than $300 million to settle its share of the emissions cheating consumer class action without admitting guilt, its legal woes are far from over. It's fighting a suit by U.S. auto dealers, seeking as much as $4 billion in penalties, that alleges Bosch was complicit in the fraud with Volkswagen, plus class actions involving diesels built by VW and three other makers. Stuttgart prosecutors in June announced a probe against three Bosch managers on suspicion that they aided in VW's diesel cheating. And in late July, Bosch was named as a key player in a lawsuit against the big five German automakers, who are accused of conspiracy to control competition and costs over two decades. The complaint, filed in U.S. District Court in San Francisco, alleges that Daimler, VW, Audi, Porsche, and BMW colluded on technology and shared information on vehicles, costs, and suppliers. The suit alleges that the carmakers struggled to meet emissions standards—until Bosch stepped in with a solution. (A Daimler spokesman says the lawsuit lacks merit and the company will defend itself. Spokesmen for BMW, Audi, and VW declined to comment.)
All this has raised questions among auto researchers over whether Bosch—whose huge diesel business supports 50,000 jobs at the company—may have done more than simply sell Volkswagen the gear and software used to fool regulators. At the heart of the scandal is software embedded in computer chips designed to cheat emissions tests by registering artificially low levels of pollutants during indoor examinations. Bosch supplied the engine-control units VW used. "The supplier is the expert, and they know what they want the device to do," says Tom Montes, manager of the diesel onboard diagnostics section at the California Air Resources Board (CARB), the state emissions regulator. Engineers at CARB's lab in El Monte, east of Los Angeles, collected a lot of the data that finally forced VW's admission that monitoring results were doctored by its own devices.
Those same engineers are now busy running diagnostics on U.S. diesel-powered vehicles—most equipped with Bosch emission-control devices—simulating turns, braking, and reacceleration while invisible particles are sucked into a series of sealed plastic bags connected to the vehicles' tailpipes as laptops collect dozens of data points every second from the onboard computer. Asked if Bosch had become a red flag for testing engineers, Montes didn't hesitate: "I think that answer's obvious."
Bosch argues otherwise. "I reject that Bosch's role has been running like a common thread" through the diesel scandal, says Rolf Bulander, who heads Bosch's mobility solutions unit. "The relationship between customers and suppliers has its basis in laws and regulation, and we are sticking to them."
Diesel technology had buoyed Bosch's fortunes for almost two decades before VW's 2015 cheating admission, in particular two feats of engineering that helped remake the diesel passenger car. The so-called common-rail fuel injection system, which Bosch introduced in 1997, made diesel engines far more fuel-efficient, cleaner, and quieter. By late 2011 the company had produced more than 75 million of the new-age fuel systems. Then, as regulators put stricter limits on emissions, Bosch developed the EDC17 engine-control unit, which includes complex software that helped its customers' cars meet the new standards and erase diesel's dirty image.
At first, Bosch wasn't a target when Volkswagen admitted to fitting 11 million of its diesel cars worldwide with so-called defeat devices. Although most diesel cars sold in the U.S. used Bosch engine-control technology, manufacturers such as Volkswagen typically spend many months editing functions and calibrating settings to make it all work right for specific models. That's why some industry legal experts initially said Bosch could plausibly claim not to be responsible for the tweaks Volkswagen may have made to manipulate engine response—and emissions—in testing.
But Bosch's position became more complicated in August 2016, almost a year into the consumer class action against VW, when plaintiffs' lawyers added it as a co-defendant. The amended complaint included a bombshell: a 2008 letter in which Bosch sought indemnification against liability for changes Volkswagen was asking it to make to the engine-control unit. "The further development requested by your company will result  …  in an additional path for the potential to reset data to act as a 'defeat device.' We ask you to have the attached disclaimers executed by your company," an unidentified Bosch employee wrote. Plaintiffs' lawyers say that shows Bosch fully understood the intent of the diesel cheating system. The complaint also alleged that Bosch agreed to remove language from technical documentation that might have revealed the defeat device and helped mislead U.S. regulators when they queried VW on the device's functions.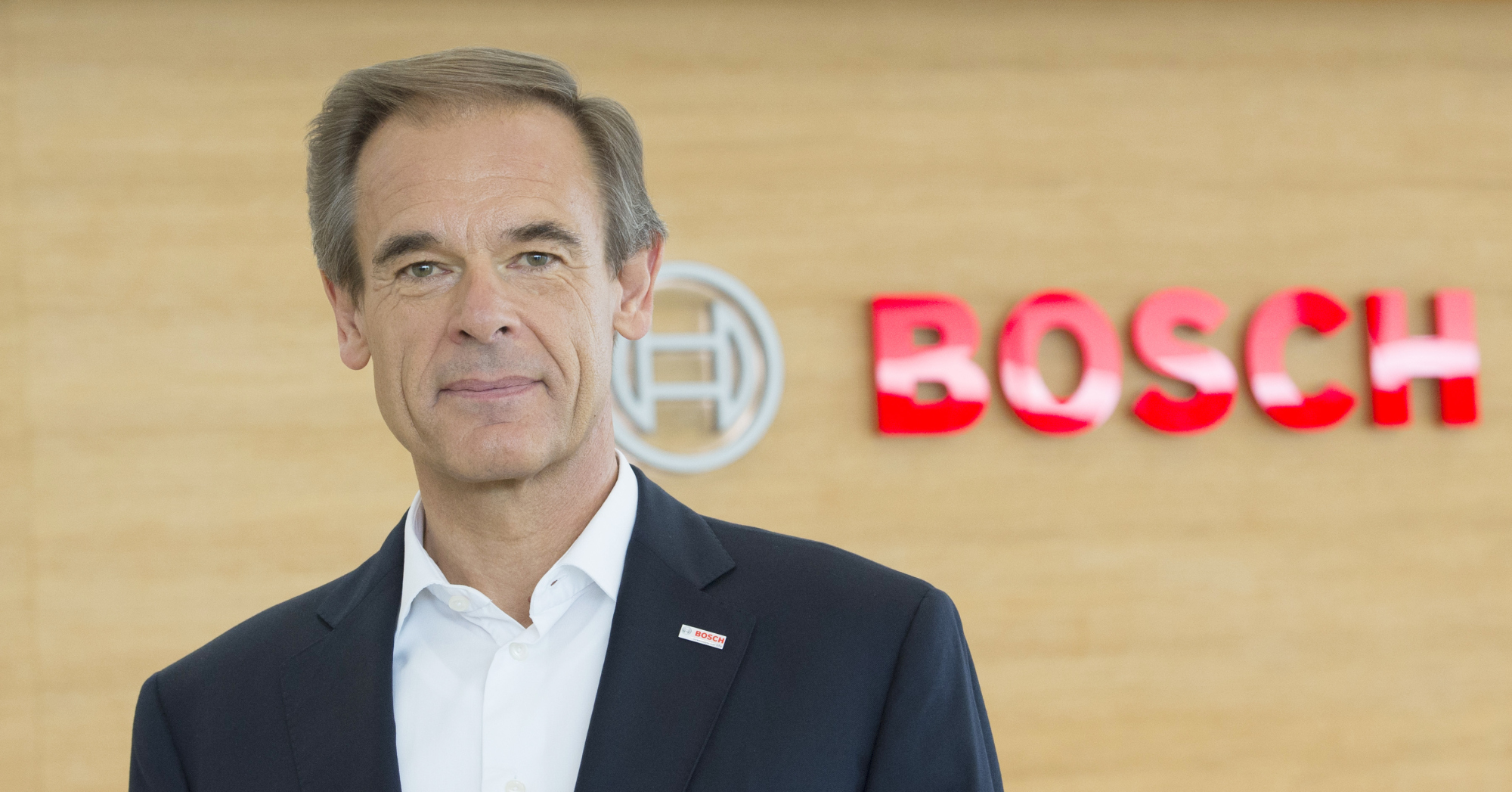 Photographer: Thomas Kienzle/AFP/Getty Images
Bosch, despite calling the claims "wild and unfounded," agreed in February to pay $327.5 million to settle, without admitting wrongdoing. "Bosch is in the middle of the biggest transformation of the company's history," Chief Executive Officer Volkmar Denner said at the time. "We want to devote all our attention and resources to that change."
That was not in the cards. Bosch is now defending against claims of conspiracy and racketeering related to diesel emissions in four class actions in the U.S. covering 1.5 million vehicles made by VW, Daimler, Fiat Chrysler Automobiles, and General Motors. "They're the common core here, and we want to see their interactions with all these manufacturers," says Steve Berman, an attorney at Hagens Berman who represents vehicle owners suing the carmakers and Bosch. "It's pretty widespread industry knowledge that Bosch maintained strict control over its software product. The idea that they just let the manufacturers change it willy-nilly is ridiculous."
"Putting greater delimitations between us and the customer isn't possible as we work on contracts according to the wishes of our customers," says Bosch's Bulander. In an email, Bosch spokeswoman Linda Beckmeyer said the company "takes the allegations of manipulation of the diesel software very seriously. Bosch is cooperating with the continuing investigations in various jurisdictions and is defending its interests in the litigation."
In the lawsuit by car dealers against Bosch, the racketeering charges could result in treble damages—as much as $4 billion—if Berman can prove Bosch knew of and participated in the fraud. Bosch argued in a motion to dismiss the case that the plaintiffs have misread and mischaracterized the June 2008 letter, and that its dealings with VW were "nothing more than a routine business relationship." The German company also says the auto dealers lack legal standing to pursue their claim and failed to produce evidence of harm to back up their racketeering accusation.
Some computer scientists in California and Germany working to untangle the code embedded in Bosch's engine-control devices and software have also raised questions about whether Bosch abetted the Volkswagen fraud. The researchers examined schematics and firmware images of the cheat software, which bore Bosch copyrights, obtained from "tuners," car owners who alter their vehicles' computer settings for better performance. The researchers say they were able to pinpoint how the Bosch chip measured temperature, atmospheric pressure, time, distance, and steering wheel usage to detect when it was being tested in a lab—and dialed up pollution controls in response.
"They knew that these defeat devices were being used to circumvent emissions," says Kirill Levchenko, a computer scientist who led the University of California at San Diego's research into the code VW used to cheat emissions tests. "They're just as responsible as Volkswagen." Levchenko has since been hired by the plaintiffs in the Fiat lawsuit.
The backlash against diesel emissions cheating is now showing up in declining demand for diesel vehicles in Europe and threats by municipalities, including Stuttgart, to restrict diesel vehicle use to reduce air pollution and the associated health risks. But Bosch says it will soldier on in diesel and continue weighing new investments in costly areas such as cells for electric car batteries. "The burden from diesel is significant, and of course we wish it wouldn't exist," Bosch Chief Financial Officer Stefan Asenkerschbaumer said in July. "But it won't impact our investments in future technology."