For a landmark fossil-fuel program deep in Trump country, it's not environmentalists who are the biggest threat. It may be Donald Trump himself.
The $3.8 billion project in Lake Charles, Louisiana, would take waste from oil refining and turn it into synthetic natural gas while capturing most of the pollution emitted. Those products would be transformed into high-value chemicals like methanol and hydrogen. Carbon dioxide, the greenhouse gas to blame for global warming, would be injected into the Earth to stimulate oil production.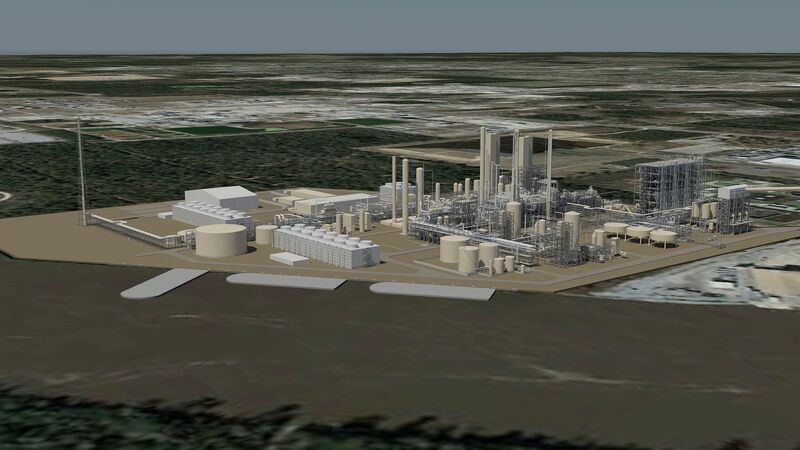 A rendering of the Lake Charles project. Source: Lake Charles Methanol LLC
For the promoters, the project could spur 1,000 jobs, use General Electric Co.-licensed equipment and showcase cutting-edge machinery to help decarbonize oil. The catch: the technology isn't broadly proven, so banks won't yet finance it. That means there are few sources of project debt. The most obvious lender would be a U.S. Energy Department program that some Republicans are intent on neutering.
The debate about whether the government should lend a hand in Lake Charles could become as divisive for Republicans as TransCanada Corp.'s Keystone XL pipeline was for President Barack Obama's administration. It pits supporting companies, Republican members of Congress and Breitbart against the Tea Party and the Heritage Foundation, which oppose handouts to companies.
"This will be their Keystone: Do you support job creation, or ideology?'' said Brendan Bell, the former director of strategic initiatives at the Energy Department's loan programs office. "There's going to be a reckoning here.''
In the waning days of Obama's presidency, the department's loan programs office conditionally approved a loan guarantee up to $2 billion for Lake Charles Methanol LLC, a Houston-based developer of projects that use gasification technology to refine petroleum coke into chemicals.
Funding for the Louisiana project from the energy department would enable the developer to bring in more backers — and encourage banks to support further such projects. A Republican senator from Louisiana is backing Lake Charles.
Funding Risk
"There is some advantage to have the Department of Energy's support,'' Bill Cassidy, who maintains an office in Lake Charles in the marshy area at the state's southwest corner, said in an interview earlier this year. "A first-in-class, particularly in energy, often needs initial support before the bond market comes in at attractive rates.''
The energy department's program that would back Lake Charles already has designated $8.5 billion for loan guarantees for advanced-fuel projects, and the Louisiana project could be the first to benefit. That funding is at risk from Trump's 2018 budget proposal, which targets reductions for energy department programs. There are some congressional efforts that would effectively grandfather the project.
Republicans have been critical of the loan programs office for years, highlighted by its most prominent failure to date — the $535 million loan guarantee for Solyndra LLC, a California solar manufacturer that went bankrupt in 2011. Yet, money for Lake Charles would create the sort of jobs Trump has promised to support.
"It's an ideological debate dividing the Republican Party," said Josh Freed, vice president at Washington-based liberal think tank Third Way. "The question that's created from this schism: any role for the government to help the private sector on projects in the national interest."
The loan programs office dates to the George W. Bush administration. It functions somewhere between a bank and a venture capital investor, offering loan guarantees to help energy projects that struggle to get financing from commercial banks. Despite the failure of Solyndra, the office's track record of successes would be the envy of Wall Street.
'Corporate Welfare'
Still, opponents object to the idea of the government being involved.
"It's corporate welfare," said Nicolas Loris, an energy fellow at The Heritage Foundation, the Washington-based conservative think tank. "Maybe it's something Trump supports, but it's not something we support."
The office supported some of the country's first big solar photovoltaic farms. It helped commercialize solar-thermal systems, advanced nuclear designs, molten-salt energy storage and other technologies, and once approved a direct loan (since repaid) to Elon Musk's Tesla Inc.
By most measures, it's been enormously successful. It has granted 30 guarantees to privately developed clean-energy projects, has a loan-loss ratio of just 2.3 percent and expects to make $5 billion.
Lake Charles must arrange project equity, which the developers had aimed to complete by the second quarter, and secure final approval from Energy Secretary Rick Perry, the former Texas governor. Fluor Corp., based in Irving, Texas, is the project's builder. A representative for the project declined to comment.
Infrastructure Projects
Perry may have tipped his hand in his January confirmation hearing, when he told the Senate Energy and Natural Resources Committee, "I'm a big believer that we have a role to play, both in basic research, obviously, but also in that applied research — to bring new technologies, new commercialization, new economic development opportunities to this country.''
He reiterated support for the idea of commercialization in late April, when he noted at a Bloomberg New Energy Finance summit in New York that Energy Department-sponsored technology had helped enable the shale gas boom, which "changed the world.''
A department spokeswoman said the conditional commitment indicates that it "expects to support the project" but noted that there have been cases that it has chosen not to proceed with the issuance of a loan guarantee.
It's not clear which way Trump's administration will swing. He's keen to kick-start $1 trillion in infrastructure projects, and recently pledged to the Group of 20 countries that the U.S. would help developing and emerging economies "use fossil fuels more cleanly and efficiently" as they seek to tackle climate change.
Yet, he's also been critical, tweeting in 2012, "After Solyndra, @BarackObama is still intent on wasting our tax dollars on unproven technologies and risky companies. He must be accountable.''
For now, Lake Charles has the backing of strange bedfellows. "Whenever you have a project that both the Obama Administration and Breitbart like, it's a pretty good idea," Senator Cassidy said.