By Jie Ma and Masatsugu Horie
When Nissan Motor Co. unveiled its all-electric Leaf in 2010, the Japanese carmaker found itself uncharacteristically leading the automotive pack. Capable of traveling 100 miles on a single charge, the car leapfrogged those from most rivals who were focused on developing hybrids—such as Toyota's Prius—or simply squeezing more mileage out of their conventional gasoline-powered models. That head start helped turn the Leaf into the world's best-selling electric vehicle, with almost 300,000 cars sold since its introduction.
Fast-forward seven years, and the Leaf's early lead seems set to vanish. These days, shoppers for EVs are generally drawn to a different automaker: Tesla Inc. That brand's global cachet and the rock star status of co-founder Elon Musk have made its name almost synonymous with electric cars. More than 450,000 people have put down deposits on Tesla's new Model 3, with a range more than double the Leaf's and a $35,000 starting price—about $5,000 more than the Leaf. In an attempt to defend its position in the EV market, Nissan on Sept. 6 in Chiba prefecture near Tokyo—and simultaneously in Las Vegas—is set to unveil a Leaf with snazzier styling and greater range between charges, with a base price analysts expect to be about the same as the current car's $30,680 starting price. It remains to be seen whether Nissan can slow the momentum of the Model 3 or even General Motors Co.'s Chevrolet Bolt.
"It will be tougher for the new Leaf than for the first generation, as it's no longer the only mass-market EV, or monopolizing public attention," says Tatsuo Yoshida, a senior analyst at Sawakami Asset Management Inc. "Tesla's brand is more alluring even if Nissan comes close to its technology."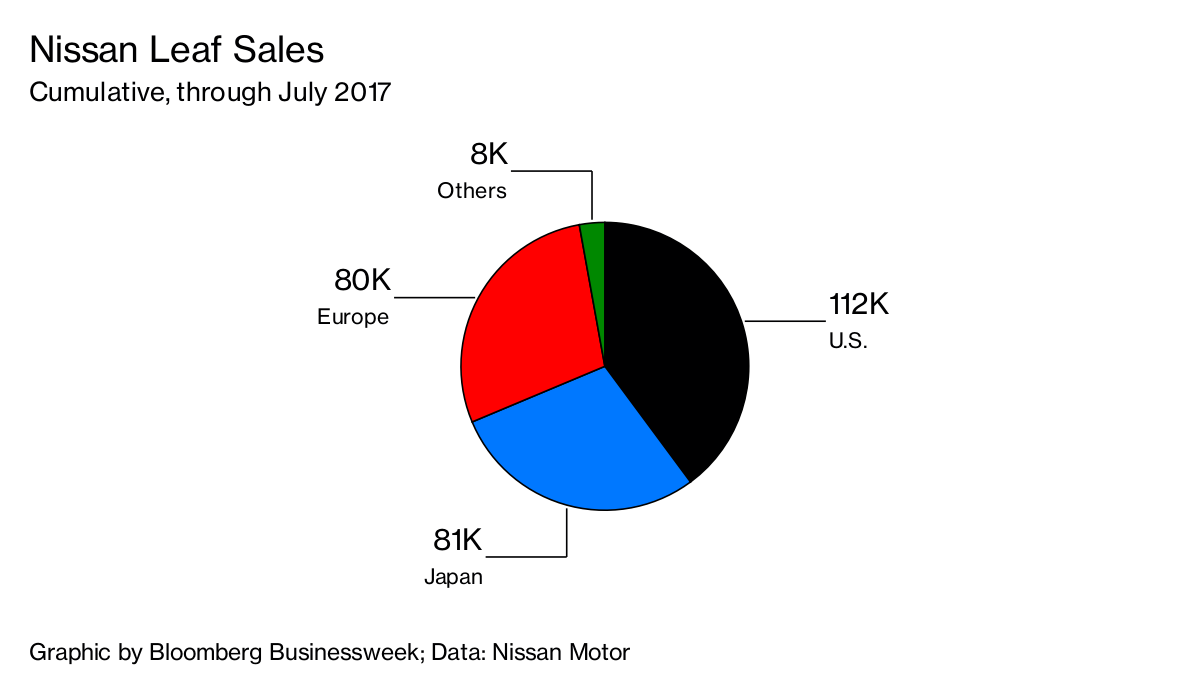 The Leaf has been losing EV cachet ever since longer-range alternatives came to market, starting with Tesla's pricey flagship Model S in 2012. The base Model 3 can go 220 miles solely on battery power, and the Chevy Bolt EV can do 239. The current Leaf has a maximum range of 84 miles with the standard 24-kilowatt-hour battery and 107 miles with an optional 30kWh pack.
Nissan declined to disclose details on the new Leaf, including its range, before unveiling it. But analysts predict the redesign may have a 40kWh battery pack as standard equipment and offer an optional one as large as 60kWh in the future, making it competitive with the standard version Model 3 and Bolt in terms of mileage.
Although battery-powered vehicles accounted for only 0.5 percent of the global car market last year, the prospects for EVs appear strong. Britain and France say they will ban sales of diesel and gasoline cars starting in 2040. China, the largest vehicle market, has enacted policies that have bolstered EV demand across the mainland—and spurred a boom in EV startups there. Global carmakers have also announced ambitious plans: Volvo Car AB says all its new vehicles starting in 2019 will be electric. "A bigger scale is good for the industry as a whole, because it helps reduce costs and advance the evolution of the technology," says Tsuyoshi Yamaguchi, Nissan-Renault Alliance executive vice president for technology development. "Everyone is following us."
To maintain its position, the new Leaf will have to cut through today's market clutter. Before the official unveiling, Nissan has been teasing images of the car, including sketches of its aerodynamic design elements. The carmaker has also revealed some advanced features that may narrow the appeal gap with Tesla. Chief among them is a system that allows drivers to control braking and acceleration with a single pedal. A similar feature helped Nissan's Note compact car last November become the automaker's first vehicle since 1986 to win the title of monthly top-selling car in Japan.
The Leaf will also feature an upgraded version of Nissan's advanced driver assistance system, ProPilot, making it the first Nissan to be able to park by itself. Current versions of ProPilot, available in the Serena minivan and X-Trail SUV in Japan, can handle autonomous single-lane driving on a highway. "Such cutting-edge technologies will make the second-generation Leaf more competitive," says Hiroshi Ataka, an analyst at IHS Markit Ltd. "They may woo consumers, but we'll need to wait to see key barometers such as pricing, battery range, and design."
The new Leaf faces an increasingly crowded market, with large numbers of high-profile EVs scheduled to hit the roads over the next few years. Tesla's Musk has suggested it will take until at least the end of 2018—based on the company's most optimistic production targets—to fill the current 455,000 orders for the Model 3. And although the Bolt, introduced in December, has faced a tepid start, its sales have overtaken the Leaf in recent months.
Still, the old Leaf is doing reasonably well for a vehicle at the end of its model cycle, analysts say. Global deliveries rose 10 percent, to 14,700 units, in the four months through July, helped by sales incentives of about $16,000 per unit in the U.S. The 281,000 current Leafs on the road globally give Nissan a base of potential customers that it can try to upgrade to the new model. And Nissan drivers would have access to a much more mature charging network than many rivals, especially in Japan.
Yet brand loyalty isn't so simple with electric cars. One big reason: Plug-ins—with the exception of Tesla—typically lose value faster than gasoline models. That's because the generous government subsidies for initial buyers of these cars mean a secondhand car—which is not entitled to such rebates—will have to become much cheaper to get sold. Also, the range capability of older-generation batteries declines over time. Newer batteries have better technology and longer range specifications.
The Leaf loses value faster than other major EVs and hybrids, including the Toyota Prius, Chevrolet Volt, and Tesla Model S. After only about one year, the Leaf is cheaper than the average used vehicle in the U.S., and its range loss is higher and more volatile than that of the Model S, according to Bloomberg New Energy Finance. A typical Leaf is worth only about one-third its initial price by the time it's been driven 30,000 miles, BNEF data show.
Mitsuhiro Kunisawa, a Japanese car critic, says he won't buy the new Leaf after seeing his first-generation model lose about 90 percent of its value in seven years. He wanted to replace the battery, which has degraded to about 100 kilometers (62 miles) of range from 160km, but has failed to find a deal that he thinks makes economic sense. In Japan, Nissan says cost information for battery replacement is available only to Leaf owners who visit dealerships for a consultation. In the U.S., the automaker has a program allowing drivers to turn in old batteries and buy new 24kWh battery packs—for $5,499 each.