Written by Jess Shankleman, Alex Morales and Mathew Carr. This article first appeared in Bloomberg News.
Britain's utilities are the new political punching bag after Theresa May proposed a price cap to insulate customers from higher prices.
Centrica Plc plunged to a 14-year low after the prime minister said she wants to "bring an end to rip-off energy prices once and for all." Earnings may fall at least 10 percent at three of the nation's Big Six utilities, according to a note from RBC Europe Ltd.
The proposals seek to save households 1.4 billion pounds ($1.86 billion) a year and could come at a cost to companies that dominate the energy market that includes almost 60 suppliers. It also signals an end to a period of relative calm in the regulation of electricity and natural gas in the U.K., putting utilities in the firing line.
"People are selling the stock because they're anticipating that the government will push through legislation," said Deepa Venkateswaran, an analyst in London at Sanford C. Bernstein & Co. "It's getting hit again and again for the same thing."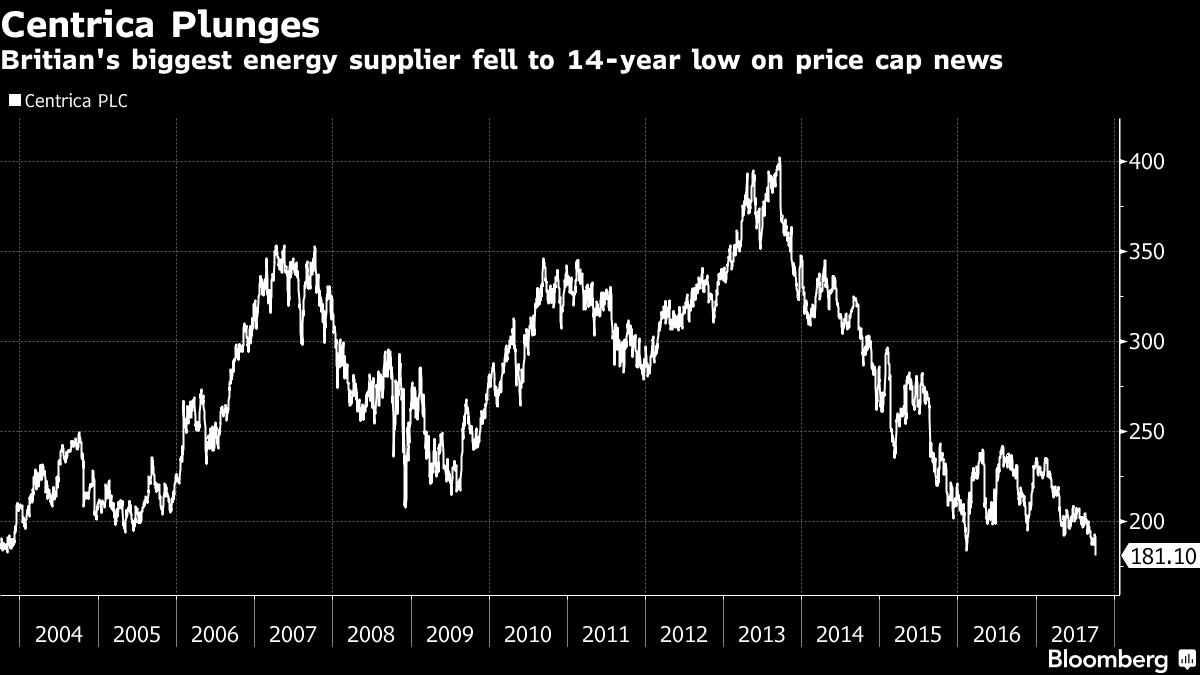 Energy companies wouldn't have it better if voters boot out the Conservatives. Jeremy Corbyn, leader of the Labour opposition, told his members last week he wants to nationalize energy companies, calling for transforming "our economy with a new and dynamic role for the public sector, particularly where the private sector has evidently failed."
The remarks by both of the main parties suggest utilities regulation is about to be rewritten, just when the industry is desperately in need of new investment — and utilities are balking because they're uncertain about the impact of Britain's impending departure from the European Union. The government estimates 100 billion pounds needs to be put into power grids and generation plants within the next decade or so to replace aging facilities and reduce pollution.
May's price cap is just the latest attempt to fix a broken energy market. Ed Miliband, the previous Labour leader, proposed a freeze in 2013. That sparked a debate about overpricing and a two-year investigation by the Competition and Markets Authority. May's predecessor, David Cameron, tried to simplify the market with a limit on the number of tariffs energy companies can offer. Ministers since have scrapped those limits.
"There's a bit of flip flopping that happens in regulation," said Sara Vaughan, political and regulatory affairs director at EON SE.
Market Restructured
Both Labour and Conservative governments spent years reworking the power and gas markets to be more market sensitive. More recently, ministers introduced structures to pay generators that provide steady streams of electricity after competition from wind and solar pushed slashed profits from coal, gas and nuclear. Labour is pressing for more drastic action.
"Today, after pressure from Labour and her own backbenches, Theresa May has finally been forced to recognize that the energy market is broken," Rebecca Long-Bailey, the Labour lawmaker who speaks on business, said in a statement. "Her response doesn't go nearly far enough."
Shares slumped for each of the Big Six — Centrica, SSE Plc, Innogy SE, EON SE, Iberdrola SA, Electricite de France. RBC said Centrica's earnings per share could be cut 25 percent in a worst-case scenario, while both SSE and Innogy may lose 10 percent of their profit. The operating profit margin for the group as whole may slide to a wafer-thin 0.3 percent from 2.6 percent, RBC analysts John Musk and Olly Jeffery wrote in a note to clients.
The current focus is on so-called Standard Variable Tariffs, which the government says is penalizing passive customers who don't bother to change suppliers. EON last month offered to end the practice of putting people onto those tariffs. Those customers together overpay by 1.4 billion pounds each year, according to a CMA investigation published in 2016.
"We can't be in possession of that information that consumers are being overcharged and not act on it," Greg Clark, the Cabinet secretary overseeing business, energy and industrial strategy, said in a Bloomberg TV interview on Wednesday. He hopes more companies will follow EON and end the practice of putting people onto standard tariff if they don't take action.
Industry View
Scottish Power Ltd., the Iberdrola unit working in the U.K., said it's the government's responsibility to end the tariff system.
"Just as you insure your car and home every year and go to the market for the best deal, so every energy customer should engage regularly with the market," said Neil Clitheroe, chief executive officer of Scottish Power retail and generation unit.
Further details of the Conservative plan, including how long the cap will last, may emerge when the government pushes a draft bill as early as next week.
"While we are in favor of free markets, we will always take action to fix them when they're broken," May told the Conservative Party conference in Manchester on Wednesday.
The utilities said the latest maneuvering may backfire by reducing competition and discouraging consumers from switching to better deals.
Britain's energy market is changing rapidly, and consumers are more savvy than when Miliband first called for a price freeze. Three years ago, the Big Six had 99 percent of the market, and less than 4 million people changing suppliers each year, according to the trade association EnergyUK. Since then, dozens of new companies emerged and almost a third of customers started routinely switching, cutting the Big Six's market share to 80 percent.
Any intervention should be "simple to administer, time-limited, and maintain the principles of a competitive energy market to best serve customers' interests," SSE, which is based in Perth, Scotland, said by email.