Inside the maze of fishmongers and sushi shops of Tokyo's Tsukiji, buyers and tourists are assailed by more than just the smell of fresh seafood. There's also the incessant buzzing.
Starting before dawn, the world's biggest fish market resounds with the noise of scooters zipping away with deliveries for high-end restaurants in nearby Ginza. It's a racket particular to the tiny 50cc engine that powers them — the same type of engine that Honda Motor Co. was founded on, and that helped propel the company into the biggest motorcycle maker in the world.
Tsukiji depends on these easily maneuverable scooters, yet their existence is threatened by stricter emissions regulations set for 2020. Honda, Yamaha Motor Co. and Suzuki Motor Corp. are retiring a host of 50cc models this year and warning they may phase them out altogether as the spiraling costs of compliance make them an unprofitable part of Japan's estimated $1.5 billion motorcycle market.
This year's casualties include Honda's iconic Z-Series mini-motorcycles — colloquially known as "Monkey Bikes" because of the image suggested by riders atop the small vehicles. After 50 years, the last models will roll off assembly lines in August.
"Somehow, we managed to clear the regulations up to now, but beyond this, technologically we've reached the limit of what we can do," said Noriaki Abe, Honda's chief officer for motorcycle operations. "We can no longer make a product that customers can be satisfied with."
Honda is scheduled to report first-quarter earnings Tuesday. Operating profit is expected to decline 13 percent from a year earlier to 231.5 billion yen, according to the average of eight analyst estimates compiled by Bloomberg.
The decline of the 50cc motorbike has been a protracted one in Japan, essentially the only country where such vehicles are still sold. That means precious financial resources poured into products aimed at a market that since has migrated to battery-assisted bicycles and compact cars.
Sales in Japan plunged 94 percent last year to 162,130 units from a peak of about 2.8 million in 1982, according to the Japan Automobile Manufacturers Association. About 60 percent of the 50cc bikes sold last year were Hondas, with Yamaha and Suzuki accounting for the rest.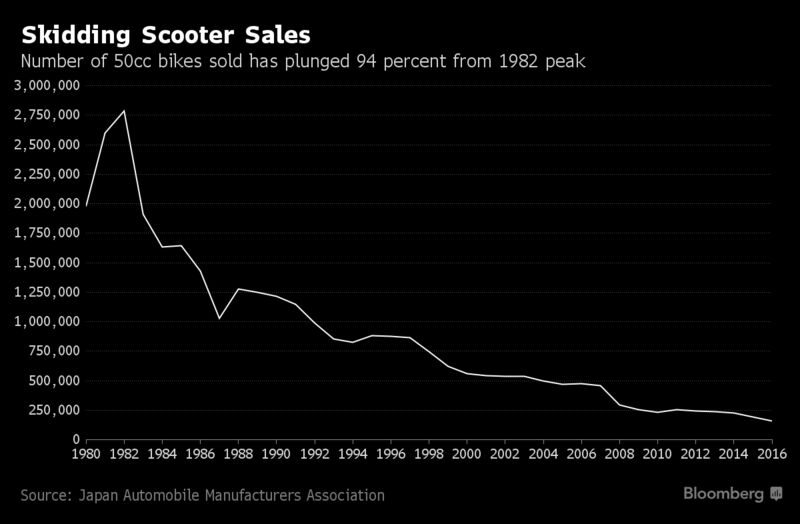 The final nudge toward extinction coincides with the imposition of tougher environmental regulations. Japan, like other nations around the globe, has adopted European Union vehicle-emissions standards as the basis of its own.
Those regulations started solely as limits on pollutants in exhaust, but the fourth version — coming into full force this fall — requires on-board, self-diagnostic systems to make sure engines run cleanly for at least 20,000 kilometers (12,427 miles). That contributed to the purge of models such as Honda's Z-Series and Little Cub.
The fifth iteration, effective in 2020, extends that requirement to the life of the vehicle. That should halve emissions within 20 years yet add as much as 111 euros ($130) to the cost of each vehicle, according to a 2016 study for the European Commission. That's about 10 percent of the sticker price for some Japanese models.
"Toward 2020, product development is going to be extremely tough," Yamaha Chief Executive Officer Hiroyuki Yanagi said. "Instrument controls will become more complex, and costs will go up."
Japan's Environment Ministry said it discussed the new emissions standards with car and motorcycle manufacturers, and concluded it didn't make sense to adopt different local standards because of the global nature of the industry.
The number of cubic centimeters in an engine's designation refers to the displacement volume of its cylinders. The higher the number, the larger and more powerful the engine.
"100cc or 50cc bikes are probably going to disappear," Osamu Suzuki, the company's 87-year-old chairman, said during the May earnings presentation. "125cc or 150cc will probably become the lower limit for small vehicles."
The 50cc motorbike is an icon in Japanese motorcycle manufacturing. Honda was founded in 1948 on the success of the two-stroke, 50cc A-Type auxiliary bicycle engine, nicknamed the "Bata-Bata" for the sound it made.
That was followed a decade later by what would become the most-produced motor vehicle in history: the Super Cub. Set to surpass the 100 million-unit milestone this year, it originally sold with a four-stroke, 50cc engine, but now is available with a variety of engine sizes in more than 160 countries. The 50cc version remains only in Japan.
"Japan is Galapagos-like with this engine size," said Masayoshi Iwasaki, editor of the magazine "Scooter Days." "Manufacturers can't afford to keep pouring money into development."
Among the alternatives motorcycle makers are pursuing is electrification. Yamaha and Suzuki already have 50cc-class battery-electric mopeds on the market, and Honda aims to follow next year with a business-oriented EV scooter. In September, Honda and Yamaha will test electric motorcycles in a Tokyo suburb, with an eye toward a motorcycle-sharing program.
The gloomy future of the 50cc motorbike doesn't go over well in Tsukiji, where they sit on curbs outside practically every storefront.
In front of the wholesale shop he's run for three decades, Hiroyuki Douko unloads produce from one of his four Hondas — all of them flatbed-equipped, three-wheeled local oddities called the Gyro Up.
He's packed it so high he's had to wedge two boxes of dried mackerel into the space where his feet should go.
The 63-year-old says other bikes are too big, and he doesn't trust the range of electric scooters.
"For me, 50cc is the perfect size," he says. "These bikes are indispensable."