As a presidential candidate, Donald Trump spent a lot of time currying the favor of the ethanol industry, barnstorming its rural Midwest base and repeatedly expressing his support for biofuels made from corn and soybeans. He was rewarded in November: Of the 184 counties with an ethanol plant in the U.S., 95 percent voted for Trump, according to data compiled by the Renewable Fuels Association.
As president, Trump has continued to pledge that he'll protect the Renewable Fuel Standard, the 2005 law that requires U.S. oil refineries to blend increasing amounts of ethanol and biodiesel into the nation's fuel supply. In its 12-year history, the RFS has gained critics on both sides of the political aisle, while also pitting oil companies and refineries (which would rather not have to buy all that corn-based ethanol) against farmers and big agricultural companies. Support for RFS doesn't split down ideological lines as much as it does down geographical ones, depending on proximity to the Midwestern Corn Belt.
On June 21, Trump went to Iowa, which produces more biofuel than any other state, for a campaign-style rally. He reiterated his support for the industry and reminded Iowans how much they need a friend in the White House. "By the way, we're saving your ethanol industries in the state of Iowa just like I promised I would do in my campaign," Trump said. "Believe me, they are under siege, folks."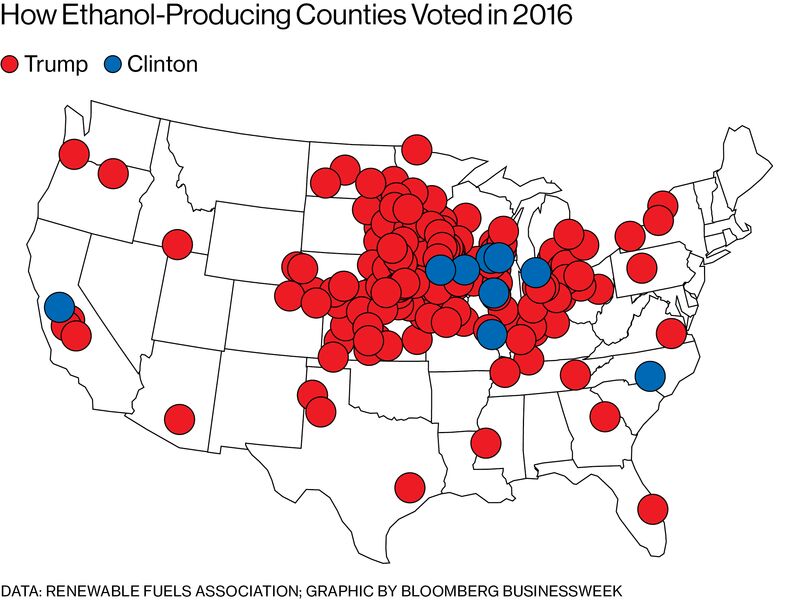 Two weeks later, the U.S. Environmental Protection Agency proposed the first cut to the amount of renewables that have to be blended into the fuel supply. To people in the biofuel industry, many of whom are farmers, the move amounted to an about-face. "If he was looking to do something that would have taken care of the agricultural sector that got him elected, this was a no-brainer," says Tom Brooks, who runs a biodiesel plant in Farley, Iowa. "That's the disconnect. It should've been a slam-dunk."
On the face of it, the proposed cut is relatively small, reducing the amount of renewable fuel that refineries have to buy in 2018 to 19.24 billion gallons, from 19.28 billion gallons in 2017. But the signal it sends to the market—telling investors the U.S. renewable fuel industry will no longer grow—could be devastating. Biofuel quotas were scheduled to continue rising through 2022; now an industry that already struggles to make profits could be starved of fresh capital. For Brooks, the cuts mean he'll likely have to continue operating his plant at a loss. "If you're not growing your industry, it's very tough," he says.
"The president understands investors and investor signals. This is one of the reasons he became president," says Brooke Coleman, executive director of the Advanced Biofuels Business Council, which represents companies throughout the biofuel supply chain. He says capping the ethanol industry could undercut Trump's goals of reviving U.S. manufacturing and reducing U.S. reliance on foreign energy. "Rural America has a really central role to play in this effort to bring back manufacturing jobs," he says. "This is not a pro-growth, 'Make America Great Again' type of proposal."
A public hearing on the proposal is set for Aug. 1 in Washington. The EPA has until Nov. 30 to finalize the rule. Between now and then there will be lots of lobbying on both sides. The American Petroleum Institute and other big fossil fuel trade groups have praised Trump for the cuts, but biofuel lobbyists plan to amp up their campaign against them. "We've taken every opportunity to remind the president that the Corn Belt helped him win the election," says Geoff Cooper, executive vice president of the Renewable Fuels Association. "We're not going to stop."
The ethanol cuts come at a critical time for American farmers, who, because of falling crop prices, are looking at a fourth straight year of declining income in 2017, the longest such streak in four decades, the Department of Agriculture says. Farmers depend on ethanol and biodiesel plants to soak up excess production. "Those are his voters," says Rob Walther, director of federal affairs for Poet LLC, an ethanol producer in South Dakota. "Trump is going to need Midwest votes again."