By Mario Parker and Fabiana Batista
President Donald Trump's America First rhetoric is doing no favors for U.S. ethanol producers, who are hoping to avoid a trade fight with fuel buyers in Brazil.
The administration has started making noise about rising imports of Brazilian biofuel made from sugar. That's got the South American producer mulling tariffs or a quota on imports of U.S. fuel made from corn. A trade spat would be a much bigger problem up north because the U.S. ships more than four times as much to Brazil than it buys from the country.
The brewing trade dispute is gearing up to pit the world's two biggest ethanol producers against each other. As the rivalry heats up, hedge funds seem to be signaling that Brazil will be the winner — speculators cut their bullish bets on corn last week while getting less bearish on sugar.
"The winds of protectionism are blowing in Washington," said Joel Velasco, a principal at Albright Stonebridge Group in Washington and a former representative for the Brazilian Sugarcane Industry Association, or Unica. "The race to raise barriers can quickly sour things for U.S. and Brazil relations."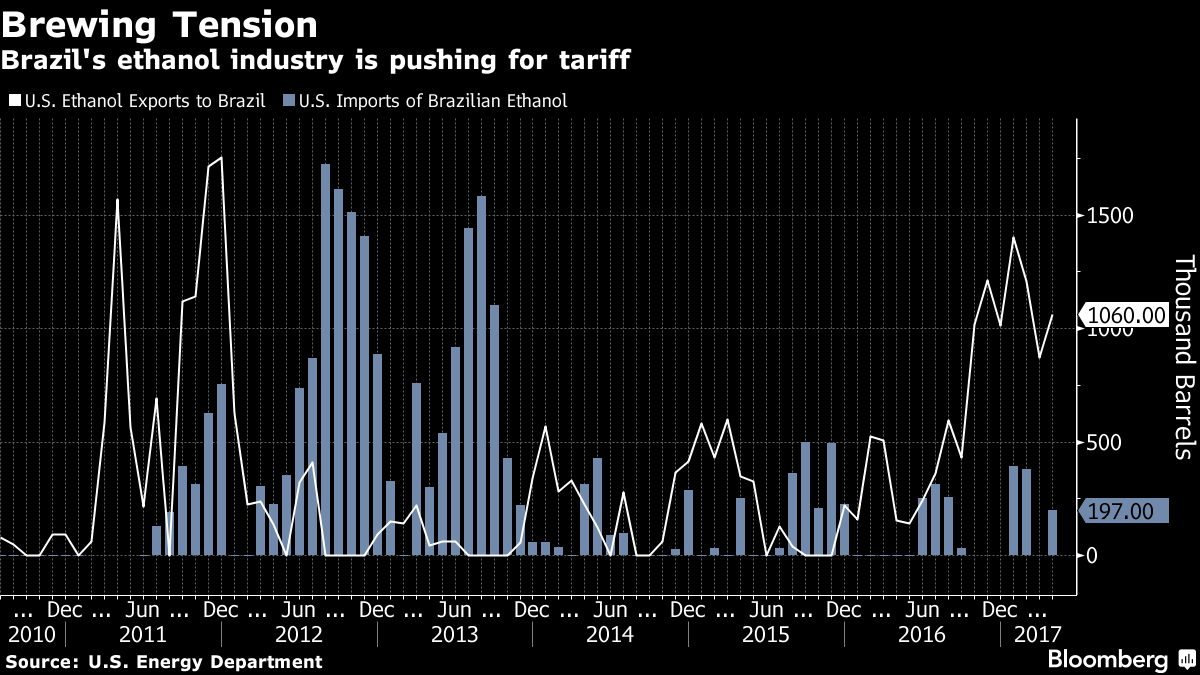 Raw-sugar futures have risen as much as 8 percent since the end of June, buoyed by the outlook for increased use in ethanol. Gains for crude oil have spurred Brazil's state-controlled oil company, Petroleo Brasileiro SA, to raise gasoline prices, boosting the allure of ethanol, which competes directly at the pump in a country where most cars can use either fuel. A recent fuel-tax hike is also favoring use of the biofuel.
Corn Wagers
Speculators cut their corn net-long position, or the difference between bets on a price increase and wagers on a decline, by 21 percent to 84,644 contracts in the week ended July 25, according to U.S. Commodity Futures Trading Commission data released three days later. By contrast, the net-bearish sugar position contracted by 19 percent.
The tension escalated last month, when the U.S. Environmental Protection Agency, in proposing annual renewable-fuel quotas, asked for public comments addressing the agency's concerns that Brazilian ethanol is being used to satisfy parts of the country's biofuel mandate.
Both countries have long imported from each other, with demand fluctuating along with corn and sugar price differentials.
While Brazil also depends on its shipments to the U.S., its No. 1 customer, its industry as a whole is not as reliant on exports because of a robust domestic market, making a trade dispute more of an issue for the American producers. The U.S.'s capacity exceeds its current domestic demand.
Bad Timing
It's also bad timing for U.S. producers who already lost a mammoth customer in China after the nation raised tariffs on American ethanol and an animal feed byproduct. While the American industry wrote a Feb. 7 letter to Trump asking him to intervene, those issues were absent in a May announcement that the U.S. reached an agreement with China on commodities, including beef.
To ward off a similar fate from Brazil, Washington-based trade groups for agriculture and biofuels are lobbying the Trump administration for a softer stance and for the South American nation to reconsider its move toward a tariff.
The efforts seem to be helping. The South American nation on July 25 postponed an official decision from its trade chamber on the potential 20 percent tax. Groups including the U.S. Grains Council, the Renewable Fuels Association and Growth Energy applauded the move.
"This proposal, if implemented, would have wide-ranging and long-standing impacts on both our industries and the global fuel supply," the groups said in an emailed statement.
Still, it's hardly a settled debate. Brazil's industry group Unica plans to push regulators to move against a recent flood of American shipments, according to Eduardo Leao, the group's executive director. One proposal is for an import quota of 600 million liters (158 million gallons), with a 20 percent tariff on shipments exceeding the limit, he said. That quota would be less than half the total shipments from the first half of this year.
U.S. ethanol exports to Brazil plummeted 68 percent in June, according to U.S. Agriculture Department data. However, Brazilian ethanol prices have surged almost 10 percent in the last four weeks, which could make imports of the biofuel from the U.S. more profitable.
On the other hand, while such imports are sometimes favorable for Brazil, the country doesn't "want to be on the hook," perpetually soaking up a surplus of U.S.-produced fuel at the expense of its domestic industry, said Craig Irwin, an analyst at Roth Capital Partners LLC in Newport Beach, California.