Britain may soon join Germany in harvesting subsidy-free electricity from offshore wind farms, giving government ministers new options in securing power supplies that don't pollute.
Until recently, turbines based at sea were among the most costly forms of power generation, requiring more than $100 a megawatt-hour, which is more than the cost of the latest nuclear power station in the U.K. Across Europe, costs have fallen rapidly in the last year and industry experts say the U.K. could see equally aggressive bidding this year.
In April, Germany accepted bids from developers to build offshore wind farms for an average of 4.40 euros ($4.93) a megawatt-hour, below the current market price for power meaning the facilities essentially will work without subsidy.
The British government soon will collect bids for a 290 million pound ($375 million) funding round for offshore-wind projects to be completed in the early 2020s, and industry officials are speculating how low developers might bid. While the headline cost reported in the U.K. won't be directly comparable with Germany's, it's likely to show progress toward the goal having the technology work without government support.
"If they don't do that, then they will not be competitive," Torben Hvid Larsen, chief technology officer at MHI Vestas Offshore Wind A/S, said in an interview in London on Thursday.
A spokesman for MHI Vestas said the company's official outlook is for the technology to still require some support from government, though the results will indicate a "trajectory toward subsidy-free pricing in future offshore wind auctions."
Winners are expected to be announced later this year, and as many as seven offshore wind farms may qualify to bid, according to Bloomberg New Energy Finance.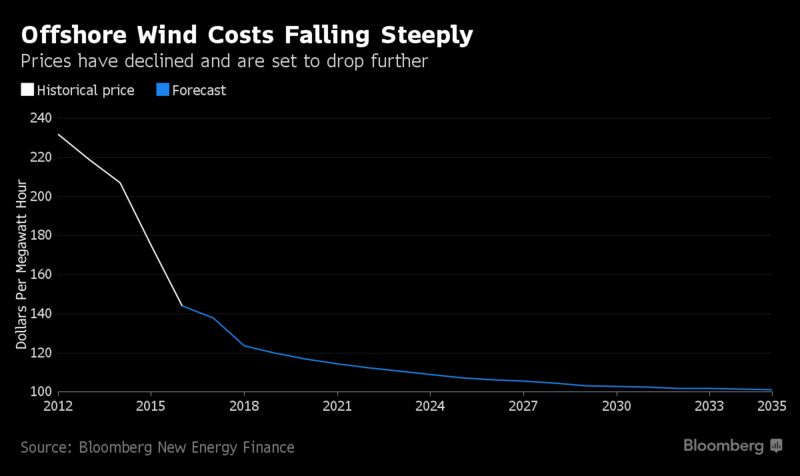 British projects have higher prices than those in Denmark or the Netherlands, where either utilities companies or the government absorb the costs of hooking the wind farms into the grid. In the U.K., developers must pay for site surveys and grid connections, making projects in Britain appear more expensive than those elsewhere, according to the trade association RenewableUK.
The amount of subsidy paid is the difference between the wholesale price of energy and the investment required to make a return on a renewable energy plant. To match Denmark, the Netherlands and excluding grid costs, the U.K. would need to see bids from 60 pounds to 69 pounds a megawatt-hour, said RenewableUK.
"For it to be shockingly cheap in the way that Denmark and the German auction have been, a price in the 60s would be amazing," said Emma Pinchbeck, executive director of RenewableUK. "My personal view is that a price in the 70s is not unlikley."
Prices for offshore wind in Europe have fallen dramatically in the last half decade and plunged 22 percent in 2016 alone, according to BNEF.
While the U.K. auction system operates differently to that in the U.K., calculations can be made that allow companies to compare costs, said MHI Vestas' Larsen.
MHI Vestas, a joint venture between Denmark's Vestas Wind Systems and Mitsubishi Heavy Industries, this week unveiled a 9.5-megawatt machine, the world's most powerful wind turbine, as part of its efforts to increase the size of turbines and reduce their costs.
Wind turbines account for about 40 percent of the cost of offshore projects, said Larsen. Bigger blades are at the heart of Germany's subsidy free bids. Dong has said it expects machines able to produce 13 to 15 megawatts each for its projects when they're due to be completed in 2025.