U.S. free-trade deals with Canada and other countries may soften the impact of tariffs on imported solar panels now that Suniva Inc. has convinced the government it was hobbled by foreign competition.
The U.S. International Trade Commission voted 4-0 Friday in favor of a complaint filed by the bankrupt solar manufacturer, which is seeking duties that would double the price of panels. The commission is recommending that President Donald Trump exclude from the tariffs Canada, Singapore and several other U.S. free-trade partners, which combined supply about 5 percent of solar panel imports.
The commission, however, voted to recommend that tariffs or quotas be applied to the two biggest solar panel manufactures among U.S. free-trade partners: South Korea and Mexico, which combined supplied 28 percent of panels imported into the U.S. last year, according to the commission.
The majority of imported panels come from Malaysia, Vietnam and other Asian nations not covered by free-trade deals. And the final decision to impose tariffs rests squarely with Trump, who has no obligation to exempt any nations.
"The president has made no secret of his eagerness to use the tariff weapons he has at his disposal," said Edward Alden, a senior fellow at the Council on Foreign Relations.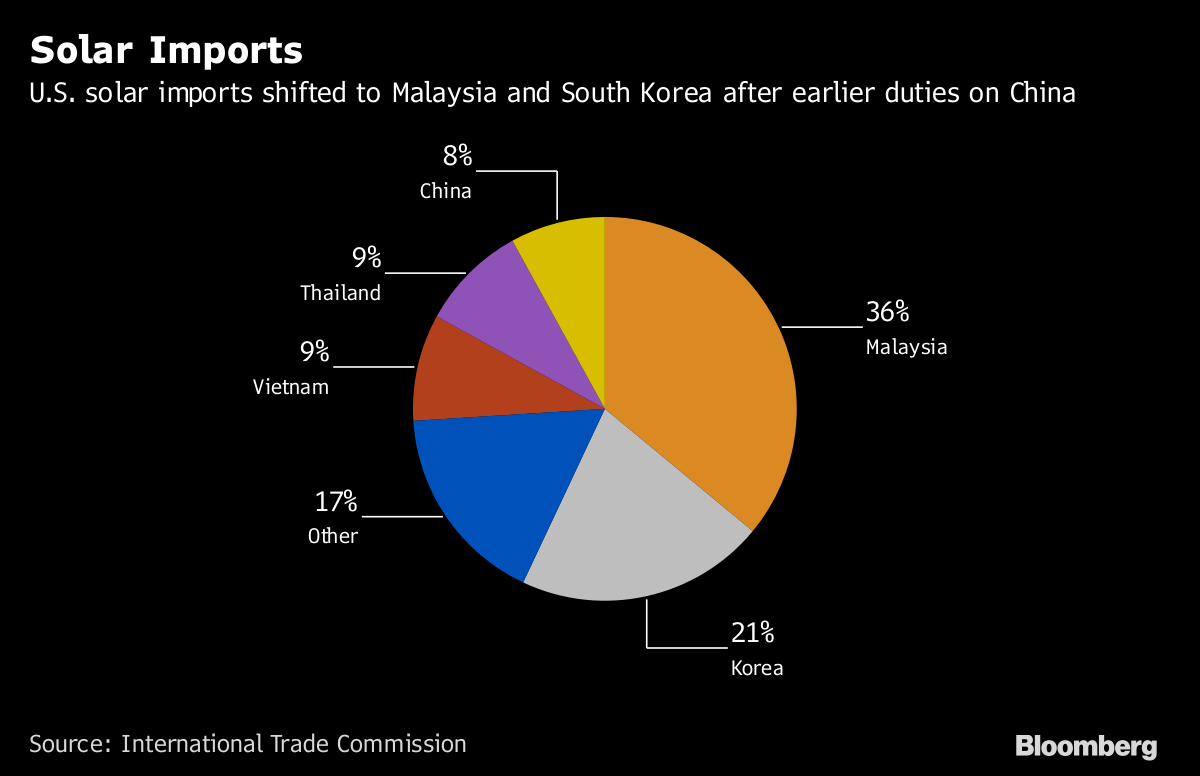 Suniva, based in Norcross, Georgia, filed its complaint with the commission in April, saying tariffs are the only way U.S. manufacturers can compete with cheap imports from Asia. The company invoked an obscure law that grants the White House power to impose duties if the commission determines surging imports are hurting American companies. SolarWorld AG's U.S. unit joined the case in May.
Much of the industry opposes the effort, arguing that without low-cost imported panels, installations would plummet. Rooftop installers and solar-farm developers, which employ 85 percent of the industry's 260,000 workers, have been especially vocal, saying higher-priced panels would lead to widespread job losses.
'Substantial Cause'
Suniva and SolarWorld call those claims overstated. Timothy Brightbill, a Washington trade lawyer who represents SolarWorld in the case, said no nations should be excluded from tariffs. Otherwise, he said, Chinese solar companies would simply set up factories in Mexico or elsewhere to keep flooding the U.S. with low-cost panels.
"If there are loopholes, it would greatly undermine relief for U.S. manufacturers," Brightbill said.
U.S. manufacturers have learned the hard way that their Asian rivals are adept at bypassing tariffs, Brightbill said. After a trade complaint by SolarWorld led to tariffs on imported panels from China in 2012, companies including JinkoSolar Holding Co. and Trina Solar Ltd. opened factories in Malaysia, Vietnam and other nations to avoid paying duties.
South Korea, which entered into a free-trade deal with the U.S. in 2012, accounted for about 20 percent of solar panels imported into the U.S. over the last 12 months, according to data from the commission. Mexico and Canada, covered by the North American Free Trade Agreement, supplied about 8 percent. And Singapore, which has a trade deal with the U.S. dating to 2004, accounted for 4 percent.
When weighing tariffs for those nations, the commission must consider if their imports have been a "substantial cause" of U.S. panel manufacturers' downfall. The president has authority to exempt free-trade partners from any tariffs.
Friday Vote
Suniva and SolarWorld are seeking import duties of 40 cents a watt for solar cells and a floor price of 78 cents a watt — more than double the current average global price of 32 cents. The commission has until Nov. 13 to recommend tariffs to the president.
"China and its proxies have shown agility to simply move factories from one country to another creating a whack-a-mole scenario," Suniva said in a statement. "A global tariff is the only way to ensure they don't game the system."