Volkswagen AG, Daimler AG and BMW AG agreed to upgrade more than 5 million newer diesel cars in Germany and offer trade-in rebates on older models, avoiding more costly remedies in a bid to salvage diesel technology and avoid driving bans in cities.
The recalls, hashed out at an emergency summit in Berlin on Wednesday, will cost about 500 million euros ($593 million) and largely sticks to commitments that the automakers had already made. The deal allows them to dodge expensive hardware recalls, which would have ballooned costs. Meanwhile, about half the fixes have already been carried out as part of Volkswagen's response to its cheating scandal.
"What the agreement doesn't do is restore consumer confidence in diesel engines," said Arndt Ellinghorst, a London-based analyst with Evercore ISI. "Two years into the VW diesel scandal, having learned about the shortcomings of bench emission testing and ways to trick the system, consumers rightly demand new technologies."
Top executives from the German auto industry were summoned to face off with ministers and state leaders amid a steady drumbeat of negative news about diesel pollution, dialing up concerns over the technology's impact on urban air quality. The manufacturers agreed to absorb the costs of the upgrades, which they said wouldn't diminish performance, fuel usage or durability.
Recall breakdown by automaker:
Volkswagen – 3.8 million vehicles
Daimler – 900,000
BMW – 300,000
The aim of the fixes, which also involve vehicles from PSA Group's Opel and some other brands, is to cut emissions of smog-inducing nitrogen oxides by 25 percent to 30 percent on average, German auto industry lobby VDA said in a statement. The bulk of the costs to the industry will come from incentives for scrapping older models. While overall details were unavailable, BMW outlined plans to offer 2,000-euro trade-in bonuses.
"I understand that many people think that the German car industry is the problem," Daimler Chief Executive Officer Dieter Zetsche said in an emailed statement. "It's our job to make clear that we're part of the solution."
There's a lot at stake for all sides. German automakers need diesel as a stop-gap technology to buy time to catch up with the electric offerings of Tesla Inc. and Nissan Motor Co. And with less than two months until a federal election, Chancellor Angela Merkel, whose ruling bloc runs the ministry overseeing carmakers, has to ward off criticism that the government is too lenient on carmakers while also not endangering the country's 800,000 auto jobs.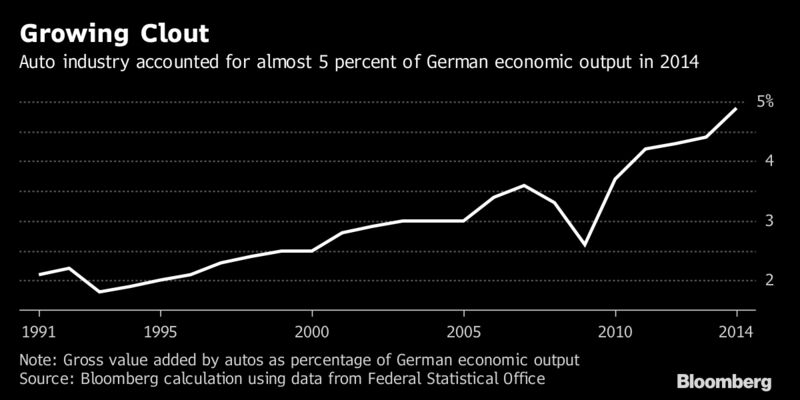 Diesel was once the calling card of German auto-engineering prowess, with the industry boasting about the technology offering more power while emitting about 15 percent less carbon dioxide than equivalent gasoline engines. German politicians in turn heavily backed diesel for decades with tax incentives that make the fuel cheaper at the pump and offered little oversight. That all started coming crashing down in September 2015 following Volkswagen's admission that it duped regulators and consumers for years with diesels rigged to cheat on emissions tests.
"We're in a very tough spot here, and it's the car industry that's responsible for this. There's been cheating going on," Stephan Weil, the prime minister of Lower Saxony and VW supervisory board member, said in an interview with N24 television in Berlin. "There are numerous unresolved questions, but what must be avoided at all cost is a driving ban for large parts of the German car fleet."
Dealing with the crisis is a difficult balancing act in Germany, where every fifth job depends on the automotive industry and the sector accounts for more than half of the country's trade surplus. Last year, some 46 percent of the cars sold in the country had a diesel engine, but demand has been sliding since Volkswagen's scandal. And German politicians agreed there was more to be done to revive faith in the technology.
"Today's agreement is not yet enough," Environment Minister Barbara Hendricks told reporters after the meeting. "Software updates won't completely resolve diesel's NOx problem," and the government expects "a new culture of responsibility from manufacturers."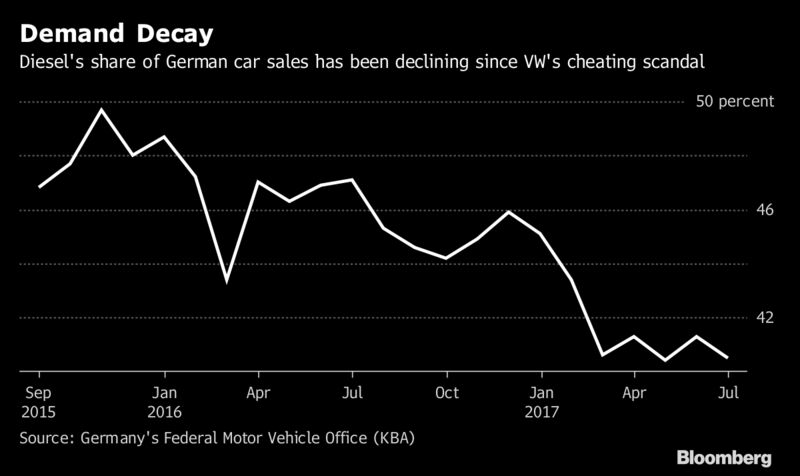 The turmoil compounds an already tense situation for the industry which is also struggling with the switch to electric cars and adding self-driving features, while new challengers like Tesla, Uber Technologies Inc. and Apple Inc. ready strategies to grab a slice of future profits.
The chummy relationship between the industry and German politicians has also come into focus during the scandal, with critics questioning why Transport Minister Alexander Dobrindt only now called the meeting nearly two years after U.S. authorities exposed VW's cheating. While American consumers received generous compensation payments from the automaker, affected owners in Europe are only offered fixes.
'Only Losers'
"In this game, there are only losers," said Ferdinand Dudenhoeffer, director of the University of Duisburg-Essen's Center for Automotive Research. "But the biggest loss is the credibility of the politicians," who could have made more fundamental reforms in response to the crisis.
To comply with environmental rules, German carmakers rely on diesel to power their big sedans and a growing fleet of brawny sport utility vehicles, as consumers remain reticent to buy a sparse lineup of electric cars. The industry's reliance on diesel has been attributed to a slow pivot to battery-powered vehicles. In the statement, the auto industry underscored the commitment to boost electric-car demand by building a fast-charging network along German highways.
"There will have to be a co-existence of electric and combustion engines in coming decades, which is why we're investing in both technologies," VW CEO Matthias Mueller said.