Want a canister of clean energy to go with your basket of carrots and fresh fish?
Hydrogen will soon be delivered to homes in northern Japan using the same delivery trucks that transport food and water bottles as part of a pilot project to encourage wider use of the clean fuel.
The project, led by Hitachi Ltd. and Marubeni Corp., is designed to tap into home demand for hydrogen energy derived from clean energy sources, especially in remote regions. The two companies will work with a local consumers' cooperative to use its delivery networks to save on cost.
Home delivery could help expand the use of hydrogen in rural areas where gas pipelines are unavailable and where residents must rely on the delivery of liquefied petroleum gas cylinders. A few companies in Japan offer home fuel cells able to extract hydrogen from gas supplies mostly provided by regional gas companies.
"There's been a lot of research on how to produce and store hydrogen," Ryusuke Gotoda, deputy general manager of Hitachi's hydrogen business, said in an interview in Tokyo. "But the bottleneck is the consumption part. If we take hydrogen to the home, there is enormous potential."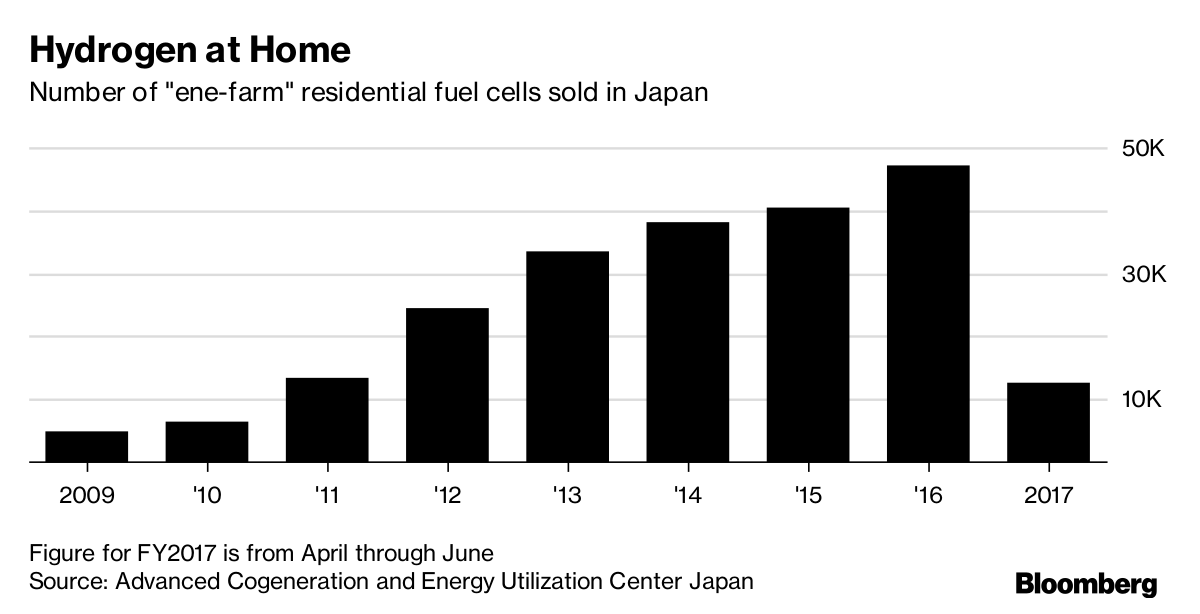 The companies aim eventually to service about 47 percent of all households in Japan without access to city gas and 28 million members of cooperatives set up for group purchases of food products.
Japan's a good place to test consumers' appetite for hydrogen. The country's government, led by Prime Minister Shinzo Abe's push to develop Japan as a "hydrogen society," is an enthusiastic backer of the fuel source.
Japan is already a leader in home fuel cells, with more than 200,000 of the units already installed. The devices, called ene-farms, convert gas into electricity and heat.
For the pilot delivery project in Tomiya city, Miyagi prefecture, solar power will be used to produce hydrogen through electrolysis. The hydrogen will be absorbed in alloys — a proven technology used in nickel metal hydride batteries — and will be transported in cartridges. Japan's Ministry of the Environment is funding the project.
Some 24 million homes rely on LP gas in Japan, compared with 27 million households with access to city gas through pipelines, according to the Japan LP Gas Association.
In the three-year pilot, fuel cell systems will be installed at three homes and two other buildings by early 2019. Hydrogen cartridges, each weighing about 20 kilograms (44 pounds), will be delivered and set in the fuel cell device by a driver who will collect used cartridges.
Brother Industries Ltd. will supply the 700-watt fuel cell systems, which will offer the same output as ene-farms.
"Once other makers join Brother in making this type of fuel cell, costs will be reduced," said Yoichi Fujimoto, who's in charge of the project from Marubeni. "Our system will prove to be easier to use because it does not require gas reforming."