Written by Olivier Monnier. This article first appeared in Bloomberg Markets. 
West Africa's booming off-grid solar industry is drawing international investors eyeing expansion.
Lumos Global, a Dutch off-grid developer that raised $90 million last year to start business in Nigeria, said its expanding in Ivory Coast this month. In both countries, Amsterdam-based Lumos is using a partnership with MTN Group Ltd. that allows customers pay for solar power with their mobile phones.
"It's all very clear that this is a viable solution," said Lumos co-founder Nir Marom in a telephone interview from Lagos, Nigeria. "It's growing in all of Africa, specifically West Africa."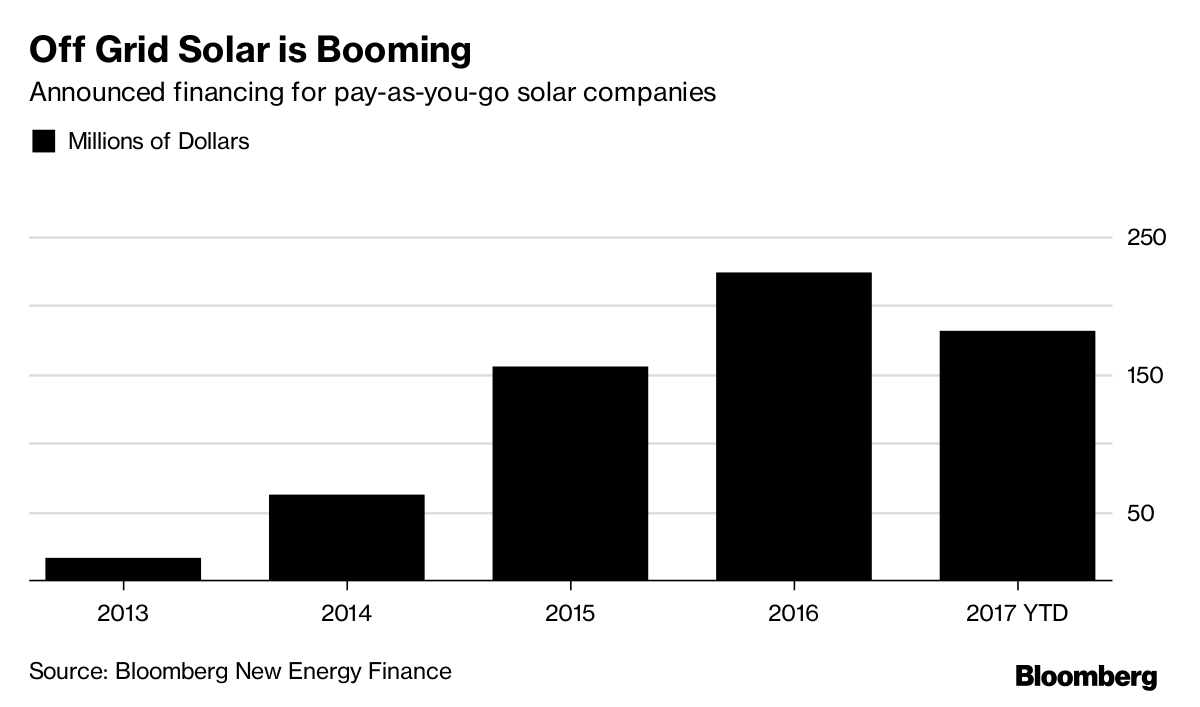 Sub-Saharan Africa has the lowest rates of energy access on the planet and is home to about half of the world's 1.2 billion people without reliable electricity, according to the International Energy Agency. The problem extends to businesses as well as households, cutting into productivity and growth. Startups across the region have started linking mobile phone networks with power developers to create pay-as-you-go models that expand access to electricity.
Since it launched its services in Nigeria in 2016, Lumos has sold 65,000 solar systems, providing power to as many as 250,000 people, according to the company. Similar demand may be found in the Ivory Coast, where about 40 percent of people among the population of 24 million live without electricity, according to the World Bank.
Lumos plans to use part of the equity it raised last year to fund its initial expansion while also seeking additional cash from banks, development finance institutions and private investors, Marom said, declining to say how much the company is seeking to raise.
"Today in Nigeria we are already selling many hundreds of systems everyday and we want to reach these levels and beyond in Ivory Coast," he said. "The need for these systems and the market demand is so huge that we are in constant fundraising."