Written by Alfred Cang and Aibing Guo. This article first appeared in Bloomberg Technology.
While there's a risk oil may slide below $30 as its displaced by alternative energy sources, it will still be used to make petrochemicals, said the head of the enigmatic Chinese company that last month bought a $9 billion stake in Rosneft Oil Co.
In a note running longer than 12,000 Chinese characters posted on CEFC China Energy Co.'s WeChat account, Founder and Chairman Ye Jianming justified purchasing a chunk of the Russian oil giant from Glencore Plc and Qatar's sovereign wealth fund — a deal that's thrust the previously little-known firm into the global spotlight. He also riffed on everything from his nation's history and philosophy to the future of fossil fuels and electric vehicles.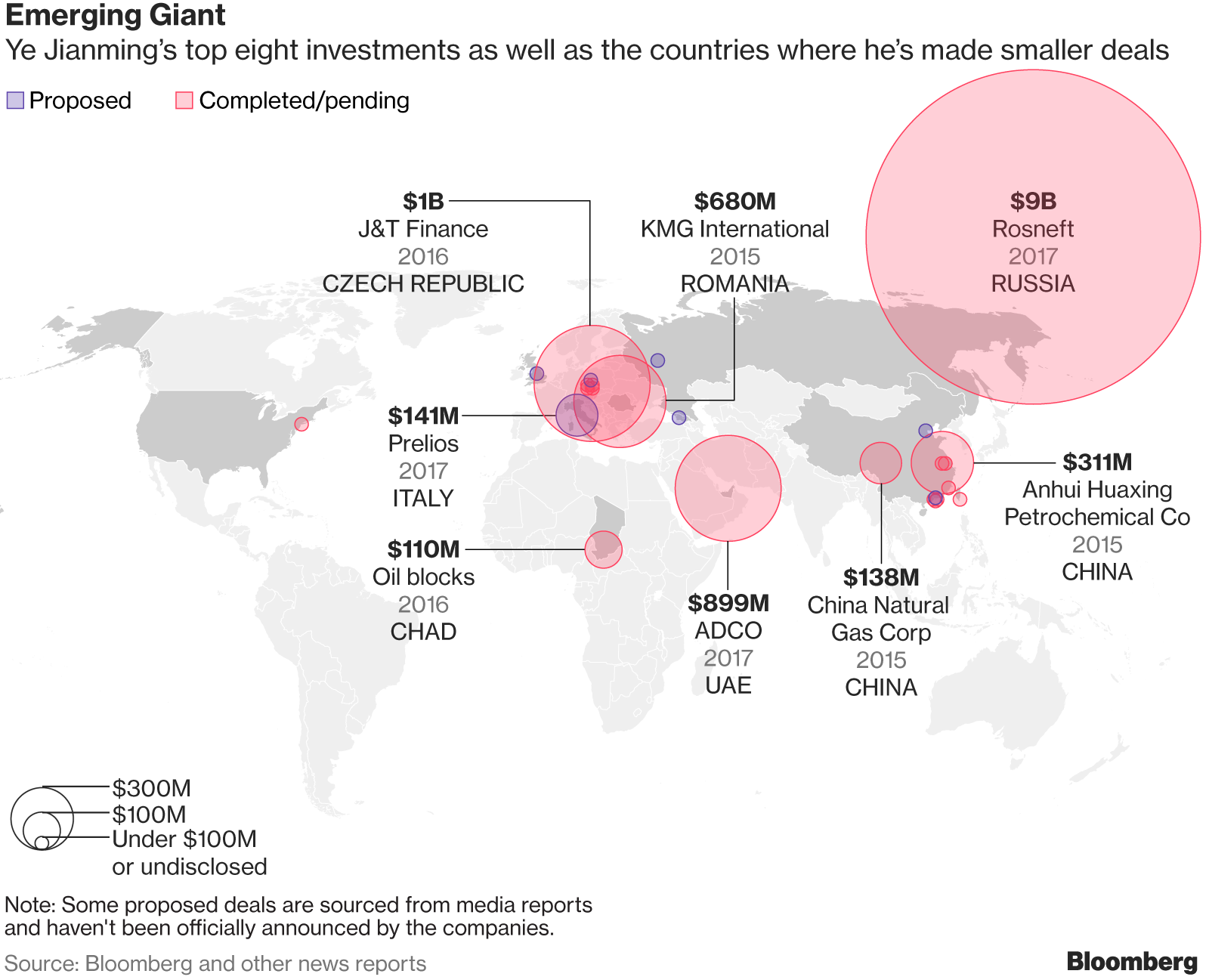 With crude's slump since 2014 wreaking havoc on Russia's economy, and Western sanctions adding more pressure, there was an opportunity to take a relatively cheap share in Rosneft and contribute to the long-term supply security of China, the world's biggest energy user, Ye said. Moreover, privately held CEFC wasn't under pressure to exit some businesses amid weak oil and gas prices, unlike more traditional players in the industry, he said.
"From a business perspective, it may be a smart move for CEFC to buy the stake in Rosneft if the deal is state financed on favorable terms," said Laban Yu, head of Asia oil and gas equities at Jefferies Group LLC in Hong Kong. CEFC hasn't clarified how the deal will be funded, nor did Ye mention it in his statement. A spokesman declined to comment Tuesday.
Crude's use will prove critical in the production of petrochemicals, which are used to make everything from plastics to fabric, and CEFC plans to work with Rosneft and Abu Dhabi to produce petchems for the Chinese market, according to Ye.
A Burden?
"Won't the acquisition of these oil and gas resources become a burden? Of course not," Ye said in the note. "Chemical products have been scarce, and oil is the raw material that's used for chemical processing," he said.
In February, CEFC signed a deal with Abu Dhabi National Oil Co. for a share of an onshore venture that includes state-run giant China National Petroleum Corp., as well as international oil majors BP Plc and Total SA. The company currently has more than 80 million metric tons of foreign crude oil equity, of which 42 million tons is from Rosneft, 13 million tons is from Abu Dhabi and the remaining from Chad and Kazakhstan, Ye said in his note.
Brent crude, the benchmark for more than half the world's oil, was trading at $55.91 a barrel on the London-based ICE Futures Europe exchange, down 0.4 percent, at 1:40 p.m. in Hong Kong on Tuesday. Prices topped $115 a barrel in mid-2014.
The company's steps toward securing oil supplies has been "very successful," Ye said. CEFC is next seeking natural gas, which will be the resource used most in future electricity generation, including for charging environment-friendly cars, as nations seek to curb pollution, according to Ye.
CEFC plans to boost upstream natural gas supplies in Qatar and Africa, according to Ye. He also predicted that aircraft and ships, as well as cars, would be powered by electricity in the future.
Belt And Road
CEFC has followed Chinese President Xi Jinping's efforts to boost investment and construction across a trade route between China, Asia and Europe, in what is known as the "Belt and Road" initiative, amid his government's encouragement of private enterprise.
About 70 percent of the success of the Rosneft agreement is due to the "Belt and Road" initiative, Ye said in his note. The remaining 20 percent comes from CEFC's foresight and ability to execute the deal, while the final 10 percent can be attributed to the company's successful cultivation of relationships with global political leaders.
Russia and Central Asia provide the best solutions to China's oil and gas needs due to the ease of land transportation, enabling fuel to bypass potential supply bottlenecks in the Persian Gulf and Strait of Malacca, Ye said.
Starting as a small trading firm almost two decades ago, CEFC bought assets including storage, terminals and oil fields, as well as financial units. In its statement about the Rosneft purchase, it described itself as China's largest private oil and gas company, with 50,000 employees and revenue of more than $40 billion.