In northeast Brazil, beyond the resorts and pristine beaches, lie some of the world's best winds for generating electricity.
Welcome to Serra Branca. It's a wind generator's heaven, featuring breezes so perfect for spinning turbines that this Brazilian region is capable of churning out more wind energy than any other part of the world. In the latest testament to the region's wind bounty, a French renewable energy company, Voltalia SA, just won contracts to build more farms there that'll sell the cheapest wind power Brazil has ever seen.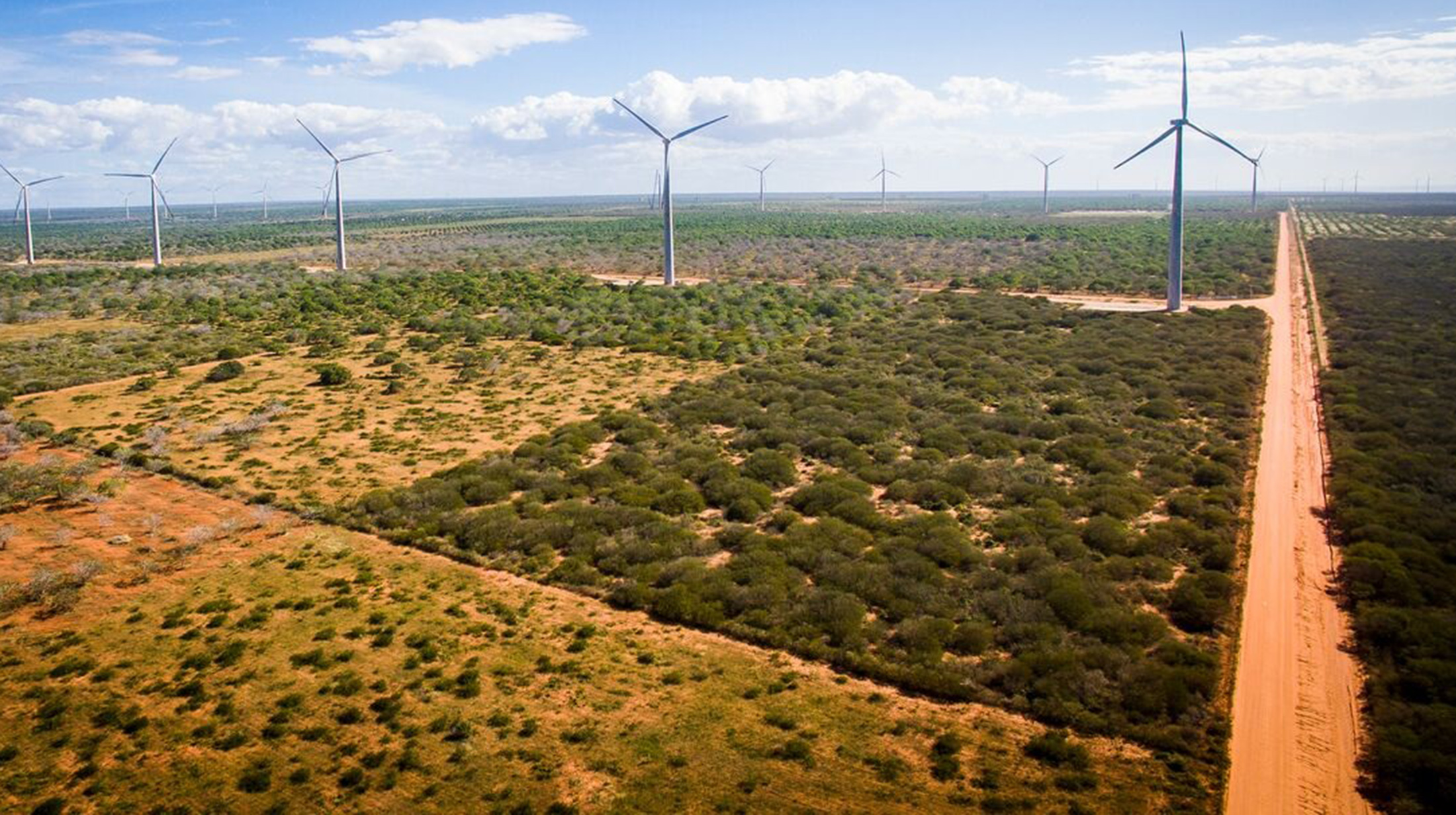 "Our strategy is to gain scale in that area," Robert Klein, country manager at Voltalia Brazil said in an interview. "High volume is key to being competitive."
Voltalia's buildout underscores just how big Brazil's wind power market stands to get. The country already has almost 11 gigawatts of turbines in operation now and was ranked the No. 5 wind market in the world based on 2016 installations, according to the Global Wind Energy Council.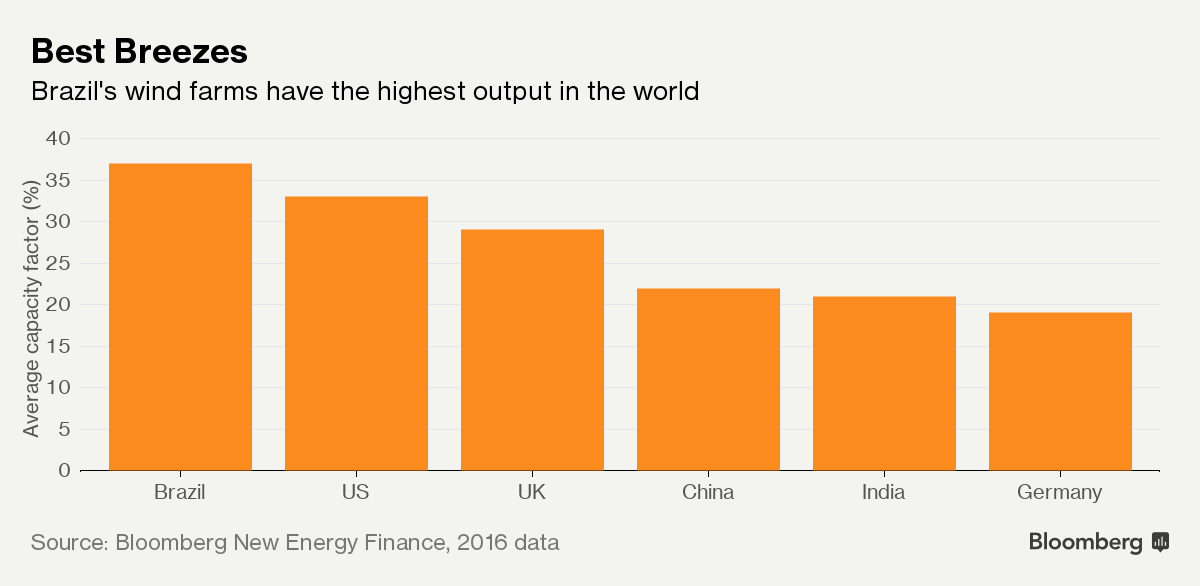 Consistent breezes give the country a capacity factor of 39 percent, the amount of electricity produced compared to its potential output if every turbine was spinning all the time.
That's the best in the world. And Rio Grande do Norte state — where Serra Branca is located — with higher average speeds and little variation in wind direction, is even better. That's why the state accounts for the most wind-power capacity in Brazil, with 2.7 gigawatts, followed by Bahia, with 1.6 gigawatts.
Two of Voltalia's existing wind farms there were rated among the five most efficient in Brazil in 2016, coming in at 60.8 percent and 58.4 percent, according to Bloomberg New Energy Finance.
Brazil "clearly has a strong wind resource, some of the best wind sites in the world, so it's potentially a very strong market," said Gurpreet Gujral, an analyst at Macquarie Bank Ltd. The country is seeking to increase installed clean-energy capacity by 19 gigawatts by 2026 to diversify the local grid.
More Electricity
More wind translates into more electricity to sell, allowing Voltalia to offer lower prices. The company won contracts to supply energy from five projects with 155 megawatts of capacity in a pair of government-organized auctions last month. In one of the events, it offered to deliver electricity for 96.90 reais ($29.82) a megawatt-hour, a record low.
The company expects to invest 867 million reais for the projects, according to Brazil's Electric Energy Trading Board, known as CCEE. They must be connected to the grid in December 2020 for contracts from the first auction. For the second, they must be connected by December 2022.
The company is developing a total of 1,000 megawatts of wind farms in the region, and may bid for contracts in the next auction, set for April. Partnering with suppliers such as turbine makers also helps Voltalia keep costs down, Klein said.
"Our appetite continues to be high," he said.
Aggressive Bids
"Voltalia's bids were surprising," said Helena Chung, an analyst at Bloomberg New Energy Finance. "But the company is a top performer in Brazil, with projects operating at good efficiency rates. And wind turbine prices are falling, given the high competition in the last auctions."
Voltalia's aggressive bids were followed by other developers including Enel Green Power SpA, with a bid of 97 reais a megawatt-hour, reflecting pent-up demand after two years without wind-power auctions. The government canceled two auctions in 2016 as an economic recession curbed electricity demand.
Now, with the economy starting to recover and electricity consumption rising, interest in new power plants is growing.
"The fact that Brazil is resuming doing auctions is very important," Klein said. "The wind industry was halted and now it's reborn in a brilliant way."